Thomas Markle Says Meghan Racism Claim is 'Bulls***'
Meghan Markle's estranged father Thomas Markle has said his daughter and Prince Harry's claims that a member of the royal family asked what skin color their baby would be is "bulls***."
Thomas Markle made an appearance on the British morning show, Good Morning Britain on Tuesday where he discussed his daughter's explosive Oprah interview.
The 76-year-old revealed he hasn't spoken to his daughter or her husband since before their wedding in 2018, and confirmed that he works with the press when he doesn't receive a response from Meghan and Harry when he reaches out.
One of the most devastating claims made by Harry and Meghan in the interview is that they were asked about what their future baby's skin color would be because the Duchess of Sussex is biracial.
"All around this same time, we have in tandem the conversation of he won't be given security, he's not going to be given a title and also concerns and conversations as how dark his skin might be when he's born," Meghan told Oprah Winfrey.
Presenter Piers Morgan asked Thomas Markle his view on this claim and he responded to say he does not believe the British royal family are racist.
"I have great respect for the royals and don't think the British royal family are racist," he said. "I don't think the Brits are racist—Los Angeles is, California is, I don't think the Brits are racist."
He continued: "I'm hoping it's just a dumb question from somebody. Could be that simple, a dumb question rather than being a total racist."
Thomas Markle went on to say that the "whole thing about color and the baby's skin color is bull****."
Referencing Meghan's mother Doria Ragland, he added: "I married a beautiful black woman and we had a child if she had have turned out dark it wouldn't have been a problem.
"A racist comment should be investigated—it could have been just a stupid question from someone."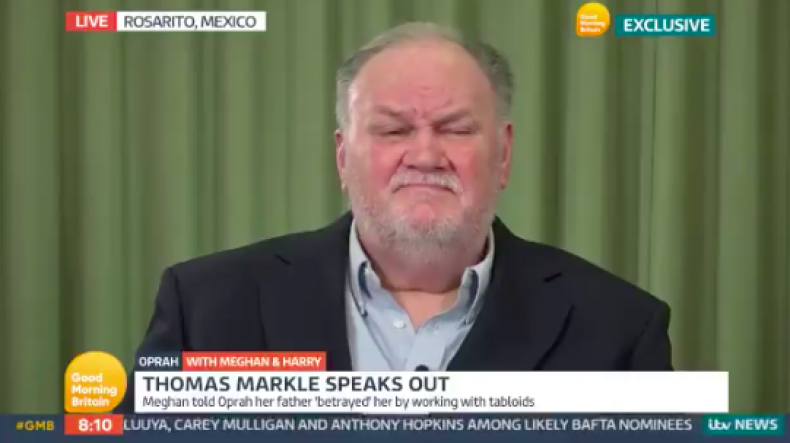 Thomas Markle spoke to Morgan who is facing calls to be fired from ITV following his comments about Meghan, including ones where he invalidated her remarks about feeling suicidal.
"This is a two-hour trash-a-thon of our royal family, of the monarchy, of everything the queen has worked so hard for," Morgan said on Monday. "And it's all being done as Prince Philip lies in hospital."
He also inferred that Meghan was lying about being denied help from the institution.
"OK, let's have the names," said Morgan. "Who did you go to? What did they say to you? I'm sorry, I don't believe a word she says, Meghan Markle. I wouldn't believe her if she read me a weather report."