A Timeline of Jake Paul Scandals: From Everyday Bro to Looting Accusations
Jake Paul has become the subject of controversy after footage of him allegedly looting in an Arizona mall went viral.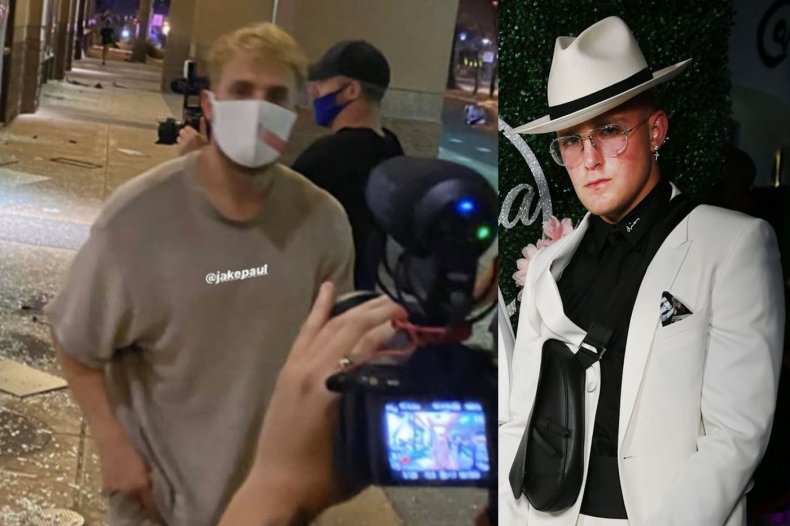 After learning that protests were taking place, the YouTuber with over 20 million subscribers traveled to the Fashion Square Mall in Scottsdale on Saturday with a camera crew in tow. One of his videographers, Andrew Blue, posted footage to his Instagram story showing Paul walking through the looters and even taking a vodka bottle that was ripped from a P.F. Changs. Paul released a statement on his Twitter after Blue took down the videos claiming that nobody in his group "engaged in any looting or vandalism."
The self-proclaimed "everyday bro with a Disney channel flow" has constantly been in the spotlight over the past half decade, and not all that press has been positive. Gaining viral momentum in 2013 on Vine, Jake would perform over the top stunts like jumping over cars or performing pranks in public. His personality, like that of his brother and fellow YouTube personality Logan, centered around being as large of a character as possible and not being afraid to push the boundaries of his content.
By 2017, Paul had moved over to YouTube and started posting vlogs from his West Hollywood mansion. Footage of Jake burning a mattress in an empty pool and his fans gathering outside his home daily sparked complaints from neighbors to local television station KTLA which went to visit the California home. When confronted by a reporter, Paul climbed on top of his news van and made comments about the shoes he was wearing. This clip sparked massive backlash, eventually leading to the younger Paul brother losing his role on the Disney Channel show Bizaardvark mid-season that he had started on in 2015.
From there, Jake's fame skyrocketed even farther. He founded Team 10, a group of influencers that all lived in one house and made content together. In May of 2017, they released the music video for "Everyday Bro" which is the seventh most disliked video on YouTube. Over the course of the next two years every original member of Team 10 quit. The Martinez Twins, a pair of models who Jake flew out from Spain to LA, left Team 10 after claiming that Jake's constant pranks started to wear on them.
By 2018 and after the fall of Team 10, Jake's content would take a slight shift. Pivoting towards directly entertaining a younger audience, he released a diss track targeting teachers and would feature actual babies in his content. A few of his videos had Lil Tay, the young influencer who we later learned was being pushed to act up by her mother and brother.
At this point, the controversies started to ramp up. His relationship with model Erika Costell ended, his father's sex tape leaked online and Shane Dawson released a YouTube series asking if Jake is a sociopath.
In August 2018, Logan Paul, alongside Jake, would box YouTuber KSI and his younger brother Deji. The whole event would be watched by millions of people and would lead Jake to practice boxing more and even add it to his content. For the next few months, he would focus on boxing, leaving the public eye.
That was until January 2019, when Jake promoted a "Mystery Brand" website, which would allow users to spend money on loot boxes with a chance to win something valuable inside. Even after their payment platform G2A dropped them for breaking "terms and conditions" Jake remained silent and has still not commented on the end of that relationship.
In May of 2019, eight women came forward to the police claiming that they were drugged at a house party Jake had thrown. That same month, Paul attempted to confront commentator and YouTuber Cody Ko during the filming of a video which led to even more internet backlash. In June of that year. Paul and YouTuber starlet Tana Mongeau appeared to start dating before quickly getting married just a few weeks later. The pair were never legally married and got a "divorce" in January of 2020.
Just prior to the mall looting accusations, in February of 2020 Paul tweeted that "anxiety is created by you" and that the "answers will come."