Tom Brady Mocks Former Teammate Julian Edelman As Son, 15, Towers Over Him
Tom Brady has shown he is continuing to have a good time in retirement by ramping up the banter with former teammates from the NFL.
This time the 45-year-old former Tampa Bay Buccaneers quarterback was having a joke at the expense of his former New England Patriots teammate, Julian Edelman.
The 36-year-old retired wide receiver was pictured standing back-to-back with Brady's 15-year-old son, John "Jack" Edward, which showed that his son has grown up a lot in the past couple of years.
Brady said this retirement was "for good", after he reversed his decision last year to quit football, and has been making sure he has been having fun days with family and friends since he announced for a second time, on February 1, that he was hanging up his cleats.
Sharing the photo of Edelman and his son on his Instagram Story, Brady didn't waste the opportunity to point out the obvious height difference as the 5' 10" former wide receiver is visibly inches shorter than Brady's son.
Brady captioned the photo: "Sorry @edelman11 you stopped growing and now this 15 year old is towering over you ❤️❤️."
There was plenty of reaction to the photo with many praising Jack and how he is a spitting image for his father.
One person commented: "He is so cute! Looks just like his dad"
Another added: "#dadstwin"
The future Hall of Famer was in reflective mood on social media recently, as he also shared a number of throwback snaps from his career, which shows Jack, who Brady shares with ex Bridget Moynahan, and son Benjamin Rein, 13, who he shares with ex Gisele Bündchen along with their daughter Vivian, 10.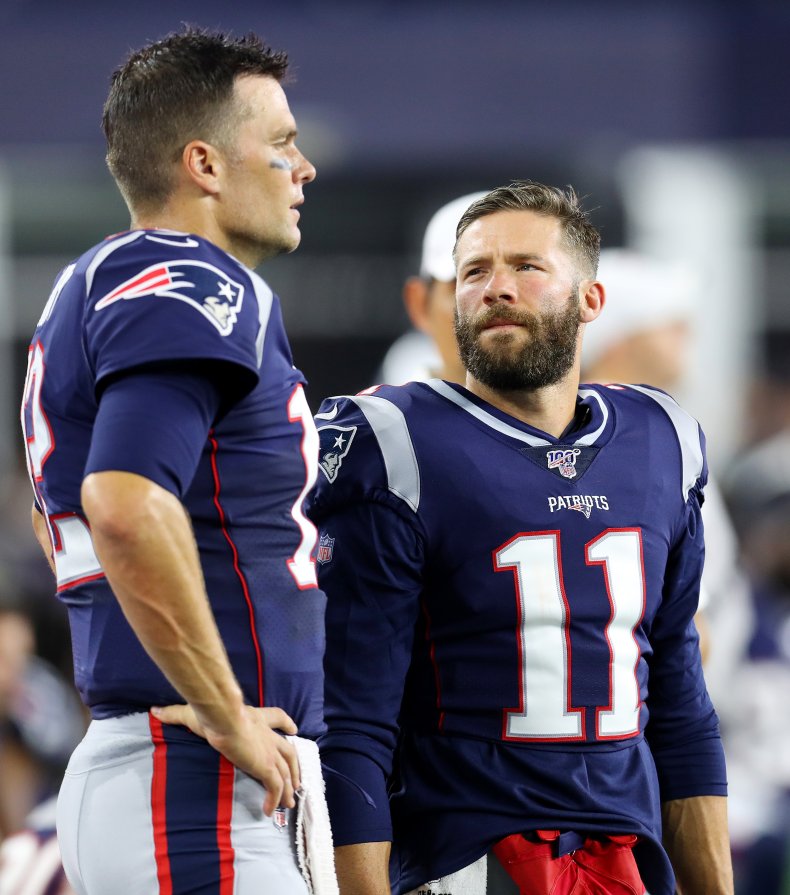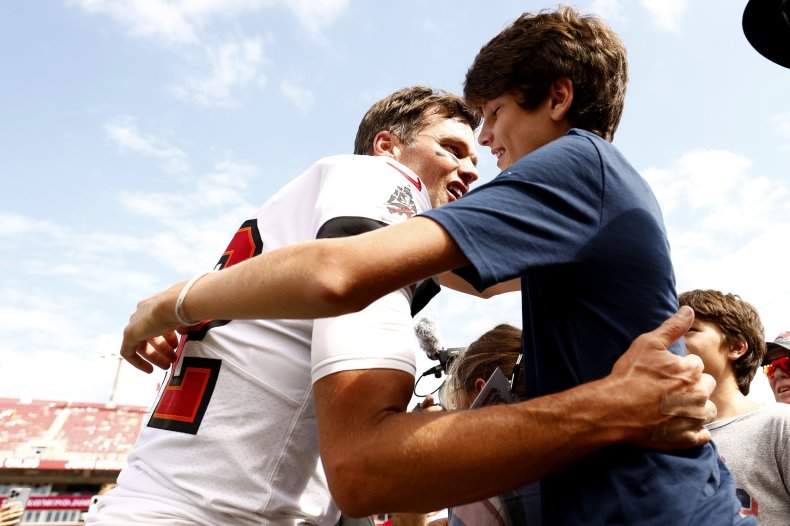 Since the divorce from Bündchen was finalized, Brady has said that he is "really focused" on his children.
Speaking on his Sirius XM podcast, Let's Go!, Brady said: "Obviously, the good news is it's a very amicable situation and I'm really focused on two things, taking care of my family and certainly my children."
Brady announced that he was retiring in an emotional video, in which he spoke directly to his fans. He said: "Good morning guys, I'll get to the point right away. I'm retiring, for good.
"I know the process was a pretty big deal last time and when I woke up this morning I figured I'll just press record and let you guys know first.
"It won't be long winded. You only get one super emotional retirement essay and I used mine up last year, so really thank you guys so much to every single one of you for supporting me, my family, my friends, my teammates, my competitors, I could go on forever, there's too many.
"Thank you guys for allowing me to live my absolute dream."
With his voice beginning to crack a little, Brady added: "I wouldn't change a thing. Love you all."
Do you have a tip on a sports story that Newsweek should be covering? Do you have a question about the NFL? Let us know via entertainment@newsweek.com.