Trump Ability to 'Weasel Out' of Accountability Must End: Glenn Kirschner
Former U.S. Army prosecutor Glenn Kirschner expressed frustration at former President Donald Trump's ability to "weasel out" of facing accountability for alleged crimes, saying this needs to come to an end.
Two prosecutors at the Manhattan District Attorney's office—attorneys Mark Pomerantz and Carey Dunne—abruptly resigned last month after the new District Attorney Alvin Bragg stopped pursuing an indictment against Trump related to his business practices. On Wednesday, The New York Times reported on Pomerantz's resignation letter, which alleged that the former president is guilty of "numerous felonies."
Kirschner discussed the news of the resignation letter during a Wednesday episode of The Dean Obeidallah Show on SiriusXM. The attorney, who now works as a legal analyst for NBC News and MSNBC, said that he had suspected the attorneys were "deeply critical" of the new district attorney's "unjustified" decision when they resigned.
"It is an abdication of your duty as a district attorney," Kirschner argued, saying Bragg is in his position to "represent the interest of the people." He said that the district attorney should "aggressively but fairly and ethically prosecute crimes."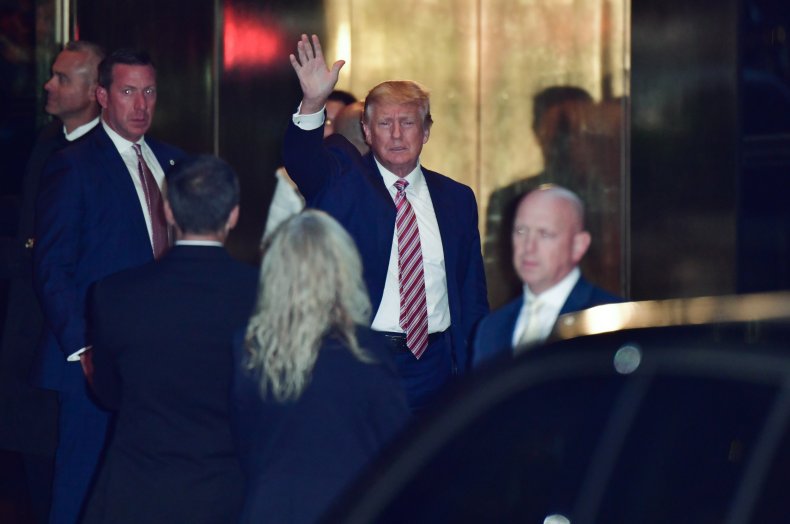 The former Army prosecutor explained that the team that had been investigating Trump and his business practices for years were "seasoned" and assembled specifically for the case. He pointed out that they were saying, "we have the evidence to prove that Donald Trump committed felony crimes."
"At some point, Donald Trump's ability to weasel out of being held accountable for his crimes needs to come to an end," Kirschner concluded.
Pomerantz had come out of retirement to work on the case investigating Trump. In his February 23 resignation letter reported by The New York Times, the former federal prosecutor said Bragg's decision was "contrary to the public interest."
"The team that has been investigating Mr. Trump harbors no doubt about whether he committed crimes—he did," the attorney wrote.
"I believe that Donald Trump is guilty of numerous felony violations of the Penal Law in connection with the preparation and use of his annual Statements of Financial Condition," he wrote.
A spokesperson for the district attorney's office said that the investigation remains open, despite the resignations and the criticism. "The investigation continues. A team of experienced prosecutors is working every day to follow the facts and the law," Danielle Filson, Bragg's chief spokesperson, said, New York Daily News reported.
Trump's spokesperson Liz Harrington told Newsweek in a Thursday email that Pomerantz "is a Radical Left lawyer."
"It's troubling how politicized our justice system has become, where Democrats are loaned out to gin up crimes against their political opponents. President Trump built a great business, and did nothing wrong," Harrington said.
The former president has consistently argued that investigations into him and his business are all politically motivated and partisan in nature. Trump and his allies have alleged that Democrats and other critics hope to keep him from running for the White House again in 2024, if he chooses to do so, by criminally prosecuting him.
Meanwhile, several other investigations into Trump are ongoing as well. The former president's actions are being probed in Georgia after he pressured the secretary of state there "find" enough votes to flip the 2020 election in his favor.
The House select committee investigating the pro-Trump January 6, 2021 attack against the U.S. Capitol also continues its probe into the former president's and his allies' actions. Although the legislative commission will not be able to press criminal charges, it can make recommendations to the Justice Department.
Some legal experts have urged Attorney General Merrick Garland to open an investigation or indict Trump related to January 6. Although Garland has been tight-lipped about any possible probe, he gave Trump critics hope earlier this month in an interview with NPR.
"We begin with the cases that are right in front of us with the overt actions and then we build from there," the attorney general said. "And that is a process that we will continue to build until we hold everyone accountable who committed criminal acts with respect to January 6."
Kirschner concluded at the time that Garland's remarks meant that Trump "will be charged."