Baltimore Protesters Explain Why They Are Against President Returning To 'Rodent Infested' City: 'The Real Rat Is Trump Himself'
A coalition of groups have explained why they are protesting President Donald Trump's upcoming visit to Baltimore other than the fact he recently described it as a "rat and rodent infested mess."
Trump will set foot in the Maryland city on Thursday (September 12) for the first time since he launched a series of attacks in July on the place he claimed "no human being in the world" would want to live and where its residents are "living in hell" to speak at the 2019 House Republican Conference Member Retreat Dinner.
The retreat is a chance for the GOP to discuss legislative strategy for the upcoming year away from Washington D.C.
In the previous tirade, the president also attacked Democratic Rep. Elijah Cummings and his predominately-black 7th Congressional District, describing it "the worst run and most dangerous anywhere in the United States."
Soon after the White House confirmed Trump will return to the city for the first time since his controversial comments, which faced accusations of racism as they targeted a predominantly black constituent and its black representative, a series of protests were organized by a group of demonstrators who form together as the Baltimore Welcoming Committee.
The group said it is not just Trump's remarks they are demonstrating against, but to say "no to racism, white supremacy, war, bigotry and climate change" as well as defend immigrants, workers rights and demand the closure of detention centers on the U.S.-Mexico border.
"The people of Baltimore, especially young people, are deeply opposed to Trump's policies of racism and division, whether it's his attacks on migrants or refugees or his not so veiled racist attacks on black and brown people," Miranda Bachman, spokesperson for the Youth Against War and Racism and ICE Out of Baltimore groups, told Newsweek.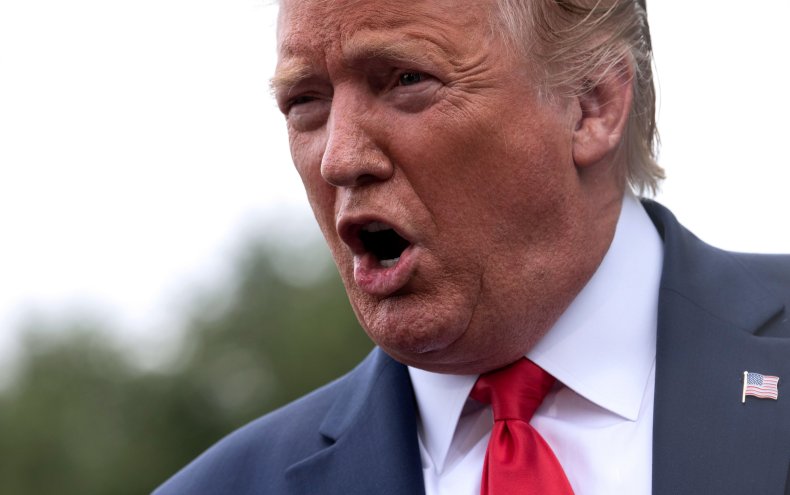 One such protest which has been organized by The People's Power Assembly will begin at 4 p.m. on Thursday at the Christopher Columbus statue at South President Street and Eastern Avenue, close to the Baltimore Marriott Waterfront Hotel in Harbor East where the GOP retreat is being held.
People's Power Assembly organizer Sharon Black accused the president's policies of being "anti-people, anti-worker and absolutely pro banks and big business" as well as "ramping up hate to divide people" to stop any serious opposition to the "rich getting richer, while the poor are getting poorer."
She also accused Trump's rhetoric of inflaming racial tensions in the country, suggesting he was partially at fault for the mass shooting in El Paso, Texas, in August by a suspected white supremacist which left 22 people dead.
"While Trump may not have pulled the trigger in El Paso, he loaded the gun when he called on his supporters to take things into their own hands," Black said. "Trump's base of supporters includes not only big oil, bankers and business interests; it also includes neo-Nazis and white supremacists. We need unity and solidarity which is one of the major reasons we are protesting."
Other protests due to take place during the three-day retreat include an "Apocalypse is Now" event partly organized by climate change activists Extinction Rebellion Baltimore on the afternoon of Saturday September 14 and an LGBTQ+/Allies Dance Party on the evening of Friday September 13 outside the Marriott hotel.
"The protest will confront all of Trump's policies including the climate crisis and the threat of war and sanctions whether it's Venezuela, Iran or any other country," Bachman added. "We firmly believe what Rev. Dr. Martin Luther King said, 'that every bomb dropped is one that is also dropped on our cities.' Money spent on the Pentagon could be used to house, educate and feed the people right here in Baltimore."
In a joint statement, Black and Bachman added: "The real rat is Trump himself!"
The Baltimore Welcoming Committee also told Newsweek that they will be holding a press conference in Baltimore on Wednesday afternoon (September 11) ahead of Trump and the GOP's visit.