'Don't Poke the Bear': Democrats Urged to Avoid Gloating Over Budget Win or Risk Donald Trump Veto—Report
Congressional Democrats were reportedly warned by their leaders not to gloat about the budget deal tentatively agreed to by a frustrated President Donald Trump, who is set to sign off on the legislation on Friday as he simultaneously declares a national emergency to obtain the funds for his long-promised wall along the U.S.-Mexico border.
Declaring a national emergency allows Trump to bypass Congress and unlock presidential powers that would allow him to direct the U.S. military to build the wall using existing funds.
"President Trump will sign the government funding bill and, as he has stated before, he will also take other executive action—including a national emergency—to ensure we stop the national security and humanitarian crisis at the border," White House Press Secretary Sarah Sanders said in a statement. "The president is once again delivering on his promise to build the wall, protect the border, and secure our great country."
The bipartisan agreement made by congressional leaders includes nearly $1.4 billion for 55 miles of new border fencing, which is less than a fourth of the $5.7 billion Trump demanded to build a concrete and steel wall, angering the president and his allies in the conservative media. The graphic below, provided by Statista, illustrates the existing and proposed structures on the U.S. southern border.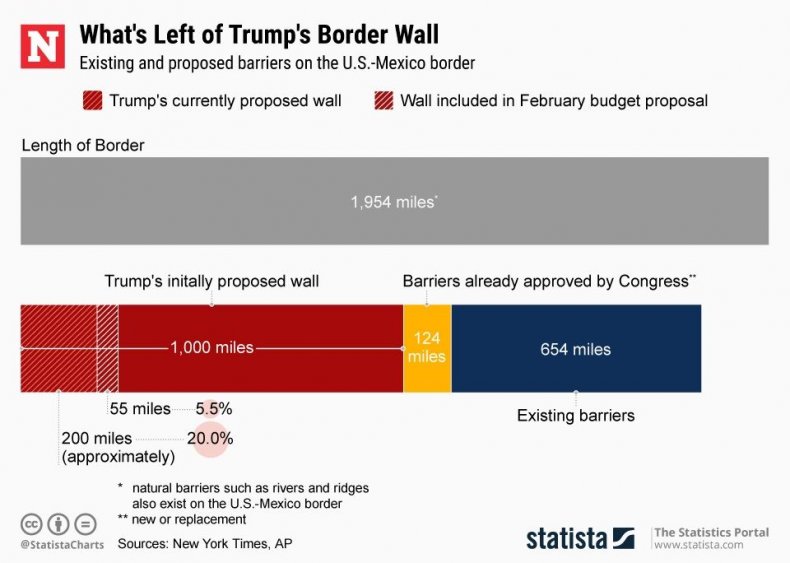 Fox News host Sean Hannity, one of Trump's closest allies who reaches millions of Americans through his popular show, dismissed the deal as a "garbage compromise" and said Republicans who endorse it "will have to explain."
Knowing that the president has flittered between accepting and rejecting the deal, Democratic leaders ordered the party not to gloat about their political victory in case they push him to veto it, The Washington Post reported. One unnamed Democrat, who received the instructions from party leaders, told The Post they were warned: "Don't poke the bear."
Republicans in Congress fought hard to persuade Trump that he must sign the deal to avoid a repeat of the recent showdown with the Democrats, which resulted in the longest government shutdown in the country's history.
Polling shows most Americans blamed Trump for the shutdown, which left 800,000 federal employees unpaid and closed many public services for five weeks.
Declaring a national emergency to obtain wall funding is unpopular with Republicans in Congress, though Senate Majority Leader Mitch McConnell indicated he would urge his Senate colleagues to support the emergency declaration in exchange for Trump signing off on the budget deal.
Declaring a national emergency would also likely face a number of legal challenges, including one from House Democrats, who say Trump has created a "manufactured crisis" at the border.
Private landowners at the southern border who face having their property seized by the government in order to build the wall are also a potential source of legal challenges.
Trump and the Republicans have sought to spin the budget deal as a victory, claiming they won concessions from Democratic leaders, including House Speaker Nancy Pelosi and Senate Minority Leader Chuck Schumer.
While there is no money for Trump's desired wall in the spending bill, the deal includes more funding for border security, with $23 billion allocated to Immigration and Customs Enforcement and Customs and Border Protection, a $2 billion annual increase.
"Will be getting almost $23 BILLION for Border Security," Trump tweeted on Tuesday, hinting that he would sign off on the deal. "Regardless of Wall money, it is being built as we speak!"
On Wednesday, he tweeted: "I want to thank all Republicans for the work you have done in dealing with the Radical Left on Border Security. Not an easy task, but the Wall is being built and will be a great achievement and contributor toward life and safety within our Country!"