Trump Envisions What 'Joe Biden's America' Looked Like From Spy Balloon
Former President Donald Trump jabbed President Joe Biden Monday night in a political advertisement that theorized what images the Chinese spy balloon may have captured while hovering over the U.S.
Last week, federal officials confirmed that a Chinese surveillance device had been spotted traveling over the continental U.S. for several days. The balloon was eventually shot down over the Atlantic Ocean on Saturday, but Biden received a wave of backlash for choosing not to shoot the orb down while it was in transit, with pedestrians below.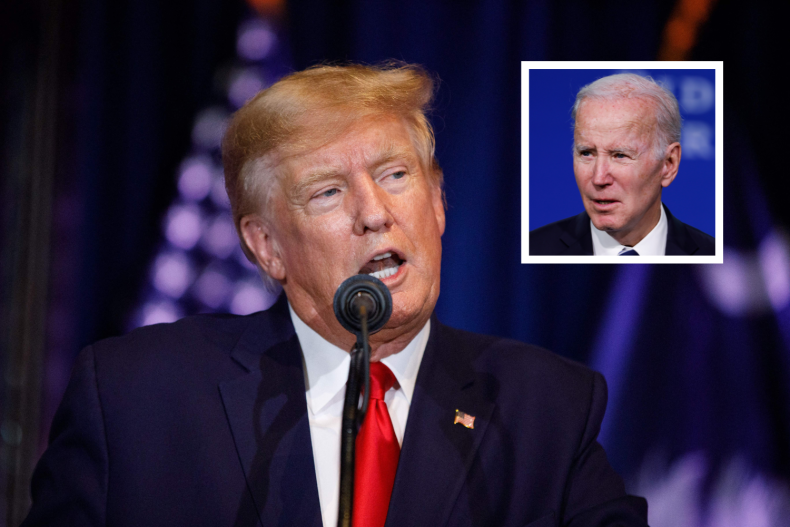 In a video posted to his campaign's Twitter account, Trump's War Room, the former president speculated what the spy balloon may have been able to capture while it was traveling to the East Coast, including an image of an America plagued by a migrant crisis, delays in the supply chain and rising crime rates.
In one of the final scenes of the ad, a police car flashes in the background of the phrase, "This is Joe Biden's America."
"Only you can stop a nation in decline," reads the next slide.
Monday's advertisement from Trump's campaign appears to mimic one from Biden's successful presidential run in 2020, titled, "This is Trump's America."
In the video, which was posted to Biden's YouTube channel in August 2020, the former president is bashed by the Biden-Kamala Harris campaign over racist mobs, mass shootings and other violence that occurred during Trump's four years in office. The video also includes a clip of the former president saying, "No one will be safe in Biden's America."
Trump's latest political ad also arrived a day before Biden is scheduled to deliver a State of the Union address, marking the president's first time addressing Congress since Republicans took control of the House of Representatives in November.
While Trump does not specifically acknowledge the State of the Union in his advertisement Monday, the video does touch on a few of the topics Biden is expected to broach, as Trump highlights the economic issues that have faced Biden in his first two years in office.
White House press secretary Karine Jean-Pierre told reporters at a briefing last week that Biden is likely to mention the "significant economic progress we've seen under his leadership," as well as the president's hopeful expectations for the future.
"This is something that you have heard from him over and over again, especially in the last two years, is how he is optimistic about the future of this country," Jean-Pierre added. "And you'll hear some of that, as well, and the possibilities ... that we have as a country, especially as we look at our economy, as we look at things moving forward."
It's unclear if Biden's State of the Union will reveal a 2024 reelection bid, where he could possibly face Trump in a rematch of the 2020 presidential election. But Peter Whener, who wrote speeches for former President George W. Bush, told NPR on Monday that Biden's speech "is undoubtedly being seen in the White House as part of the reelect effort."
A Washington Post/ABC News poll published last week found that Biden faces major obstacles if he were to run again, however, with 62 percent of voters overall indicating that he had accomplished "not much" or "little or nothing" in his first two years in office.
Trump is the only confirmed candidate for 2024, although other leading Republicans are speculated to run, including Florida Governor Ron DeSantis and former Vice President Mike Pence, Trump's ex-running mate.
Newsweek has reached out to the White House for comment.