Representative Adam Kinzinger, an Illinois Republican, questioned the value of asking former President Donald Trump to testify before the House select committee investigating the January 6, 2021, attack against the U.S. Capitol, contending that Trump "lies all the time."
Kinzinger, a staunch Trump critic, is one of two Republicans serving on the committee, the other being GOP Representative Liz Cheney of Wyoming. Kinzinger and Cheney voted with eight other Republican House members to impeach Trump for inciting his supporters to attack the federal legislative branch of government last year.
While Kinzinger previously told MSNBC in October 2021 that Trump was "not off limits" and that he was "certainly willing" to issue a subpoena for him, he downplayed the idea during a CBS News' Face the Nation interview on Sunday. He argued that it was likely Trump would simply break the law by lying under oath if he testified.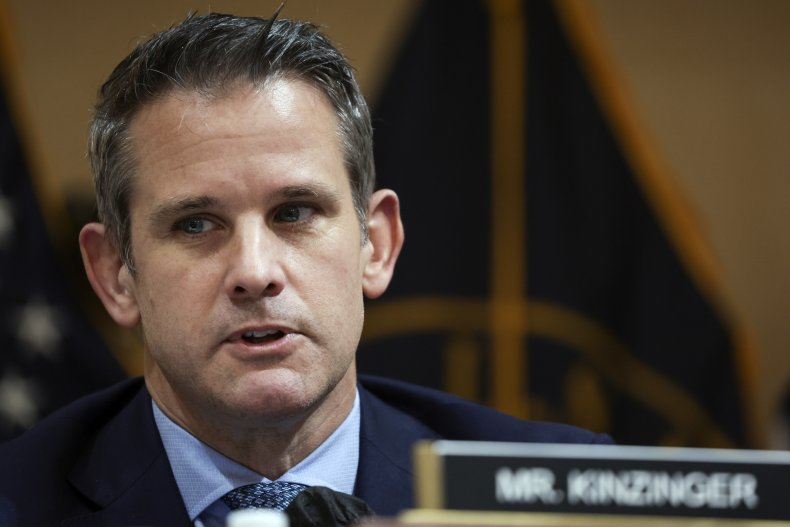 "Donald Trump has made it clear that he doesn't mind not telling the truth, let's just put that mildly. He lies all the time, I wouldn't put it past him to even lie under oath, so I'm not sure what the value is there," the congressman said.
Kinzinger said earlier in the interview that the committee is still considering the possibility of trying to bring Trump in for testimony, however.
"The big question we're still dealing with as a committee is, is there benefit in talking to somebody like Donald Trump and request [that] he come in? That's something we're negotiating back and forth on whether we want to do that, and what that looks like," the GOP lawmaker said.
Newsweek reached out to Trump's press office for comment.
The former president has denied any wrongdoing related to January 6, and has attacked the House select committee, calling its investigation a "witch hunt." He also argued that it is a partisan attempt to keep him from seeking future political office. Trump has dubbed Kinzinger and Cheney "RINOs," an acronym signifying "Republicans in name only."
Kinzinger has decided not to seek reelection in this year's midterm. Cheney, however, is currently in a tough primary race against Trump-backed opponent, Harriet Hageman.
Thus far, the committee has held seven public televised hearings to overview its findings for the American people. These hearings have featured a range of former Trump administration officials, video testimony from the former president's family members, participants in the January 6 violence, election officials, and others to tell the story of the Capitol attack as well as Trump's efforts to overturn President Joe Biden's election win.
The Next Televised Committee Hearing
Representative Zoe Lofgren, a California Democrat who serves on the investigatory commission, told ABC News' This Week on Sunday that the next hearing will share a "minute-by-minute" account of how the Capitol riot went down.
"We hope to go through minute by minute what happened, what didn't happen on that day, and people can make their own judgment," the congresswoman said. That hearing will take place on Thursday at 8 p.m. ET.
Kinzinger told Face the Nation that more people have been coming forward with information since the hearings began.
"We keep getting new people coming in every day with information willing to go on the record. So it's been amazing how since seeing these hearings have started, the amount of information we're getting has just rapidly accelerated," he added.