Trump Organization Is 'Potpourri of Criminal Activity': Watergate Lawyer
The Manhattan district attorney's investigation into whether former President Donald Trump made a hush money payment to adult film actress Stormy Daniels is about more than just that alleged act, a former Watergate prosecutor told Newsweek.
Investigators in District Attorney Alvin Bragg's office are looking into a $130,000 payment paid to Daniels by Trump lawyer Michael Cohen prior to the 2016 election to keep the alleged affair between Trump and Daniels quiet.
"It's a strong case if you include the overall theme of falsifying records," Nick Akerman, former assistant special Watergate prosecutor and former assistant U.S. attorney for the Southern District of New York, said Friday on CNN This Morning. "That is, if you go with the same thing that [New York Attorney General] Letitia James went through with the attorney general's office and the Trump Organization, that the entire organization is just...a potpourri of criminal activity with false financial statements every year."
In September, James announced a $250 million lawsuit against Trump, three of his children—Donald Jr., Ivanka and Eric Trump—and two senior executives at the Trump Organization.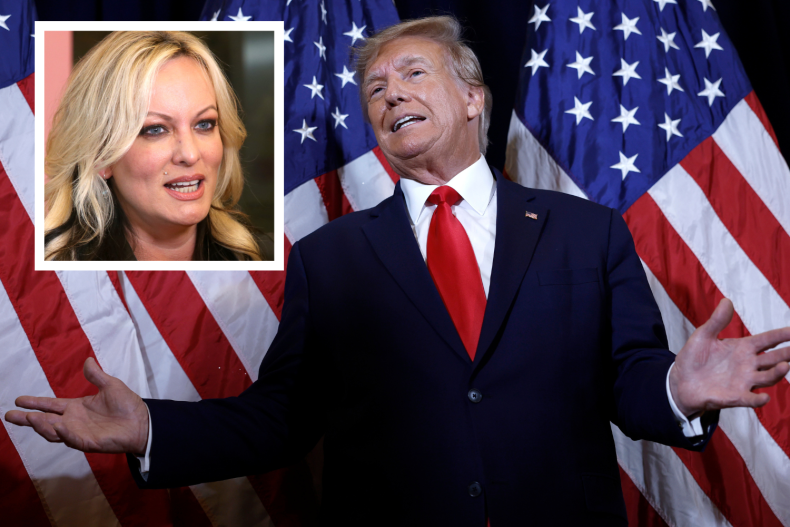 Akerman mentioned how the Trump Organization "increased the values of property to get more money from the government on taxes, or they gave environmental gifts to the government."
"They committed bank fraud by increasing the values of various assets of the Trump Organization," he added.
Akerman told Newsweek that a Trump indictment should not be solely based on Stormy Daniels but a totality of events, calling it "all part of a pattern and practice of the Trump Organization to phony up company records in order to basically accomplish other criminal goals."
He referenced the alleged $150,000 payoff in the summer of 2016 from American Media Inc. CEO and National Enquirer publisher David Pecker to former Playboy model Karen McDougal, leading to the signing of a nondisclosure agreement to prevent her alleged affair with Trump from becoming public. It reportedly led to a story never being published, known as a "catch and kill."
Trump pleading the Fifth Amendment more than 440 times as part of the New York investigation into his tax affairs and the valuations of Trump Organization assets should also raise eyebrows, Akerman added.
"I don't know if every act could be proven sufficiently, but there's got to be at least five or six of them that can be joined with the Stormy Daniels situation and put in as a pattern of criminal activity," he said.
Trump on Thursday once more denied his involvement with the payment, as well as ever having an affair with Daniels. The defense team has labeled Trump as the victim in the hush money case.
"He is a victim of extortion because [Daniels] came out right before the election and said, 'Unless you pay me, I am going to make a public story about something he says is completely untrue,'" Trump attorney Joe Tacopina told Fox News' Sean Hannity on Monday.
Michael Cohen Remains 'Central Witness'
There's also the question of Michael Cohen, Trump's former attorney and "fixer" who has become the star witness for the Manhattan D.A. after testifying 18 times dating to Bragg's predecessor, Cyrus Vance Jr.
"Michael Cohen is the central witness here," former federal prosecutor Elie Honig said on CNN alongside Akerman. "Look, I know him personally, I happen to like him. I respect him. But let's be clear: He's going to ripped apart on the witness stand."
Akerman said the question with Cohen is not whether he's good or likable but whether he's being truthful and if prosecutors can corroborate his testimony.
"The only way you're gonna convince a jury that [Cohen's] being truthful is to take a jury through evidence of what he says," Akerman told Newsweek.
Akerman cited Cohen's secret recording of Trump while the two discussed the alleged payment to McDougal.
"That little piece of evidence is almost like we saw with that murder case in South Carolina with [Alex] Murdaugh, with this tape that showed he was present at the time of the murder," Akerman said. "It's not unusual to use a witness like [Cohen] who was an accomplice to testify in court....This whole notion about Michel Cohen not being credible and not somebody the [Manhattan] D.A.'s office can rely on is hogwash."
Cohen's attorney, Lanny Davis, told Newsweek that it remains unknown whether Cohen will meet with Bragg's office again.
"This particular group under D.A. Bragg has been very meticulous in gathering factual chronology, and if there is a case that's presented against Mr. Trump, it will be surrounded by documentary evidence meaning email, text messages and documents that simply reflect what the federal prosecutors under Donald Trump's Justice Department already publicly stated as a fact or several facts," Davis told Newsweek.
Akerman added that he "knows for a fact" that people in Bragg's office were assigned to James' office, saying that Bragg is being "very careful before they put testimony in stone before a grand jury."