Nationwide Marches Against 'Death, Lies and Fascism' Planned as U.S. Nears 200,000 COVID-19 Deaths
More than a dozen marches are due to take place at cities across the country in protest of President Donald Trump's handling of the COVID-19 outbreak as the U.S. nears 200,000 deaths.
Refuse Facism, a group who describe the Trump/Pence regime as a "catastrophic danger to humanity and the planet" have organized nationwide rallies for Monday, 21 September in response to the U.S having the highest coronavirus death count in the world.
As of Monday morning, Johns Hopkins University places the death toll in the U.S. at 199,512.
The group accuses Trump of having "deliberately deceived the world about the danger of the virus" after he was recorded on tape by Watergate journalist Bob Woodward saying how he "wanted to always play it down" when asked about what he knew about the potential danger of the fatal virus.
"I still like playing it down because I don't want to create a panic," Trump said in February.
"Now, Trump continues to lie, assail science, traffic in conspiracy theories, hold super-spreading rallies, and sabotage attempts to contain the pandemic. Many of those lost— disproportionately Latinx, Black and Native American—Trump would have gladly killed off anyway," said Carl Dix of Refuse Fascism.
The "March Against Death, Lies, and Fascism and For Humanity" events taking place in New York, Washington D.C, San Francisco, Houston and Chicago, among other cities, is also being promoted as a build up for daily protests scheduled to happen throughout October against the GOP's plans to replace Supreme Court Justice Ruth Bader Ginsburg before November's election.
Following Ginsburg's death on September 18 aged 87, Senate Majority Leader Mitch McConnell and Trump signaled their intention to fill the now vacant Supreme Court seat with one of the president's picks.
McConnell has been accused of hypocrisy after previously refusing to confirm Judge Merrick Garland, then-President Barack Obama's nominee to replace the late Justice Antonin Scalia, believing that the winner of the 2016 election should pick the nominee despite it being several months away.
In the days before her death, Ginsburg said in a statement later released by her granddaughter: "My most fervent wish is that I will not be replaced until a new president is installed."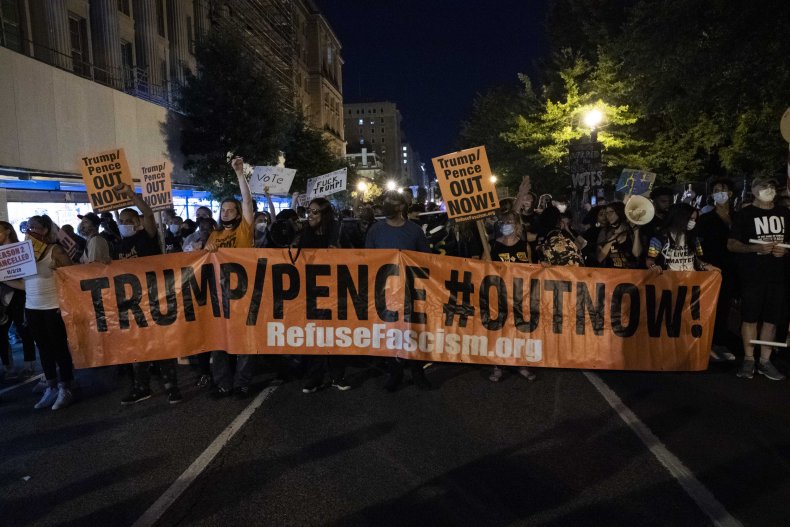 Ahead of Monday's protests, Coco Das, of the RefuseFascism.org Editorial Board, said: "Ruth Bader Ginsburg was a life-long stalwart fighter for the rights of women. She came to symbolize the hopes of so many who yearn for gender equality.
"Her passing intensifies the urgent need to get in the streets to drive out the Trump/Pence regime as we speed toward an election that is being stolen.
"Monday's protests will include reflections on what her loss means, and an occasion to turn grief into organized opposition to a fascist court and a fascist America and getting organized for daily protests in October."
The Trump administration has been contacted for comment.
This graph, provided by Statista, shows the percentage of Americans who want to improve or relax COVID-19 restrictions.