Trump Rally-Goer Claims Princess Diana, Jackie O. 'Alive' and Ruling World
An attendee of former President Donald Trump's Ohio rally on Saturday claimed that Princess Diana of Wales, former first lady Jacqueline Kennedy Onassis (often referred to as Jackie O.) and popstar Michael Jackson are "alive" and currently ruling the world.
Trump's rally at the Delaware County Fairgrounds is set to start at 7 p.m., with doors having opened earlier in the afternoon. Local media reported that Trump supporters flocked to the event from across the country.
Ahead of the event, Right Side Broadcasting Network (RSBN) sent some of its correspondents out to interview those attending the rally. An RSBN reporter spoke with a small group of women holding cut-out photos of Trump's head, according to video from the network's live stream. One of the women wore a pink "Women for Trump" hat and a pink shirt featuring Jackson, Kennedy and Princess Diana.
The reporter then asked the woman for a detailed explanation, telling the group they looked "so cute."
"Right, so, living, living and we know living," the woman responded, pointing individually at each photo of the three deceased celebrities on her shirt. "Ruling the world—and you don't take down evil by being quiet or silent, right," she added. "So, people need to understand who they are. Do they look like them today? No."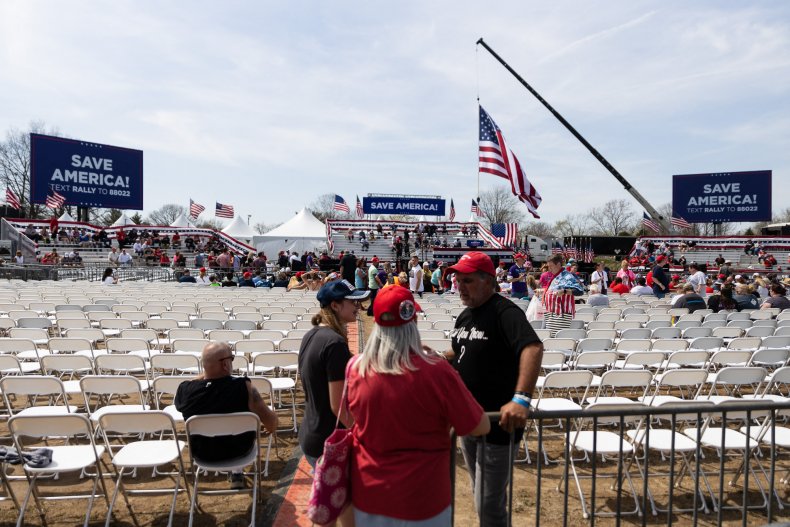 The reporter interjected, asking, "You think Princess Diana's still alive?"
"Absolutely, 100 percent," the woman replied immediately. "Do you?" she asked.
"I didn't. But maybe you know something that I don't know," the reporter replied.
"Well, you know God speaks to us, right?" the woman answered. "There's ways that we can figure these things out."
Kennedy died in 1994, as did Princess Diana in 1997 and Jackson in 2009. While fringe conspiracy theories have been floated that they are still alive, there is no evidence to corroborate these bizarre claims. Unusual conspiracy theories have become a staple at Trump rallies and among some supporters of the former president.
Many Trump supporters have espoused a belief in the QAnon conspiracy theory, which contends that a group of Satan-worshipping Democrats and Hollywood elite sexually exploit and sacrifice children in rituals to control the world. They believe Trump is fighting against this non-existent demon-worshipping organization.
A fringe group within the QAnon movement last year in November traveled to Dallas, Texas, on the 58th anniversary of former President John F. Kennedy's assassination. They believed that the son of Kennedy—John F. Kennedy Jr., who died in 1999—would miraculously return and proclaim Trump as the true president. Unsurprisingly to most, the deceased Kennedy Jr. neglected to show up.
Earlier this month at a North Carolina rally, a Trump supporter told an RSBN reporter that, "We're waiting for either God or the aliens." She then added, with a chuckle: "Or a nuke. I'll take one."
Natalie Allison, a reporter with Politico at the North Carolina event, shared on Twitter a photo of a man holding a flag featuring a hand pulling up the American flag to reveal a Confederate flag underneath—suggesting that the failed Confederacy of the Civil War-era should reemerge. Another flag waved above the man's head with an image of Trump and the message, "Only God and Trump can save our country."
Trump himself has not personally backed the conspiracy theories of his supporters, although he did previously speak favorably of QAnon.
"I've heard these are people that love our country," he said during a White House news conference in August 2020. "So I don't know really anything about it other than they do supposedly like me."
The former president has concocted and promoted a conspiracy theory of his own, however, claiming that the 2020 election was "rigged" or "stolen" in favor of President Joe Biden. He readily promotes these unfounded claims at his large events and in interviews, contending that the election results should have been overturned on January 6, 2021.
No evidence has emerged corroborating Trump's and his allies' allegations about the last presidential election. Dozens of election challenge lawsuits filed by the former president and his supporters failed in state and federal courts. Even Trump-appointed judges dismissed the cases. Audits and recounts across the country, including in states where the election was overseen by pro-Trump Republicans, have consistently reaffirmed Biden's win.
Former Attorney General William Barr, who was widely viewed as one of Trump's most loyal Cabinet members, has said repeatedly that there is "no evidence" to support claims of widespread voter fraud being behind Trump's loss. Barr wrote in his memoir published in March that he told the former president directly to his face that the claims were "bulls**t."
Trump is expected to continue to promote the claims Saturday evening when he speaks in Ohio. In a statement on Twitter that was released just hours ahead of the event, the former president said: "Heading to Ohio for a big rally tonight, great crowd. See you there!"