Trump Steps Up Midterm Campaign With Two Rallies as Troubles Mount
Donald Trump is set for a busy weekend as he campaigns for a host of his endorsed midterm candidates in Nevada and Arizona while continuing to face a slew of legal battles.
The former president will hold two "Save America" rallies in Minden, Nevada, on Saturday, followed by another event in Mesa, Arizona, on Sunday.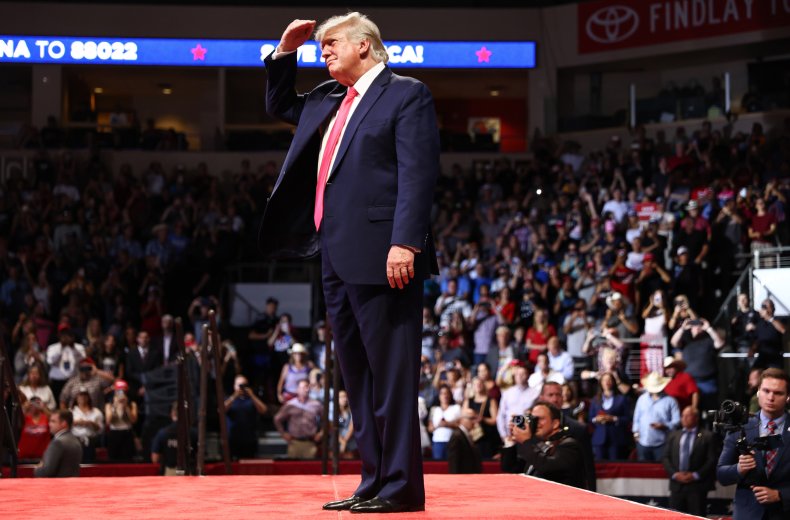 In Minden, Trump will be joined by a number of people he has backed in the upcoming elections in November, including Sheriff Joe Lombardo, the Republican nominee for Governor of Nevada; Adam Laxalt, who is running for Senate; and former assemblyman Jim Marchant, who is hoping to become the state's next secretary of state.
On Sunday, in Mesa, Trump will show support for candidates such as Kari Lake, the Republican gubernatorial candidate for Arizona; Senate hopeful Blake Masters; and the GOP candidate for secretary of state, rep. Mark Finchem.
Other special guests who will be appearing in Arizona on Sunday include GOP Arizona reps. Andy Biggs and Debbie Lesko, and Georgian congresswoman Marjorie Taylor Greene.
The rally in Mesa will take place three days before early voting for November's midterms begins in Arizona, with a number of people speaking, including Trump, pushing the false claim that mail-in voting is rife with fraud and why the 2020 election was "stolen" from the former president.
In a statement, Trump's Save America super political action committee (PAC) said the weekend's events will be a continuation of the former president's "unprecedented effort to advance the MAGA agenda by energizing voters and highlighting America First candidates and causes."
The rallies will take place as Trump's numerous legal issues continue to mount, including surrounding the investigation into the alleged mishandling of classified material seized from his Mar-a-Lago resort.
The FBI took more than 11,000 documents from Trump's Florida home in August, including hundreds marked top-secret and classified, despite assurances from Trump that all sensitive information had been handed to federal agents.
Jay I. Bratt, who leads the Department of Justice (DOJ)'s counterintelligence operations, is said to have now told Trump's legal team that the agency still does not believe the former president has returned all the documents that were removed from the White House in January 2021, reported The New York Times.
It is not clear if Bratt's alleged outreach is based on new evidence from the DOJ, nor what steps prosecutors might take next to try to retrieve potentially still-missing documents, if at all.
Elsewhere, one of Trump's lawyers Alex Cannon reportedly refused to tell the National Archives and Records Administration in early 2022 that the former president had returned all the materials requested, despite being instructed by Trump to do so.
Cannon, a former Trump Organization lawyer, is said to have told Trump he could not inform the National Archives all the requested material had been returned, as he was unsure that was true, according to The Washington Post.
The Post also said that Trump had personally packed the original 15 boxes of classified materials that were returned to the National Archives in January.
Trump has frequently denied any wrongdoing over the allegations he mishandled classified materials and then tried to obstruct the federal government's attempt to retrieve them.
Newsweek has contacted Trump for comment.