Trump Should've Been Indicted as Soon as He Left Office: Watergate Lawyer
Jill Wine-Banks, a lawyer known for her time as a prosecutor during the Watergate scandal, said that former President Donald Trump should have been indicted as soon as he left office.
Wine-Banks served on the staff of special prosecutor Leon Jaworski during his time heading up the investigation into Watergate, the scandal which saw revelations about spying on Democratic opposition, rock and ultimately end Richard Nixon's presidency in the early 1970s. Later, she was appointed general counsel for the U.S. Army by former President Jimmy Carter, serving from 1977 to 1980.
Currently, she is a co-host on the Sisters in Law podcast with Barbara McQuade and Joyce Vance, and makes frequent appearances as a legal analyst for MSNBC. It was in this latter role that she appeared on Sunday to discuss the various legal battles ensnaring Trump, including investigations into alleged election tampering in Georgia in 2020 and various federal probes being handled by the Department of Justice (DOJ).
During this discussion, Wine-Banks said that all potential crimes committed by Trump should be investigated, not just the biggest. She also expressed frustration that he was not indicted as soon as he left the White House, due to his alleged mention in the indictment against his former lawyer, Michael Cohen.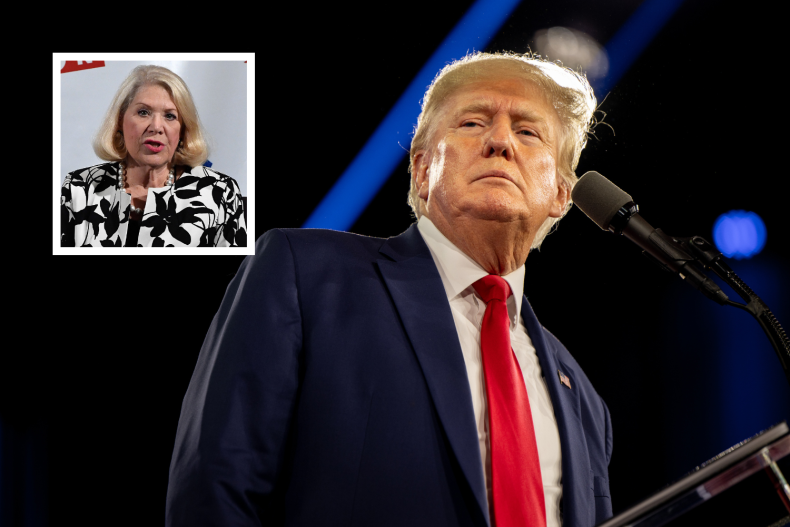 "It has always been strange to me that he was not indicted as soon as he left the presidency," Wine-Banks said. "Because he was named in the indictment of Michael Cohen, as the 'Person Number One.' It was said that the crime was committed for the benefit of 'Person Number One.' And that was clearly him. So, I think that it is just sort of cleaning up the statute of limitations on that is more than likely to run quickly, and so it will get more attention now because of the statute of limitations. It should not in any way interfere with all the other things that are going on."
Critics of the former president have long argued for his swift indictment on criminal charges in hopes of achieving accountability at the highest levels of power and impeding him from retaking the White House in the future. Meanwhile, Attorney General Merrick Garland in a memo this past May, ahead of the 2022 midterm elections, urged DOJ employees to avoid the appearance of partisan motivation.
"Simply put, partisan politics must play no role in the decisions of federal investigators or prosecutors regarding any investigations or criminal charges," Garland said in the memo. "...Such a purpose, or the appearance of such a purpose, is inconsistent with the Department's mission and with the Principles of Federal Prose."
In addition, the office of Manhattan District Attorney Alvin Bragg last month began presenting evidence to a grand jury as part of its long-term investigation into Trump's alleged involvement in the payment of hush money to adult film star, Stormy Daniels. Cohen was previously convicted of campaign finance violations, among other charges, for his involvement in the scheme, which aimed to keep Daniels quiet about an alleged past affair with Trump during the 2016 presidential race.
As Wine-Banks mentioned, Cohen's indictment mentioned that he acted at the behest of and for the benefit of an unnamed "Person Number One," whom many believe was Trump himself.
Trump, as he has consistently done with all of the legal cases against him, has denied wrongdoing in the case and lashed at the officials handling it, according to the Associated Press earlier this month, calling the case "weak" and "fatally flawed."
"THE BIGGEST PROBLEM THEY HAD WITH THE "CASE" IS THAT I DID NOTHING WRONG!" the former president wrote in a post on social media.
Newsweek reached out to Trump's office for comment.