Trump Just Made Up an African Country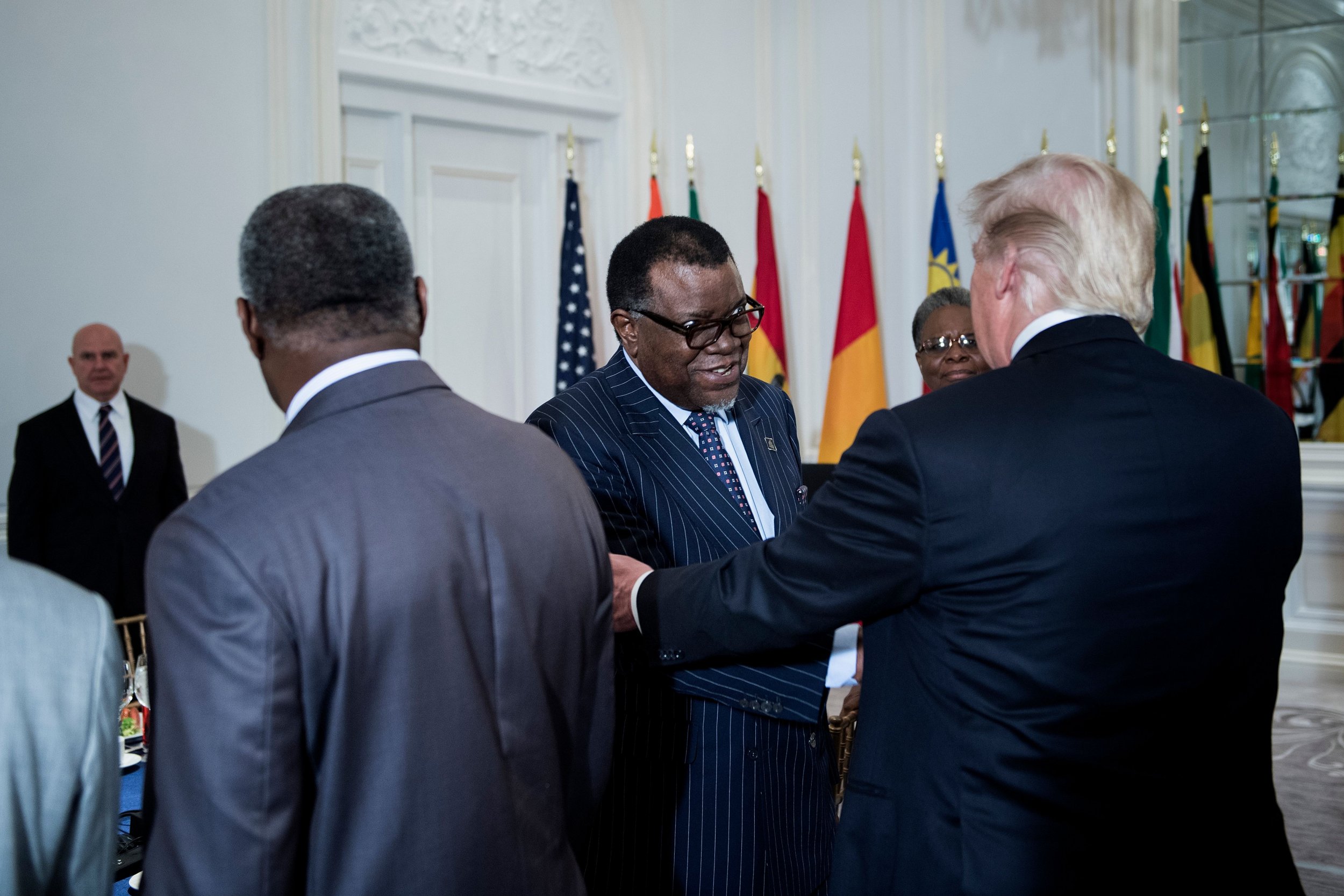 President Donald Trump hasn't had much to say about Africa during his first eight months in office.
But on Wednesday, Trump's addressed to a working lunch of African leaders didn't get off to a great start. In his brief speech, which lasted just under seven minutes, Trump made several faux-pas that left many on social media questioning the extent of his knowledge of African history and geography.
Foremost among these was Trump's creation of a non-existent African country, Nambia. Twice during his speech, Trump referred to Nambia: firstly to welcome its leader, and secondly to state that "Nambia's health system is increasingly self-sufficient."
Much like the fictional African kingdom of Zamunda that featured in the Eddie Murphy film Coming to America, Nambia does not actually exist. There is a Zambia and there is a Namibia, but no Nambia.
An official White House transcript corrected Trump's mispronunciations and made it clear that he was referring to Namibia, a southern African country that borders South Africa, Botswana, Zambia and Angola.
Read more: Here's five reasons why Nigerians like Donald Trump
But that did not stop many observers hounding Trump for his error, including late-night television host Stephen Colbert, who suggested that Trump might pay a visit to Nambia and another fictional kingdom in Africa.
Others suggested that Trump's communications team may buckle down to defend his mistake, as they have done previously when questioned about the crowd size at Trump's inauguration or his infamous covfefe tweet.
Trump has history in this regard. During a foreign policy speech in April 2016 while he was the Republican presidential frontrunner, Trump used a novel pronunciation when referring to the East African country of Tanzania.
Besides the Nambia gaffe, Trump also referred to Africa's "tremendous business potential" before going on to speak about how U.S. firms were seeking to benefit from African markets.
"I have so many friends going to your countries, trying to get rich. I congratulate you. They're spending a lot of money," said Trump.
The U.S. president's comment was interpreted by many through the lens of colonialism, whereby European and other Western countries have exploited the natural resources and people of many African countries.
The Democratic Republic of Congo, for example, was under Belgian colonial rule for almost 100 years; millions of Congolese were killed as Belgian King Leopold II turned the country into a forced labor camp to harvest rubber and other resources.
Some have claimed that Trump was making a valid point in referring to Africa's "business potential." The continent is home to fast-growing economies—like Ethiopia and Tanzania—and Africa's population is predicted to grow by 1.3 billion by 2050, offering an unprecedented economic opportunity, according to some observers.
Trump himself obviously enjoyed the lunch, sharing photos and saying that he had held "great discussions" on the "challenges & opportunities" facing the United States and African countries.
But the Trump administration has so far articulated little of its foreign policy for Africa, bar general cuts to development aid and a stepping back from the U.S.'s leading role in financing U.N. peacekeeping. Until he takes some concrete steps on African policy, Trump risks being known on the continent chiefly as the creator of Nambia.