Trump Supporters Prefer Pence, DeSantis and Cruz for 2024 Presidential Run
Donald Trump's supporters have indicated that they would vote for Florida Governor Ron DeSantis, former Vice President Mike Pence, or Texas Senator Ted Cruz in a hypothetical 2024 presidential race, according to a new GOP survey.
The survey, which was conducted by GOP pollster Tony Fabrizio, found that the former president was by far the top choice for 2024 with 51 percent of Republican support.
But when Trump was taken out of the picture, DeSantis and Pence were tied at 22 percent as a second choice for voters. Following closely behind them was Cruz, with 19 percent of voters indicating support for the Texas Republican.
"If President Trump chose not to run, it's clear his supporters are already gravitating towards VP Mike Pence, Florida Gov. Ron DeSantis and Sen. Ted Cruz," Fabrizio told Politico.
However, Fabrizio added that there is "no question at this juncture that President Trump would dominate the 2024 field with no potential challenger even breaking onto double digits."
Among other names included in the survey with Trump on the ballot were former U.N. Ambassador Nikki Haley, who received 6 percent of support, while Utah Senator Mitt Romney received 5 percent. Florida Senator Rick Scott received zero percent, despite being a longtime Trump supporter.
With Trump included, Cruz received just 3 percent and Florida Senator Marco Rubio got 2 percent. Others, including South Dakota Governor Kristi Noem, Maryland Governor Larry Hogan, Senators Tom Cotton of Arkansas and Josh Hawley of Missouri, and former Secretary of State Mike Pompeo received 1 percent.
The poll was conducted between February 20—March 2 using a sample of 1,264 voters who are registered or affiliated as Republicans. The margin of sampling error is plus or minus 2.7 percent.
The survey comes amid growing support for DeSantis, who has increasingly been seen as a possible front-runner for 2024.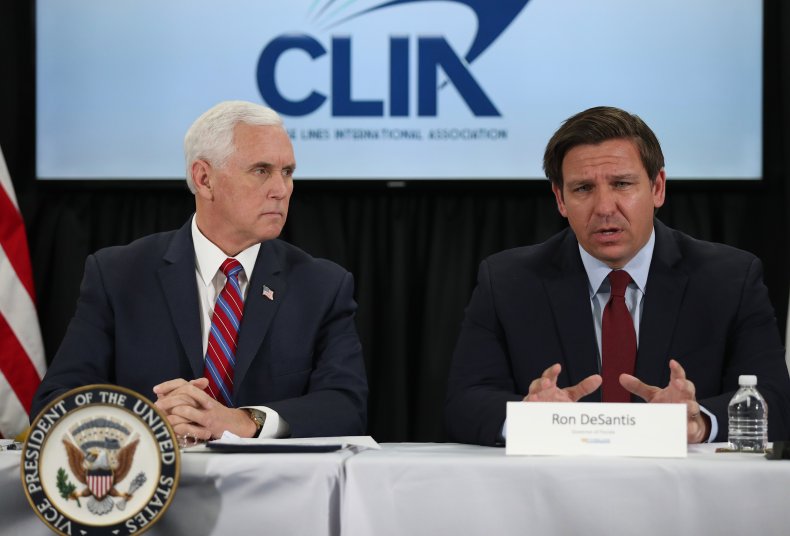 Over the past month, DeSantis has made several high-profile appearances and been lauded for his outspoken support of Trump. The Florida governor has also been praised by Republicans for leaving the economy open with a hands-off approach at handling the coronavirus pandemic.
Democrats have criticized that approach and have recently alleged that DeSantis has targeted the "whitest and richest" areas across the state to receive vaccines.
But in a poll published on Tuesday, DeSantis received a 53 percent approval rating from Florida residents, an increase from his rating at the same time last year.
"In order to run for president, you need to have your home state, you need your home base," Fabrizio said in February. "And DeSantis clearly has that."
Meanwhile, Pence has remained relatively quiet since leaving office. On Wednesday, the former vice president penned an op-ed in which he questioned the integrity of the 2020 election and attacked Democrats for pushing forward election reform legislation.
Cruz, on the other hand, received backlash last month for traveling to Cancun, Mexico, while constituents in his state were battling an unprecedented winter storm and cold temperatures. He made an appearance at the Conservative Political Action Conference (CPAC) last week, in which he doubled down on his support for Trump and said the former president "ain't going anywhere."
Though Trump has made no official commitment to run again in 2024, on Sunday, the former president signaled a potential bid in a fiery speech at CPAC.
"I may even decide to beat them for a third time," he said, implying that he won the 2020 election against President Joe Biden.
Newsweek contacted Trump for additional comment but did not hear back in time for publication.