Former President Donald Trump has embarked on a cyber tirade in his Truth Social account since word broke that he was facing federal charges in the Department of Justice Department (DOJ) classified documents probe.
In a 49-page grand jury indictment released Friday, the DOJ accuses Trump of mishandling classified documents that he took with him after leaving the White House and of blocking governmental efforts to retrieve the sensitive materials. The former president has repeatedly called the investigation, led by Special Counsel Jack Smith, the "boxes hoax," insisting that he is innocent.
Trump has been known for his social media presence since entering the political spotlight. From getting banned—and later reinstated—on platforms like Twitter and Facebook for making unfounded claims of election fraud in 2020, to using his Truth Social platform to rip his critics, it is often not hard to stay current on the former president's thought process.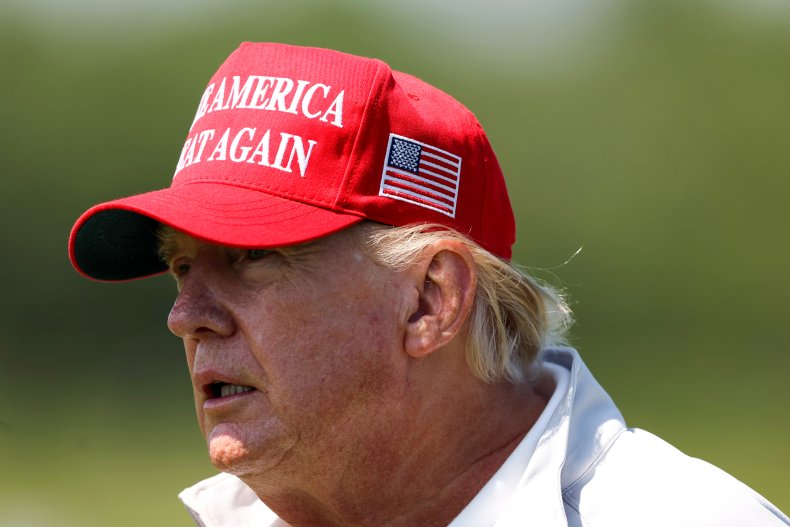 Over the last 24 hours, Trump has bombarded his Truth Social platform, with more claims about his innocence and theories that the DOJ investigation was an effort to upend his 2024 reelection campaign. After Trump's lawyers were informed by federal prosecutors that the former president was being charged in the classified documents probe, Trump promptly called it "a DARK DAY" for the nation in a series of posts Thursday night.
Trump has also used his platform to re-share Truth Social posts and screenshots of tweets made by some of his closest congressional allies, who also condemned the charges. GOP House Speaker Kevin McCarthy posted on both his Truth Social and Twitter accounts, "Today is indeed a dark day for the United States of America."
"I, and every American who believes in the rule of law, stand with President Trump against this grave injustice," the speaker added. "House Republicans will hold this brazen weaponization of power accountable."
The former president and his allies have also targeted the bribery scheme accusations against President Joe Biden since Trump's federal charges were announced. House GOP members are alleging that an FBI document from June 2022 points to evidence that the Biden family earned millions of dollars while he was vice president by accepting bribes from foreign nationals.
Several Republicans have alleged that the charges against Trump were a way to distract from the accusations against Biden. On Thursday, prior to the announcement of Trump's charges, members of the House were able to review the long-sought FBI form related to the accusations.
"Biden pressed Jack Smith to do this in order to take the pressure off the fact that they caught him stealing $5 Million," Trump posted Friday.
Trump also accused Biden of mishandling the classified documents found in his possession from the time he was vice president. The DOJ is still investigating the forms discovered at one of the president's old offices and at his house in Delaware.
"Biden moved his Boxes all over the place, including to Chinatown and up to his lawyer's office in Boston," Trump wrote in a Truth Social post Friday afternoon. "Why isn't deranged Jack Smith looking at that?"
"Also, I supplied them openly, and without question, security tape from Mar-a-Lago. I had nothing to hide, nor do I now," he added. "Nobody said I wasn't allowed to look at the personal records that I brought with me from the White House. There's nothing wrong with that ..."
In the indictment, the DOJ says Trump blocked efforts to retrieve classified documents by moving boxes around his estate at Mar-a-Lago in the summer after a federal subpoena was issued for their return in May 2022. Three months later, federal agents conducted a search of Trump's residence for the materials.
The FBI did conduct a sweep of Biden's house in January after documents were discovered at his residence in Wilmington, Delaware. The National Archives retrieved the documents found at Biden's old office at the Penn Biden Center within 24 hours.
The former president is expected to appear for arraignment in Miami, Florida, at 3 p.m. Tuesday. When he was arraigned for the 34 felony counts attached to the Manhattan District Attorney's indictment, Trump called upon his followers to rally outside the federal courthouse in New York City.
"SEE YOU IN MIAMI ON TUESDAY!!!," Trump wrote among his bombardment of posts Friday.
When reached by Newsweek on Thursday, a White House spokesperson declined comment on Trump's indictment. Biden has not made a public statement about the charges.