Trump Handled the Pandemic Worse than Italy, U.K. and Australia's Leaders: Poll
President Donald Trump is perceived to have handled the coronavirus pandemic worse than leaders of the U.K., Italy and Australia, according to polling.
The U.S. president has faced persistent scrutiny over the COVID-19 pandemic, with questions raised over the early response to the outbreak and his stances on handling it since.
Polling by Ipsos Mori, in conjunction with ESRC-funded TrustGov project and Museum of Australian Democracy, across the U.S. and three other nations asked 1,000 respondents in each opinions on their nation's respective leaders.
Asked if they were handling the situation well, Australian Prime Minister Scott Morrison came top, with 68 percent stating he was.
He was followed by Prime Minister Giuseppe Conte of Italy, on 49 percent, U.K. Prime Minister Boris Johnson, 37 percent, then Trump on 35 percent.
Trump was also last, on 35 percent, in regards to respondent stating he was handling the outbreak competently.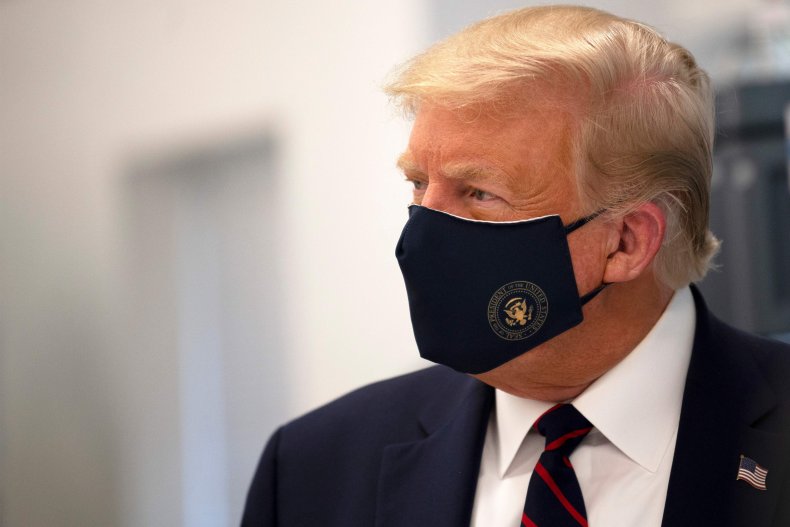 He was also deemed the listening to experts by less respondents than any of the other leaders, with only 34 percent stating he did this.
"President Trump stands out as receiving the lowest marks from the public," a release from Ipsos Mori detailing the polling said.
Newsweek has contacted the White House for comment.
These results come after separate polling suggested most Americans think the federal government's response to the pandemic has been unsuccessful.
The graphic below, from Statista, shows the nations with the most confirmed COVID-19 cases as of August 17.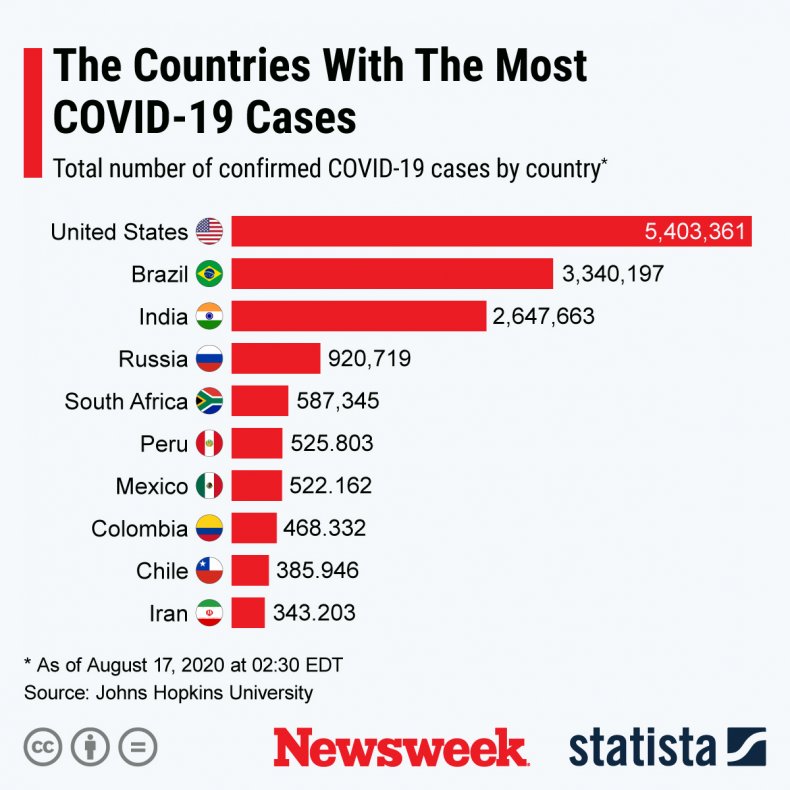 The U.S. has the most confirmed COVID-19 cases of any nation, with more than 5.4 million across the country and numbers spiking in some regions. The South Atlantic has the most confirmed cases of any region in the country.
Trump has consistently defended this number by stating it was high due to the amount of tests being conducted, arguing the more carried out the more cases will be picked up.
However, experts have disputed this assertion, as previously reported by Newsweek.
In regards to his stance on experts, he has repeatedly clashed with Dr. Anthony Fauci, director of the National Institute of Allergy and Infectious Diseases (NIAID), and said the health chief would like to see the nation closed for a "couple of years."
Trump pushed the need for states to reopen after lockdowns, though Fauci said areas suffering spikes should consider implementing such restrictions having also pushed for measures to be lifted slowly.
Polling notes
Ipsos MORI interviewed more than a thousand adults in each nation, the U.S., the U.K., Australia, and Italy in May and June 2020.
U.S., May 19 to May 23, 1,150 respondents
U.K., May 18 to May 19, 1,167 respondents
Italy, May 21 to May 22, 1,134 respondents
Australia, May 28 to June 15, 1,061 respondents