Trump's Job Approval Rating Ticks Up After Capitol Riot: Rasmussen Poll
President Donald Trump's approval rating has actually increased slightly since his followers' riot on the U.S. Capitol last Wednesday.
As of Monday, January 11, Trump's approval rating stands at 48 percent, according to the Rasmussen polling firm. About 51 percent of respondents disapprove of Trump's job performance. The former number is higher than in recent polling from the same pollster.
A Rasmussen poll released on December 31, 2020 showed Trump's approval rating at 45 percent. However, in Rasmussen polls released on January 5 and 6, 2021, his approval rating rose to 47 percent. Then, by January 7, the day after the riots, the pollster listed Trump's approval rating as 49 percent, just a point above where it stands as of Monday, January 11.
Rasumussen conducts its polls by calling the landlines and cell phones of American adults using an automated recorded system rather than live human pollsters. The firm's margin of error is plus or minus 5.3 percentage points, according to the polling aggregation site FiveThirtyEight.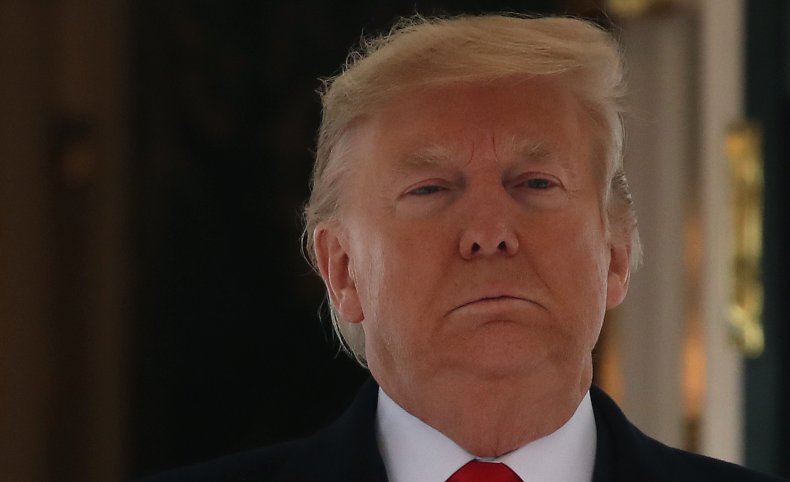 Throughout his presidency, Trump has retweeted Rasmussen polls, as the pollster tends to report higher job approval numbers for him than other polling groups have.
In contrast, a Quinnipiac University poll released Monday revealed a 33 percent job approval rating for Trump, an 11-point drop from a December Quinnipiac poll asking respondents the same question. Quinnipiac's Monday poll showed that 60 percent of voters disapprove of Trump's job performance.
Trump has faced backlash from Democrats and Republicans after a rioting mob of his supporters fought federal police and broke into the U.S. Capitol. The riot occurred after Trump held a Stop the Steal rally accusing "Big Tech," the media, Democrats and Republicans of illegitimately approving of President-elect Joe Biden's election victory. At the rally, Trump told his followers to march to the Capitol to stop legislators from approving Biden's victory.
Five people died in the riot, including an insurrectionist shot in the neck as she tried to enter the House antechamber, a woman trampled to death by fellow Trump supporters and a police officer that insurrectionists beat to death with a fire extinguisher. Trump supporters also stole computer equipment, constituting a national security breach.
On Monday, the U.S. House introduced articles of impeachment against Trump for "incitement of insurrection." The House is expected to vote on the matter later this week, though the Senate has indicated that it is unlikely to impeach Trump before his term ends on January 20.
An ABC News and Ipsos poll released last week found that 67 percent of Americans believe Trump is responsible for provoking the riots. A January 8 PBS NewsHour/Marist poll found 51 percent of Republicans believe Trump is "not at all" to blame for the event.
A January 7 Ipsos poll found that 51 percent of Americans believe the capitol riots were an attempted coup. A YouGov poll released the same day showed that 45 percent of Republicans supported the capitol riots while 43 percent of Republicans didn't.
A January 6 YouGov poll conducted found that 50 percent of respondents thought it'd be appropriate to remove Trump from office for inciting the riots; 42 percent thought the opposite.
Newsweek contacted the Trump campaign for comment.