Ukraine Official Asks Elon Musk for Starlink Stations Amid Russian Invasion
In an attempt to provide the country access to satellite internet, Ukraine's Vice Prime Minister Mykhailo Fedorov on Saturday asked Tesla's CEO Elon Musk to provide Starlink stations, which are internet-beaming satellites launched by SpaceX, as the country continues to face an invasion by Russian forces.
He also urged the U.S. billionaire to encourage "sane Russians" to stand against their government.
"@elonmusk [Elon Musk] while you try to colonize Mars—Russia try to occupy Ukraine! While your rockets successfully land from space—Russian rockets attack Ukrainian civil people! We ask you to provide Ukraine with Starlink stations and to address sane Russians to stand," tweeted Fedorov, who is also the minister of digital transformation.
A few hours later on Saturday, Musk said that Ukraine now has active Starlink service.
"Starlink service is now active in Ukraine. More terminals en route," he tweeted without revealing any further details.
Fedorov responded to his announcement, saying, "Starlink terminals are coming to Ukraine! Thank you @elonmusk [Elon Musk], thank you everyone, who supported Ukraine!"
SpaceX on Friday launched its second load of Starlink satellites, which provide internet connections to paying customers across the world. The company has launched over 1,700 satellites, with some of them passing over Ukraine. According to EMEA Tribune, there are no ground stations in the country that would allow Ukrainians to benefit from the network. A station located in Poland's Wola Krobowska is the nearest one, however.
On Friday, Fedorov asked Apple's Tim Cook to stop providing products and services to Russians in another effort to pressure Moscow leaders.
"I've contacted Tim Cook, Apple's CEO, to block the Apple Store for citizens of the Russian Federation, and to support the package of US government sanctions! If you agree to have the president-killer, then you will have to be satisfied with the only available site Russia 24," he tweeted.
In an open letter he posted with his tweet, the vice prime minister wrote: "I appeal to you and I am sure that you will not only hear, but also do everything possible to protect Ukraine, Europe and, finally, the entire democratic world from bloody authoritarian aggression-to stop supplying Apple services and products to the Russian Federation, including blocking access to App Store!"
He also called on the CEOs of Google, YouTube, Apple, PayPal and Netflix to restrict or limit the services they offer to Russia.
"I asked YouTube to block the Russian propaganda media, which call us Nazis and drug addicts, lie and promote war. Asked Meta to block Facebook and Instagram. I asked Netflix to block the service in Russia," Fedorov said in a Facebook statement, according to Politico.
Fedorov's requests come as the Russian invasion of Ukraine enters its fourth day after President Vladimir Putin decided to launch a "special military operation" to "demilitarize and de-Nazify" the Eastern European country.
Ukrainian authorities reported missile strikes across the country shortly after Putin's announcement as Russian ground and air forces were seen advancing into territories controlled by the government in Kyiv. An Interior Ministry source reported hundreds of casualties after the first missile struck Ukraine.
Ukraine's President Volodymyr Zelenskyy reportedly asked for ammunition to face the Russians as he refused an offer from the U.S. to evacuate from the capital.
"The fight is here; I need ammunition, not a ride," he said, according to the embassy's tweet on Saturday.
The Ukrainian president said on Friday that he discussed stronger sanctions with President Joe Biden and "concrete defense assistance and an anti-war coalition."
Zelenskyy also said that he told Ursula von der Leyen, president of the EU Commission, that "not all possibilities for sanctions have been exhausted yet. The pressure on Russia must increase."
In a video briefing on Saturday, Zelenskyy said that his forces were still in control of Kyiv as they were pushing back against a Russian advance. In another video, the he debunked rumors on Friday that he had fled the country.
Toward the end of his speech on Saturday, he said, "Please stop those who are lying, or trying to lie to you, or lying to us. We need to stop this war. We can live in peace together, globally as humans. We are successfully holding back the enemy's attacks. We know we are defending our land and the future of our children. Kyiv and the key areas are controlled by our army."
"The occupiers wanted to set up their puppet in our capital. They didn't succeed. On our streets, there was a proper fight going on," the president added.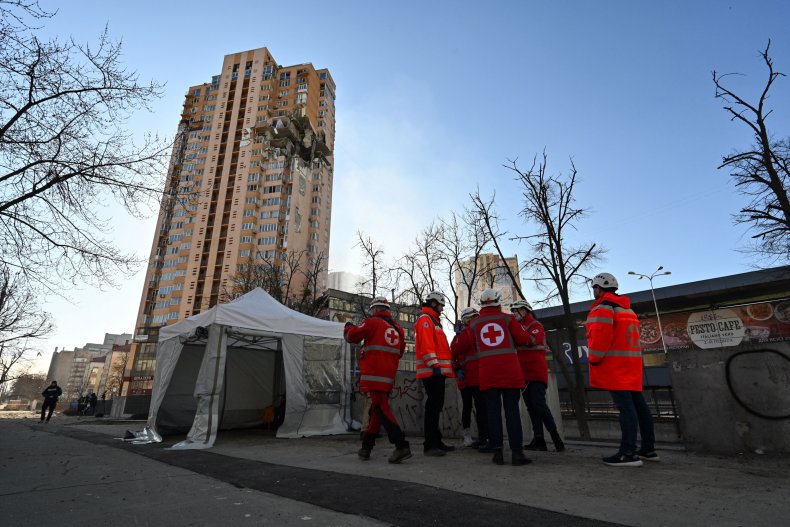 The story has been updated to include additional information and Elon Musk's tweet.