Ukraine Speaks With China About Reining In Vladimir Putin
Ukraine has asked China to leverage its close relationship with Russia to halt President Vladimir Putin's deadly siege of Kyiv and other cities—a war that has already claimed the lives of hundreds of civilians.
In a call to his opposite number on Tuesday, Dmytro Kuleba, Ukraine's top diplomat, asked Wang Yi to "use the level of relations between Beijing and Moscow to force Russia to stop its armed aggression against the Ukrainian people," according to a readout of the conversation released by Ukraine's Foreign Ministry.
Wang was said to have "reaffirmed China's unwavering support for Ukraine's sovereignty and territorial integrity," according to the ministry's statement, while promising to "make every effort to end the war on Ukrainian soil through diplomacy."
Not unexpectedly, Beijing's readout of the conversation had some subtle differences. According to a report on the Ministry of Foreign Affairs website, Wang noted rapid changes in the situation on the ground and said China "deeply regrets" the outbreak of hostilities between Ukraine and Russia.
The Chinese government has also acknowledged "harm to civilians" for the first time since Moscow's military campaign began seven days ago.
At a daily press briefing on Wednesday, the Chinese foreign ministry reiterated its support for peace talks between Kyiv and Moscow, saying China would "continue to play a constructive role in promoting the de-escalation of the situation in Ukraine."
In the days since Putin launched his war against Ukraine, Russia's economy has been in free fall as global sanctions make the country an international pariah. The world has looked to Beijing to help end the conflict, given its seat on the United Nations Security Council and because of the friendship between Putin and President Xi Jinping of China.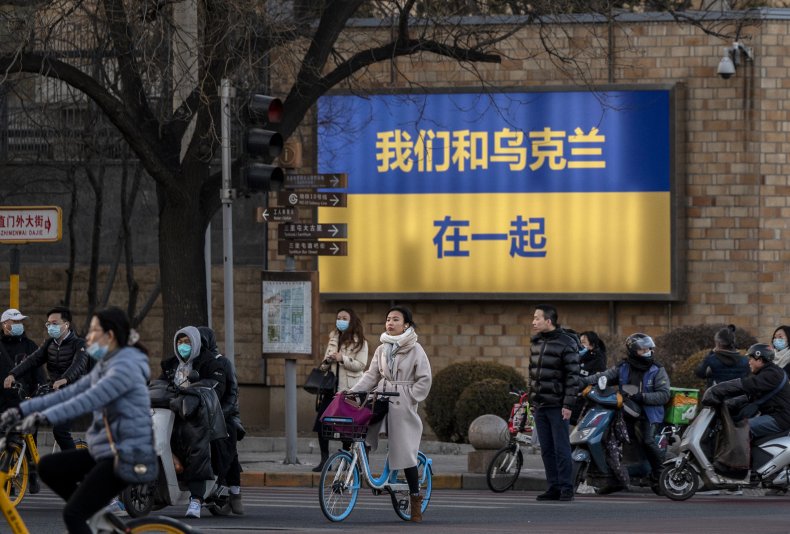 Beijing has stressed that China and Russia are not in alliance but, in each of its calls for a ceasefire, it has taken Moscow's side against NATO expansion. Despite the shelling and the advance into Ukraine by Russian troops, China has also refused to describe the attack as an invasion—all positions closely linked to the mutual pledge of loyalty agreed by Putin and Xi last month.
The UN estimates that there have been more than 500 civilian casualties, including 13 children, since the invasion began on February 24. Nearly 700,000 Ukrainians have fled the country.
During Tuesday's call, Wang reminded Kuleba of Ukraine's "international obligations" to ensure the safety of Chinese nationals still trapped inside the country.
According to Ukraine's Foreign Ministry, Kuleba responded: "The best guarantee of security for Chinese citizens, as well as other foreign citizens in Ukraine, is the pressure of their governments on Russia to stop the armed aggression against our state, especially the barbaric shelling of peaceful Ukrainian cities."
Follow our live blog for updates on the Russia-Ukraine conflict