Ukrainian Troops Demine Recaptured Snake Island, Rescue Stray Cat
Ukrainian troops demined areas of the recaptured Snake Island, changed the Russian flag for the yellow and blue of the defending nation – and also rescued a lone cat.
The Main Intelligence Directorate (GUR) for the Ukrainian Ministry of Defense (MoD) said demining and research work was carried out on Snake Island, also known as Zmiinyi Island, after it was recaptured earlier this month.
The directorate said Wednesday: "Ukraine conducts research and demining of Snake Island.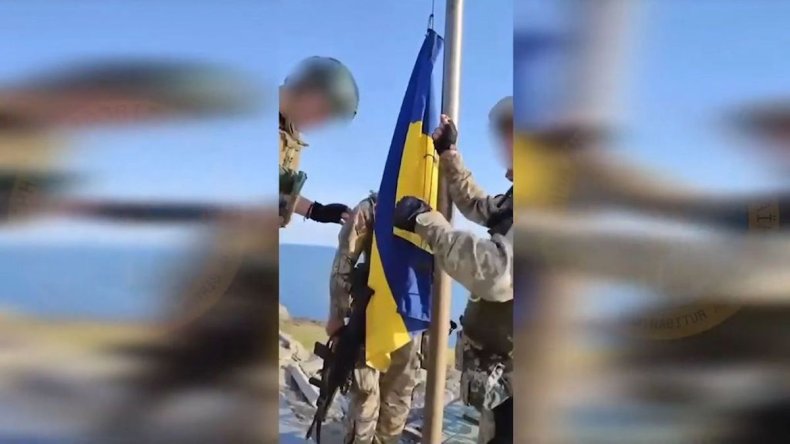 "During the course of the MoD's GUR operation, research and reconnaissance of the territory and underground fortifications of Zmiiny Island were carried out.
"Mine clearance engineering works have now been completed.
"The enemy's weapons and equipment were identified and seized. In particular, guidance and control systems, Orlan-10 UAVs, MANPAD systems, grenade launchers, flamethrowers, small arms, combat logs, personal documents of the Russian military, and electronic media.
"The Ukrainian flag was raised on the island instead of the racist 'tricolor.'"
The directorate added: "In addition, a Ukrainian cat that had lived on the site for several months was found and taken to controlled territory."
Russia invaded Ukraine on February 24 in what the Kremlin is calling a "special military operation." Thursday marks the 148th day of the invasion.
The General Staff of the Armed Forces of Ukraine reported that between February 24 and July 20, Russia had lost about 38,750 personnel, 1,700 tanks, 3,905 armored combat vehicles, 856 artillery units, 250 multiple launch rocket systems, 113 air defense systems, 221 warplanes, 188 helicopters, 703 drones, 167 cruise missiles, 15 warships, 2,775 motor vehicles and fuel tankers, and 70 units of special equipment.
CIA chief William Burns said Wednesday that there is no intelligence that Russian President Vladimir Putin is in bad health or unstable. It has long been rumored in Western media that Putin, 69, has been suffering from ill health, possibly cancer, but Burns joked that the Russian president appeared "too healthy," adding: "He is convinced that his destiny as Russia's leader is to restore Russia as a great power.
"He believes the key to doing that is to recreate a sphere of influence in Russia's neighborhood and he cannot do that without controlling Ukraine."
Burns said the U.S. believes Russia has so far lost around 15,000 soldiers in Ukraine, with some 45,000 wounded.
Washington announced Wednesday that it will provide Ukraine with more long-range weapons despite an apparent warning from Russian Foreign Minister Sergey Lavrov that such an act would broaden Moscow's military focus in Ukraine.
A report released on the same day by the Office for Democratic Institutions and Human Rights said Russian troops committed serious rights violations in Ukraine. The Warsaw-based office cited cases including the shelling of a theater in Mariupol in mid-March and of Kramatorsk train station in early April.
Both of these incidents resulted in civilian deaths and may amount to Russian war crimes, said the institution.
The report also detailed witness reports of illegal executions, detentions, abductions, and cases of torture and sexual violence.
This story was provided to Newsweek by Zenger News.