U.S. and Russia Back Nuclear Projects on Opposite Sides of Red Sea as They Fight for Influence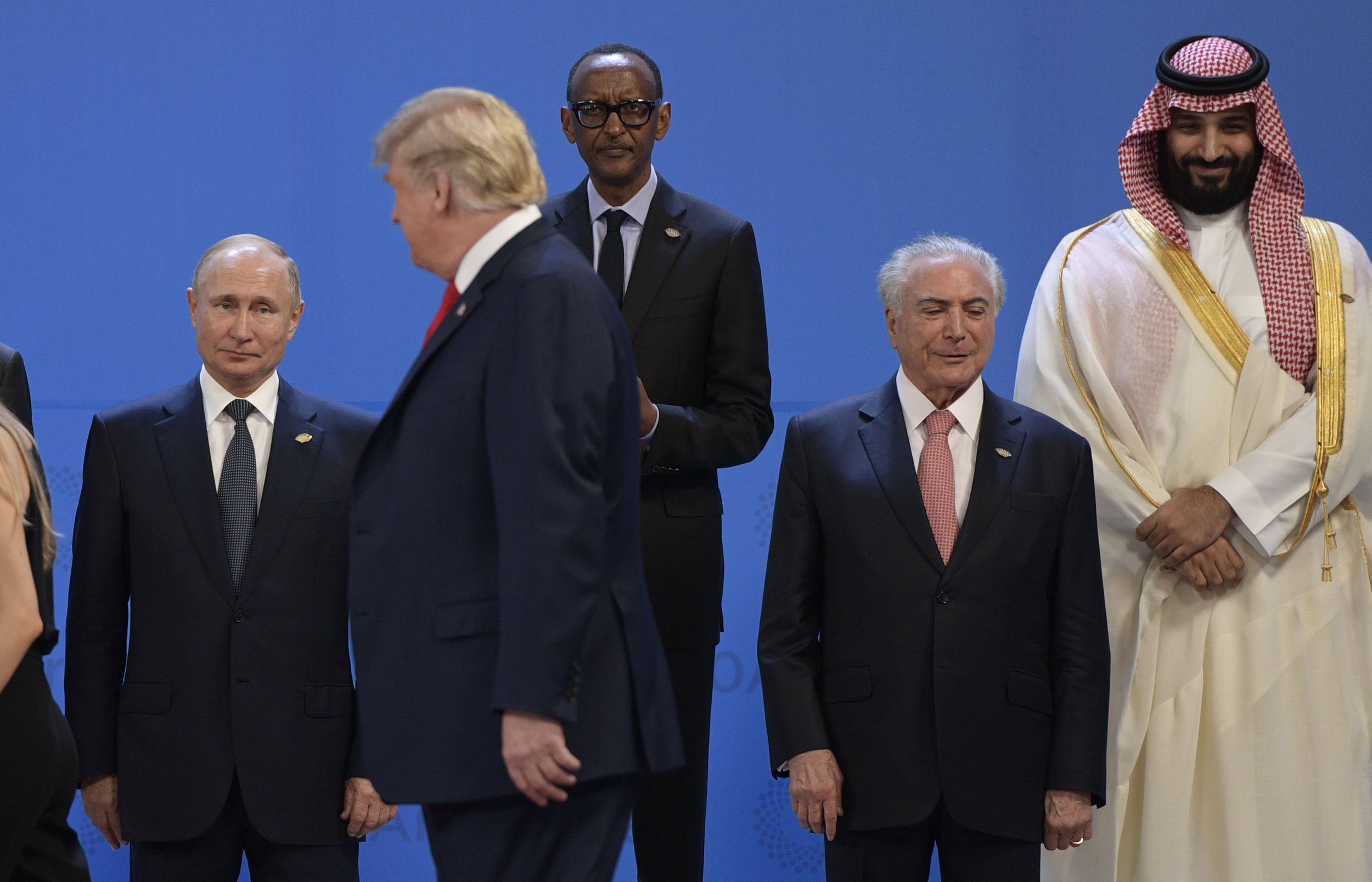 Russia and the United States have embarked on separate nuclear projects on opposite sides of the Red Sea, along a vital node of competing interests between Moscow and Washington.
At the 2019 Atomexpo gathering in Sochi, Russia and Ethiopia "signed a three-year roadmap for establishing cooperation on the construction of a nuclear power plant and a center for nuclear science and technology in the African country," according to a news release from the event published Monday. The agreement was signed by Moscow's state-run Rosatom General Director Alexei Likhachev and Addis Ababa's Innovation and Technology Minister Getahun Mecuria Kuma.
The two countries signed a memorandum of understanding on joint nuclear initiatives in June 2017, and Monday's framework would provide a path for Moscow to expand its technological influence in Africa, a continent where the U.S. has struggled to convince countries to reject its top geopolitical competitors.
"The roadmap determines specific steps in strengthening bilateral cooperation in the field of peaceful use of atomic energy," the document read. "The parties plan has identified joint actions within the framework of nuclear power plant construction and center for nuclear science and technology construction projects. Thus, a foundation is laid for training personnel and raising public awareness about atomic energy."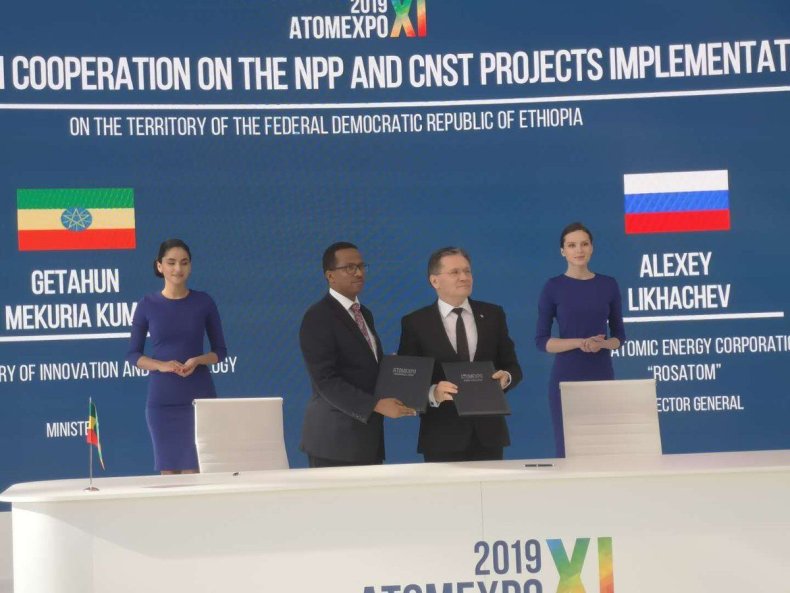 Although Ethiopia is land-locked, its strategic position in the Horn of Africa has made it a coveted destination for foreign powers for centuries and its GDP and population was greater than those of neighboring Eritrea, Djibouti and Somalia combined. On the banks of the Red Sea was an even bigger player represented at Atomexpo, Egypt, whose Petroleum Projects and Technical Consultations Company (Petrojet) signed memorandums of understanding Tuesday with Russia's state-run Atomenergomash and Cnittmash involving nuclear energy.
Larger still was another Red Sea Middle East actor looking to get into the nuclear business, but potentially, with the U.S. instead. In February, House Oversight Committee Chair Elijah Cummings shared a report citing whistleblowers as revealing "efforts inside the White House to rush the transfer of highly sensitive U.S. nuclear technology to Saudi Arabia in potential violation of the Atomic Energy Act and without review by Congress as required by law—efforts that may be ongoing to this day."
A Reuters report late last month then revealed that Energy Secretary Rick Perry had approved six companies to begin preliminary work on advancing nuclear technology in the kingdom. The news was met with hostility in Congress, which has largely accused Saudi Crown Prince Mohammed bin Salman of being behind the slaying of journalist Jamal Khashoggi at Riyadh's consulate in Istanbul in October, as well as overseeing extensive civilian casualties in a four-year war against the Zaidi Shiite Muslim rebel group known as Ansar Allah, or the Houthis, in Yemen.
The move was also controversial because of the White House's hardline position in attempting to prevent further nuclear development in the country it accused of funding the Houthis—Iran. Though the International Atomic Energy Agency has repeatedly found Tehran to be in compliance with a 2015 nuclear deal, Trump left the accord last May, accusing Iran of using sanctions relief received in exchange for curbing nuclear production to benefit militant groups abroad and fund ballistic missile development.
Though Saudi Arabia and Iran have both contended their nuclear programs were purely peaceful, the scene has raised concerns of an arms race in the Middle East, especially as Riyadh reportedly scrambled to develop ballistic missiles of its own to match Tehran's unparalleled arsenal in the region. Meanwhile, Israel—a close U.S. ally hostile to Iran and still officially unrecognized by Saudi Arabia—was believed to possess the Middle East's only nuclear weapons arsenal.
While Russia and China have continued to support the 2015 nuclear deal with Iran—alongside fellow signatories the European Union, France, Germany and the United Kingdom—the two powers have also expressed interest in Saudi Arabia's burgeoning nuclear industry.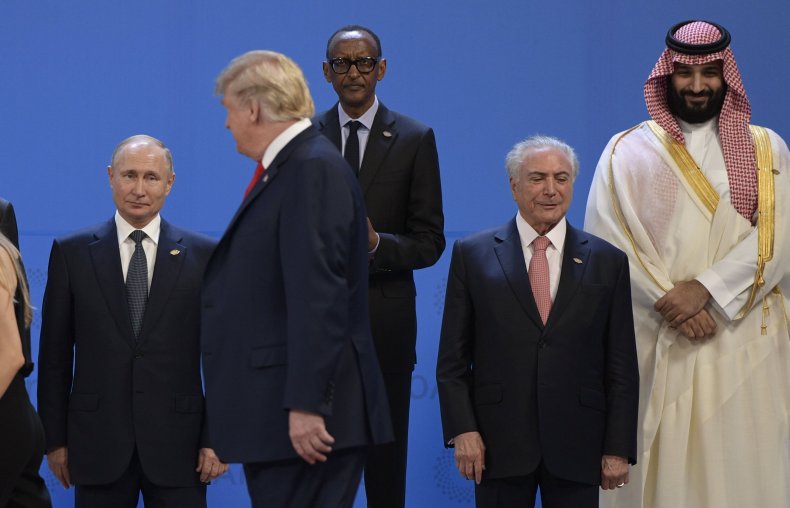 "U.S. firms are considering forming a consortium that would partner with foreign companies—possibly some of South Korea's state-run energy firms—to strengthen their candidacy. But they still face red tape at home when it comes to secure and best practices for nuclear energy deals, and that gives Chinese and Russian firms a point for flexibility," Geopolitical Futures, a think tank, wrote Tuesday.
The previous day, Likhachev told the state-run Tass Russian News Agency that Russia had discussed with Saudi Arabia "construction of high-capacity reactors" as well as "potential cooperation in respect of small-capacity reactors and non-energy nuclear technologies."
Moscow and Beijing were also challenging Washington's hold on the Middle East through their investment in Syria, whose government the U.S. had joined regional allies in attempting to overthrow after a 2011 rebel and jihadi uprising. With Syrian President Bashar al-Assad having re-emerged as the war-torn country's top player, Russia, China and Iran have all staked a claim in Mediterranean ports, while the Trump administration has cut all ties with a government the West has accused of war crimes.
China has further sought to include all these countries in its ambitious One Belt, One Road initiative linking various infrastructure projects across the globe. The plan has been most active across Asia and Africa, but has reached Western Europe with Italy's signing last month of a memorandum of understanding that has irked the U.S.