Uvalde Senior Rejects Claims Salvador Ramos Was Bullied: 'He Hurt Animals'
A Uvalde High School student who knew Salvador Ramos rejected claims that the Robb Elementary School shooter was bullied.
"Salvador Ramos was a boy who was not bullied," Uvalde High School senior Ivan Arellano told local news station WFAA on Wednesday. "He would try to pick on people but fail, and it would aggravate him."
"He would hurt animals. He was not a good person," the high school student added. Arellano is also a friend of Layla Salazar's older brother, who was one of the 19 children who Ramos killed inside the elementary school on Tuesday before he was fatally shot by law enforcement.
Some of Ramos' friends and family claimed this week that the teen was bullied for his appearance and stutter, according to The Washington Post.
Stephen Garcia, who identified himself as one of the shooter's best friends, told the Post that Ramos was bullied after posting a photo of himself on social media wearing eyeliner. Ramos was also reportedly bullied in middle school for stuttering while speaking, according to his friends and family.
"He would get bullied hard, like bullied by a lot of people," Garcia told the Post. "Over social media, over gaming, over everything." Meanwhile, Mia, Ramos' cousin, said that she believed that Ramos didn't "feel comfortable anymore at school."
"He wasn't very much of a social person after being bullied for the stutter," she told the Post.
Santos Valdez Jr., another friend of the shooter, said that Ramos would cut his face for fun and that he showed up to a park in one instance with cuts on his face.
Ramos' mother, Adriana Reyes, spoke about her son this week and said that he is "not a monster," but that "he can be aggressive...if he really got mad."
She also said that she had an "uneasy feeling" about her son as she wondered what he's up to, she told ABC News. Reyes added that she was unaware that her son bought two AR-15-style rifles a few days before the mass shooting.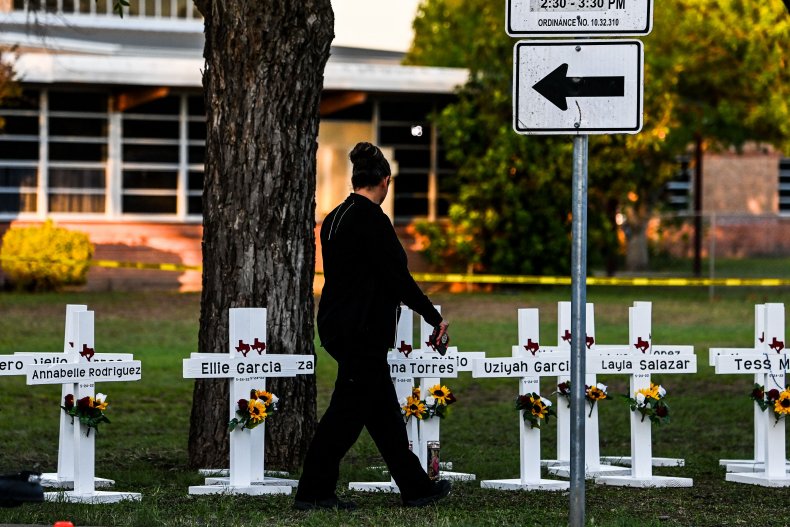 In an interview with the Daily Mail, Reyes said that she was "surprised" that her son went on a killing spree, and added that they had a good relationship despite him living with his grandparents at the time of the shooting incident.
The Robb Elementary shooting is the second-deadliest school shooting since the Sandy Hook Elementary School shooting in Newtown, Connecticut, in 2012, in which 20 students and six teachers were killed.