Video Appears to Show Semi-Truck Drive Through George Floyd Celebration
A semi-truck appears to have driven through a George Floyd celebration.
A Twitter user named @SSky57 posted the video of the incident soon after the announcement of the verdict against Derek Chauvin, the former police officer who killed Floyd. Chauvin was found guilty on all three counts facing him.
@SSky57 describes themselves as a resident of the Minneapolis-Saint Paul region known as the Twin Cities.
As a small crowd celebrates in the city street, a semi-truck begins honking and driving slowly through the crowd. A Black man in a suit hangs off of the driver's side door. People in the crowd yell at the truck and at least one person exclaims, "Oh my God!" as another says, "He's literally trying to run people over."
A second video shows the incident from a different viewpoint. In it, the truck bears the logo of 10 Roads Express, a company that owns a nationwide fleet of delivery trucks.
A spokesperson for 10 Roads Express told Newsweek that it had addressed the incident with the driver. The company had no further comment.
In the video, numerous people climb onto the truck as it comes to a standstill near the center of the crowd. Some people pound their fists on the truck's passenger side window. One man climbs onto the hood of the truck, standing and facing the driver through the windshield.
As the truck begins to reverse, the man standing on its hood stumbles backward and jumps down onto the street. However, he then mounts the driver's side door and points at the driver.
Numerous people recorded the incident on their devices. It's unclear if anyone was injured.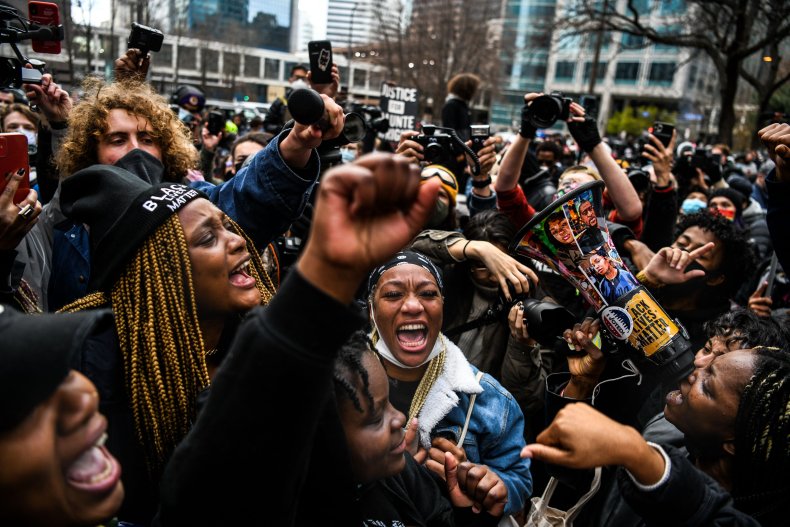 Vehicles have driven through numerous racial justice protests over the past few years.
In September 2020, Denver police arrested a man for driving through a crowd of people protesting in support of Breonna Taylor. Taylor is a 26-year-old Black woman killed by police on March 13, 2020 while she rested within her Louisville, Kentucky apartment.
In September 2020, a video appeared to show a car deliberately driving into Black Lives Matter protesters gathered at New York City's Times Square. Only one person self-reported an injury from the incident, and the protest continued after the vehicle departed.
Some Republican legislators have proposed bills making it legal for drivers to hit any protesters standing in the road.
Missouri Republicans introduced one such bill at the end of 2020. Florida Republican Ron DeSantis recently said that he looked forward to signing a bill that would give some legal immunity to people who drive through protests.