Video of GOP Rep. Tom Rice Blasting Trump for Jan. 6 Role Tops 670K Views
A video of Representative Tom Rice, a South Carolina Republican, blasting former President Donald Trump's "incitement" of violence on January 6, 2021 during a Thursday GOP primary debate has gone viral, garnering hundreds of thousands of views.
Rice, who is facing off against a Trump-endorsed opponent, was one of the 10 House Republicans to join Democrats to impeach the then-president for inciting his supporters to attack the federal legislative branch of government 16 months ago in an apparent effort to disrupt the formal certification of President Joe Biden's Electoral College victory. On February 1, Trump announced his endorsement of South Carolina state Representative Russel Fry in his bid to unseat the incumbent Republican.
During the debate, Rice laid out his criticism of Trump's actions on January 6, contending that the former president was "proud these people were sacking the U.S. Capitol." A nearly three-minute clip of the GOP congressman's remarks was shared to Twitter by the anti-Trump group, The Republican Accountability Project, on Friday, which garnered more than 670,000 views by Saturday morning.
"Democracy is a fragile thing and the one thing that we have to protect us from tyranny is our Constitution. And our Constitution has to be protected at all costs," Rice warned. The Republican lawmaker also explained that the framers of the Constitution understood that men "were corrupt" and created a system of checks and balances to preserve democracy.
Rice then went on to lay out what he saw firsthand on January 6 and how Trump had responded.
"My friends, I was there on January 6. I wasn't absent. I was there," he said. "I saw the bomb squads defusing bombs. I smelled the tear gas. I was on the House floor when the glass was breaking—when they were trying to break down the doors." Rice said that he saw Capitol police officers who were "beaten and broken" as he was being evacuated with other members of Congress that day.
The congressman explained that after he was evacuated, he started to wonder where Trump was—questioning why he did nothing to try and stop the assault against Congress.
"He [Trump] was sitting in his dining room next to the Oval Office [in the White House] proud that these people were sacking the U.S. Capitol, beating up the Capitol police officers, and he did nothing to stop it," the Republican lawmaker said. Rice pointed out that Trump, instead of attempting to calm his supporters, actually tweeted out an attack against his own vice president, Mike Pence.
"In fact, 20 minutes after they were in the Capitol, he tweeted out, 'Mike Pence doesn't have courage,'" Rice said. "My friends, you can argue about whether his speech that morning was incitement or not, but to me, that one tweet was incitement. If they had gotten ahold of Mike Pence, we could have lost our democracy that day."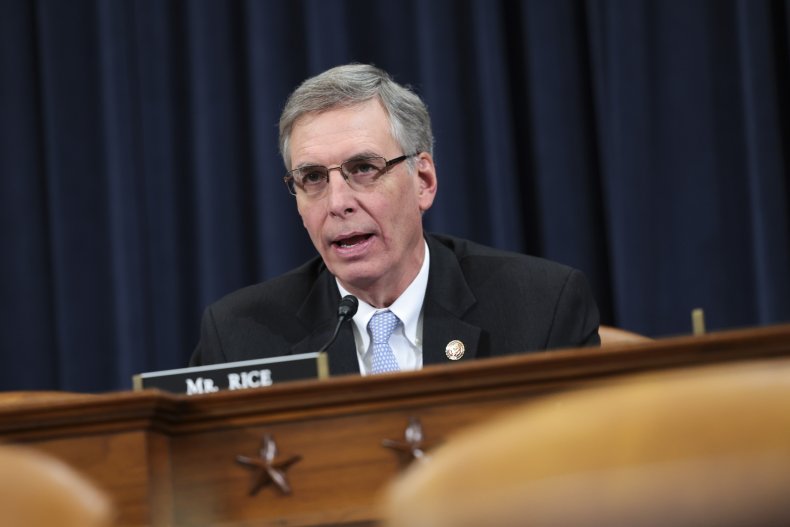 On January 6 at 2:24 p.m. ET, Trump tweeted: "Mike Pence didn't have the courage to do what should have been done to protect our Country and our Constitution."
"Our Constitution is too precious to risk," Rice continued. "And the one difference between me and all those leaders back in Washington who said, 'Oh Donald Trump went too far, he should be impeached, he should be removed,' and then voted the other way—I took the principled stand and I defended our Constitution."
Representative Liz Cheney, a Wyoming Republican, who also voted to impeach Trump and has become one of his harshest conservative critics, retweeted the video and praised the congressman. "Honorable men speak the truth. @TomRiceSC7 is an honorable and courageous man," the GOP congresswoman, who is also facing a Trump-endorse challenger, tweeted Friday.
Trump has consistently denied any wrongdoing related to January 6. The former president has argued that the House select committee investigating the events of that violent day is overtly "partisan" and attempting to prevent him from seeking future political office. He has described the probe as a "witch hunt."
Four of the 10 House Republicans who voted to impeach Trump have decided not to seek reelection. Five of the six others are facing GOP primary challengers endorsed by the former president. Representative David Valadao, a California Republican, voted for Trump's impeachment, but does not currently have a Trump-backed opponent.
"Congressman Tom Rice of South Carolina, the coward who abandoned his constituents by caving to Nancy Pelosi and the Radical Left, and who actually voted against me on Impeachment Hoax #2, must be thrown out of office ASAP," Trump said in a February 1 statement.
Rice told NPR in an interview days later: "If we are going to have a scenario where the president can try to intimidate Congress into doing what he wants, well shoot, we might as well have a monarchy."
An internal Fry campaign poll from March showed that he held a substantial lead over Rice following Trump's endorsement. That survey showed that Fry was 30 points ahead of the GOP incumbent, with 52 percent support compared to Rice's 22 percent. The poll had a margin of error of plus or minus 3.9 percent and a confidence level of 95 percent.