Video of Trump-Backed Vance Saying He Doesn't Care About Ukraine Resurfaces
A video of Ohio Republican Senate candidate J.D. Vance saying he doesn't "care" what happens to Ukraine resurfaced online after former President Donald Trump endorsed him Friday ahead of the GOP primary in the midwestern state, with the clip quickly garnering millions of views on Twitter.
The 8-second clip comes from a February 19 interview with former Trump administration official Steve Bannon's War Room podcast. In the video, Vance said: "I think it's ridiculous that we're focused on this border in Ukraine. I gotta be honest with you, I don't really care what happens to Ukraine one way or the other."
Those remarks from Vance came days before Russian President Vladimir Putin launched a full-scale invasion of Ukraine on February 24. The unprovoked Russian assault has received widespread international condemnation, while Republican and Democratic voters alike are largely supportive of Ukrainians, according to multiple polls.
After Trump endorsed Vance in a Friday statement, Shannon Watts, an activist, shared a clip of the GOP candidate's February remarks on Twitter. The clip has since been viewed more than 2.8 million times in less than 24 hours, as of the time of writing.
GOP Representative Adam Kinzinger of Illinois, a staunch Trump critic and proponent of providing further support for Ukraine, retweeted her post, and wrote: "Trump endorsed candidate."
In context, Vance was making a larger point about the country's priorities. He contended that Americans should be more concerned about the situation at the southern border with Mexico than they are with an Eastern European nation thousands of miles away.
"I do care about the fact that in my community right now, the leading cause of death among 18-to-45-year-olds is Mexican fentanyl that's coming across the southern border," he continued in the February 19 interview.
The GOP senate hopeful went on to say: "I'm sick of [President] Joe Biden focusing on the border of a country I don't care about while he lets the border of his own country become a total war zone."
Notably, the southern border of the U.S. is not a war zone. While the number of undocumented migrants has surged dramatically over the past year, the vast majority of these individuals are fleeing violence and economic instability in Central American nations.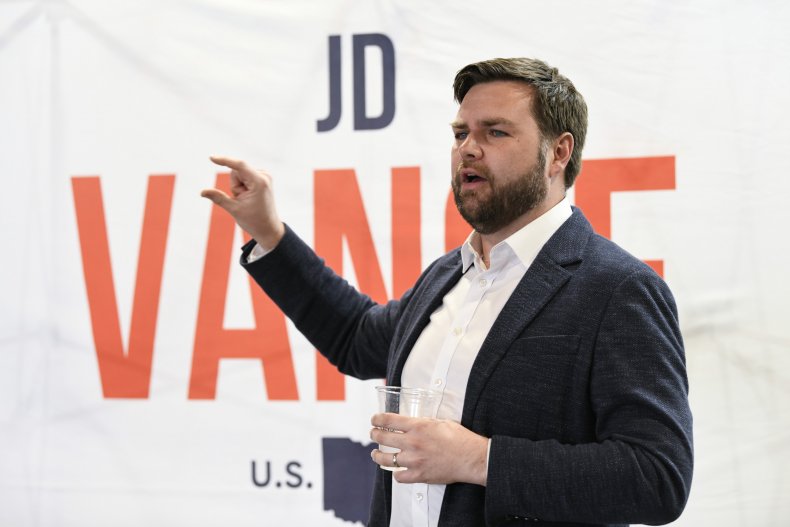 On February 24, Vance issued another statement about Ukraine and Russia.
"Russia's assault on Ukraine is unquestionably a tragedy, especially for the innocent people caught in the crossfire," he said. The Republican went on to criticize "failed" U.S. leadership for pursuing a "policy of isolating Russia." He said this was only pushing Putin further into China's orbit.
Vance has doubled-down on his perspective regarding the war in Ukraine. Earlier this month, he described the conflict as "a massive distraction."
"The American media spends 20 minutes on the Ukraine crisis for every one minute it spends on inflation. It spends way more time on Ukraine than on the southern border," the GOP candidate said during an April debate.
Polling conducted by Pew Research Center in early March showed that Republicans were more likely than Democrats to believe that the U.S. should provide more aide to Ukraine than it already was. Nearly half (49 percent) of Republicans said that the U.S. was not providing enough support to Ukrainians. Just 38 percent of Democrats said the same.
Republicans were also slightly more likely than Democrats to view Russia's actions against Ukraine as a "major threat" to the U.S. Half of Democrats said they viewed Putin's aggression as major threat and 51 percent—just over half—of Republicans gave the same assessment.
Trump has faced criticism for calling Putin a "genius" and "smart" in the days leading up to the full-scale invasion. He since criticized Moscow's actions somewhat, while arguing that the Russian leader wouldn't have invaded Ukraine if he was still president.
Newsweek contacted Vance's campaign for comment.