Joe Biden's 'Killer' Remark Might Actually Help Putin, but Expect More Post-Trump Pressure
President Joe Biden's view that Vladimir Putin was a "killer" has unsurprisingly been met with outrage from Moscow, but the off-the-cuff comment could play into the Russian leader's hands, even though tougher U.S. sanctions are likely.
During an ABC interview, Biden also warned Putin would pay for Russian interference in the 2020 election, as concluded by U.S. intelligence, provoking swift indignation from Moscow.
Russian Duma speaker Vyacheslav Volodin said that if previous American presidents could work with their counterparts in Moscow during fractious periods such as the Cold War and the term of Donald Trump, why would Biden resort to such undiplomatic language today.
"The leader of a country that claims to be the bearer of democratic principles and morality cannot behave this way," Volodin wrote on the Telegram messenger app.
Kremlin spokesman Dmitry Peskov said on Thursday that Biden's statements were "unprecedented," and the Russian foreign ministry issued a dire warning about deteriorating ties and Russia recalled its Washington ambassador.
However, Putin seemed to suggest that the spat about the "killer" quote was merely playground stuff, quipping that when children had an argument in the yard: "We used to say: 'It takes one to know one.'"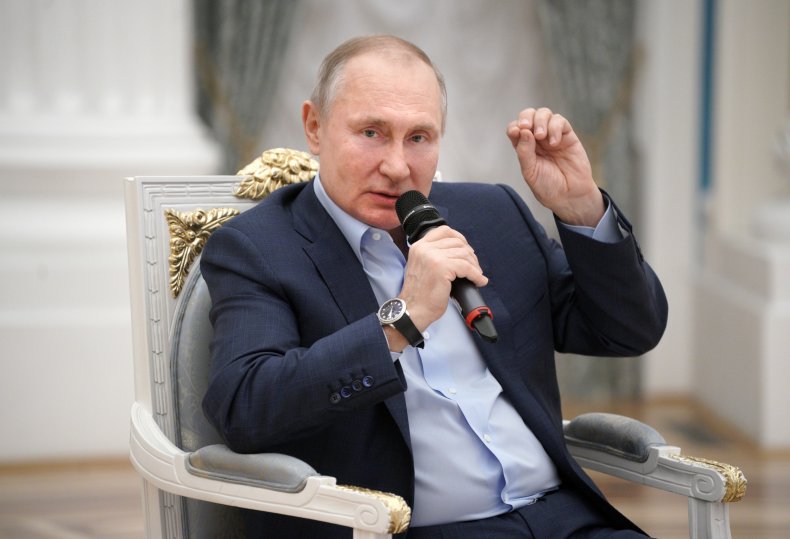 Russia expert and Cardiff University international relations professor, Sergey Radchenko, said that Biden's comments are likely to benefit Putin.
"That sort of imagery of Putin being the bad guy, the great evil out there, the great other—it helps legitimize Putin. He draws great legitimacy from being recognized as America's great enemy," he told Newsweek.
He said that the comment was far better for Putin than the time in 2013 when former President Barack Obama said the Russian president looked "like the bored kid at the back of the classroom."
"From his perspective, this kind of discourse is much better than the idea of being marginalized. Being a killer and the great evil hero is preferable," Radchenko said.
"It is part of the domestic political theatre. Putin relies on nationalist sentiment, he tries to build this up as much as possible and that sort of narrative promoted by the U.S. as the great bad guy out there actually does help him domestically."
Since taking office, the Biden administration has extended the New START nuclear arms treaty and on issues of security, the spiky rhetoric is unlikely to have any impact, Radchenko added.
However, any hope that a post-Trump presidency could aid a rapprochement was dashed when the U.S stepped up sanctions on Moscow in the wake of the Novichok nerve agent poisoning of opposition figure Alexei Navalny.
U.S. measures are also expected to be increased next week following the intelligence assessment of election interference.
A Biden administration official told Reuters that the U.S. had taken action against Moscow "in the attempted murder of Alexei Navalny," adding that "there will be more soon."
Mark Galeotti, honorary professor at University College London's School of Slavonic and East European Studies, said that it is unlikely that Moscow will too be concerned about Biden's sentiments.
"Yes, some of the usual toxic talking heads are doing their thing, and frankly it is a breach of the usual etiquette of how one head of state refers to another, it was, in this respect, needless and pointless provocation, but the more sober voices...are being much more restrained," Galeotti told Newsweek.
"This is, after all, just a passing comment. Moscow wants to see if DC will do anything substantive—after all, Biden's language could as easily be intended to mask the lack of any tough action as to presage it," he added.
The graphic below, provided by Statista, shows Russian President Vladimir Putin's time in power.