Russia Heading for Defeat in Ukraine—Former Chinese Ambassador
Vladimir Putin's forces are heading for a defeat in Ukraine that could cement Russia's post-Soviet decline and relegate its great power status to a thing of the past, according to China's former envoy to Kyiv.
Gao Yusheng, a Central Asia specialist who served two years as ambassador to Ukraine between 2005 and 2007, spoke at a closed-door event hosted by the Chinese Academy of Social Sciences think tank, said a report by China's Phoenix News.
Gao served under Xi Jinping's predecessor, Hu Jintao, and now no longer holds any position of influence in Beijing. His edited remarks were taken down within hours of going live on Wednesday.
However, the content was archived by the translation blog of David Cowhig, a former U.S. diplomat who spent a decade at the American missions in China.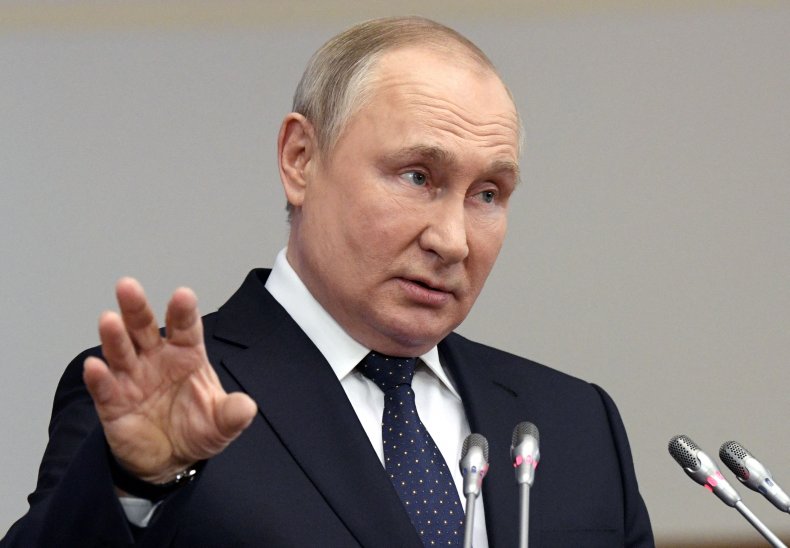 Gao's scathing assessment of Russia includes a view that Moscow never truly recognized the independence of other former Soviet states, "and has frequently violated their territoriality and sovereignty."
Ukraine, once divided by factions that were pro-Russia or pro-Europe, saw its orientation lean toward the West after the annexation of Crimea in 2014.
"After the outbreak of the war, the situation in Ukraine has fundamentally changed. The country is united in its resistance to Russia and its salvation. It can be said that Russia has completely lost Ukraine," Gao said, according to Cowhig's translation.
The former Chinese diplomat's review of Russia's performance on and off the battlefield is even worse. The Kremlin has failed to adapt to the hybrid nature of modern warfare, which includes campaigns in the realms of "military, economic, political, diplomatic, public opinion, propaganda, intelligence, and information," he said.
"The failure of the Russian blitzkrieg and the failure to achieve a quick victory signaled the beginning of the Russian defeat," Gao said in his virtual remarks. He believes Putin's forces can't afford "a high-tech war costing hundreds of millions of dollars a day."
What military and economic advantages it did have over Ukraine have since been offset by Ukrainian resistance and effective aid from the West, Gao assesses.
The "generational difference" in Russia's weapons and military concepts compared to the U.S. and NATO have only made Moscow's disadvantages more pronounced, Cowhig's translation read.
"It is only a matter of time before Russia is finally defeated," he said.
"Russia has been declining ever since the collapse of the Soviet Union," according to Gao, and the failings of Russia's ruling class haven't reversed the trend.
"This process has been exacerbated by Western economic sanctions which have damaged sectors of the Russian economy," said China's former envoy. "The so-called revival or revitalization of Russia under Putin's leadership is false; it simply does not exist."
Gao sees the next phase of the war as "likely to be more violent and intense," with Russian forces ordered to secure Crimea and the Donbas region in the east, while Ukraine grows increasingly determined to recover all its territory.
"The U.S., NATO and the EU have repeatedly affirmed their determination to defeat Putin," Gao said. "All of this suggests that the war will be fought until Russia is defeated and punished."
The result, Gao predicts, is that the Russian president will fail in his overriding foreign policy objective to maintain the Kremlin's "exclusive sphere of influence" over the former Soviet Union.
"Russia's defeat would leave it with no hope of rebuilding its old empire," he said. Ukraine, meanwhile, would "become a member of the great European family."
Missing from Gao's remarks were any assessments about China's position or a view of its future trajectory after the war in Ukraine.
In February, Xi and Putin issued a 5,000-word joint statement from Beijing which declared the China-Russia partnership had "no limits."
In the 11 weeks since Russia's invasion, Beijing has provided Moscow with valuable diplomatic cover, although its support has remained largely rhetorical, and has so far fallen short of material assistance, according to U.S. officials.
In a post-Ukraine war international order, in which Gao believes Russia will be significantly weakened and isolated, China could find itself without an important geostrategic ally to endorse its authoritarian system on the world stage.
Many see Xi as having bound China too closely with Russia, risking serious reputational damage as Moscow's war drags on.
At the same time, however, there are concerns that Xi's closest advisers are only confirming the president's biases instead of telling him hard truths about the changing geopolitical landscape.