'MultiVersus' Roster: Every Character in Warner Bros. 'Super Smash Bros' Style Fighter
Warner Bros. has revealed its own take on the Super Smash Bros. formula, with its upcoming free-to-play title, MultiVersus.
Like Nintendo's beloved platforming brawler, this will primarily be a multiplayer experience filled with recognizable IP. Only instead of it being a roster of gaming icons, the lineup here comprises characters from TV shows and movies owned by Warner Bros.
There's representation from the DC universe, Looney Tunes, Hanna-Barbera and even Game of Thrones. Basically, the same franchises that already crossed over in this year's Space Jam: A New Legacy.
Not only will there be familiar characters to play as, but you will also get to fight with your friends across a number of memorable stages. In the trailer, we can glimpse the Batcave, Themyscira and Jake and Finn's Tree Fort from Adventure Time.
'MultiVersus' Character Roster
Warner Bros. hasn't announced every launch character in the game yet (the section screen in the trailer has a few missing blocks), but we do know most of them. Here are the 12 characters that are confirmed to be in MultiVersus.
Finn the Human (Adventure Time)
Jake the Dog (Adventure Time)
Batman (DC Universe)
Wonder Woman (DC Universe)
Superman (DC Universe)
Harley Quinn (DC Universe)
Bugs Bunny (Looney Tunes)
Shaggy (Scooby Doo)
Tom and Jerry (Tom and Jerry)
Steven Universe (Steven Universe)
Garnet (Steven Universe)
Arya Stark (Game of Thrones)
Reindog (Original)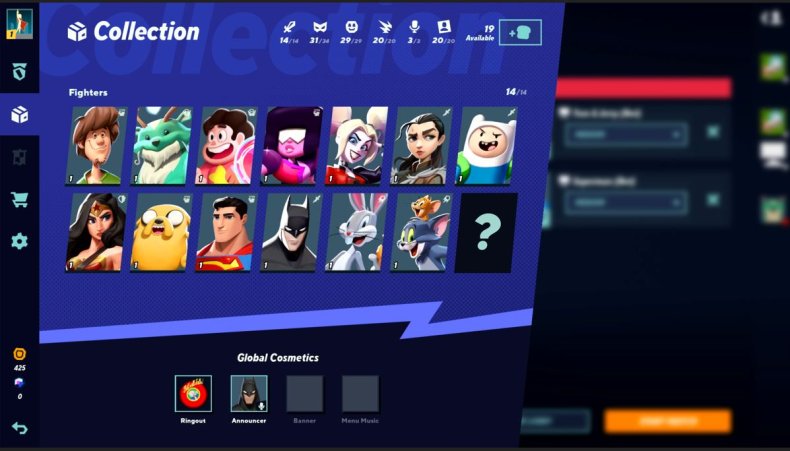 Jake the Dog
Jake the Dog from Adventure Time will be a selectable fighter in the game and will be able to use his signature stretching and shrinking powers in battle. He will be voiced by John DiMaggio (aka Bender from Futurama) who plays him in the show.
Finn the Human
Alongside Jake, fans will also be able to control Finn the Human from Adventure Time. He will also be voiced by his original actor, Jeremy Shada.
Batman
MultiVersus' depiction of Batman won't resemble any of the movies (No Ben Affleck or Michael Keaton here), but will instead be an animated version that fits in better with the other cartoon characters in the game. He will be voiced by fan-favorite Kevin Conroy.
Wonder Woman
Diana Prince will also be featured in the roster (voiced by Abby Trott). The trailer promises that her lasso of truth will be a multipurpose tool, that can be used as a weapon or to save teammates from falling to their deaths.
Superman
Rounding out the game's Justice League representation is the Man of Steel himself. He will be played here by George Newbern, who has previously voiced the character in various animated films and other video games.
Harley Quinn
The last (confirmed) D.C. character is Harley Quinn, who will naturally be able to whack enemies with her oversized mallet. The antihero will be voiced here by Tara Strong, who memorably portrayed her in the Batman: Arkham series.
Bugs Bunny
Despite it being one of the properties most strongly associated with the Warner Bros. brand, there's only one Looney Tunes character in MultiVersus at the moment and that's none other than Bugs Bunny. In the trailer, it's revealed that the wisecracking rabbit will be able to tunnel underground like he does in the cartoons in order to evade danger.
Tom and Jerry
Tom and Jerry are lumped together as a single character selection, kind of like Rocket and Groot in Marvel Ultimate Alliance 3. In addition to sharing health, movements and attacks, they even have the same voice actor in Eric Bauza.
Shaggy
Seemingly in reference to the "Shaggy God" memes, everybody's favorite cowardly slacker will be imbued with Dragon Ball Z like powers in MultiVersus. This will likely appease those fans who petitioned for Shaggy to be added to Mortal Kombat way back in 2019.
He's also going to be voiced by Matthew Lillard, who has been synonymous with character (in both live-action and animation) since 2002.
Steven Universe
Steven Universe (from the Cartoon Network show of the same name) will be a defensive character who can shield his allies.
Garnet
Steven will be joined by the alien Garnet, who can summon a pair of magical gauntlets that are augmented with various powers (like shockwaves and deflection shields).
Arya Stark
Marking a radical departure from all the cartoon and comic-book icons, Game of Thrones fans will be able to play as Arya Stark. In case you were wondering, she is voiced by Maisie Williams in the game. There is no telling if there will be more GoT characters added later on, but there is a limit on how many of them are both recognizable for a mainstream audience and suited to a fighting game.
Reindog
Finally, there is Reindog, a mysterious character that has left the internet totally bemused with his inclusion. You won't be familiar with Reindog (don't chalk that up to you having gaps in your pop culture knowledge) as this strange creature is an original creation for MultiVersus. Apparently, he is 165 years old and used to be assigned as the protector of the Zanifeer royal family. Whatever that means.
What Platforms Is 'MultiVersus' On and Will It Support Crossplay?
MultiVersus will be free to play at launch (sometime in 2022) and will be available on PS4, PS5, Xbox One, Xbox Series X and PC. For those who have friends on other systems, it has been confirmed that crossplay will be supported.