Watch: Final Journey of Russian Armored Vehicle Before Missile Strike
A Russian armored vehicle departed for what turned out to be its "final journey" right before it got destroyed by Ukrainian forces.
The 229th Separate Battalion of the 127th Separate Brigade of the Kharkiv Military District released a video of the moment, with the title: "Adventures of a Russian MT-LB."
The clip shows the MT-LB, a multi-purpose armored vehicle, whizzing along a road before entering a property and parking in the garage.
Moments later, the Ukrainian battalion fires a missile at the building and destroys it.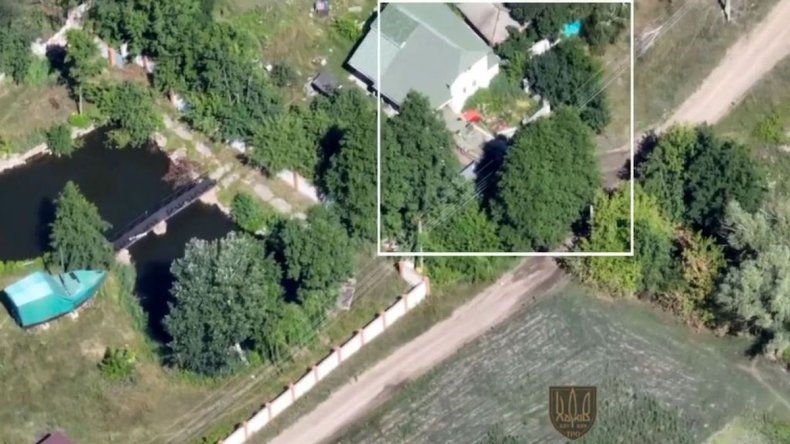 Zenger News contacted the 229th Separate Battalion for further comment, as well as the Russian Ministry of Defense, but had not received a reply at the time of writing.
Russia invaded Ukraine on February 24 in what the Kremlin is calling a "special military operation." Thursday marks the 148th day of the invasion.
The General Staff of the Armed Forces of Ukraine reported that between February 24 and July 20, Russia had lost about 38,750 personnel, 1,700 tanks, 3,905 armored combat vehicles, 856 artillery units, 250 multiple launch rocket systems, 113 air defense systems, 221 warplanes, 188 helicopters, 703 drones, 167 cruise missiles, 15 warships, 2,775 motor vehicles and fuel tankers, and 70 units of special equipment.
CIA chief William Burns said Wednesday that there is no intelligence that Russian President Vladimir Putin is in bad health or unstable. It has long been rumored in Western media that Putin, 69, has been suffering from ill health, possibly cancer, but Burns joked that the Russian president appeared "too healthy," adding: "He is convinced that his destiny as Russia's leader is to restore Russia as a great power.
"He believes the key to doing that is to recreate a sphere of influence in Russia's neighborhood and he cannot do that without controlling Ukraine."
Burns said the U.S. believes Russia has so far lost around 15,000 soldiers in Ukraine, with some 45,000 wounded.
Washington announced Wednesday that it will provide Ukraine with more long-range weapons despite an apparent warning from Russian Foreign Minister Sergey Lavrov that such an act would broaden Moscow's military focus in Ukraine.
A report released on the same day by the Office for Democratic Institutions and Human Rights said Russian troops committed serious rights violations in Ukraine. The Warsaw-based office cited cases including the shelling of a theater in Mariupol in mid-March and of Kramatorsk train station in early April.
Both of these incidents resulted in civilian deaths and may amount to Russian war crimes, said the institution.
The report also detailed witness reports of illegal executions, detentions, abductions, and cases of torture and sexual violence.
This story was provided to Newsweek by Zenger News.