France's President Emmanuel Macron said Thursday that the G-7 "doesn't mind being six," suggesting the group didn't need the United States.
The French president took a firm stand against President Donald Trump's isolationist policies when he spoke in Canada alongside Canadian Prime Minister Justin Trudeau.
"The six countries of the G-7 without the United States are a bigger market taken together than the American market," Macron said, according to Reuters. "There will be no world hegemony if we know how to organize ourselves. And we don't want there to be one."
Directly addressing Trump's unilateral moves, Macron said, "Maybe the American president doesn't care about being isolated today, but we don't mind being six, if needs be."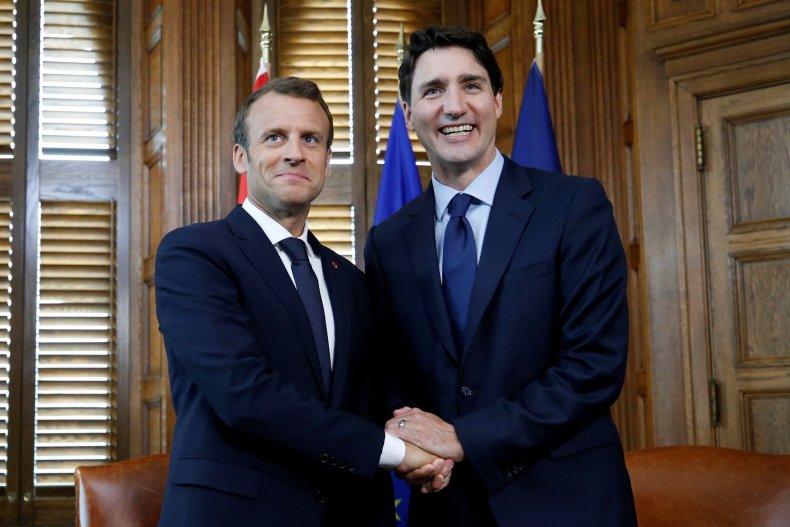 The G-7 Summit, consisting of the U.S., France, Canada, the United Kingdom, Germany, Italy and Japan, is set to begin Friday in Quebec, with most of the member nations having clashed with Trump over new tariffs.
The tariffs, which Trump's administration announced on May 31, impose a 25 percent tax on imported steel and a 10 percent tax on imported aluminum. The U.S. president's move immediately angered European leaders and other foreign trading partners.
Canada's Trudeau also slammed the tariffs after they were announced, calling them "totally unacceptable." The prime minister went on to say the new taxes were "an affront to the long-standing security partnership between Canada and the United States, and in particular to the thousands of Canadians who have fought and died alongside American comrades-in-arms."
While the tariffs do not impact Japan directly, the Asian country has other concerns with the Trump administration, centering around its efforts to make a deal with North Korea. Prime Minister Shinzo Abe wants to ensure that the U.S. puts his nation's security concerns front and center as talks with Kim Jong Un move forward.
Trump's recently announced tariffs are the latest move signaling the U.S.'s departure from its traditionally close allies.
Last June, the president confirmed that he would remove the U.S. from the Paris climate agreement, fulfilling a campaign promise he had made to voters. His decision drew criticism from European and Canadian leaders. Today, the U.S. is the only country in the world that is not part of the accord, after Syria joined in November.
In early May, Trump announced that the U.S. would reinstate sanctions on Iran, breaking with the landmark nuclear agreement made in 2015. European leaders have suggested they would stick with the Iran deal and expressed disappointment with Trump's unilateral move.
Macron put forward a strong front on Thursday, suggesting France and the other G-7 nations did not feel threatened by a nonaligned U.S.
"These six represent values, represent an economic market, and more than anything represent a real force at the international level today," Macron said.