Westworld Season 4 has just had its most shocking episode yet.
The HBO Sci-Fi show aired its penultimate episode on Sunday, August 7, and it resulted in a surprising fate for a number of the characters.
As the show barrels toward its finale, here is everything you need to know about who made it to the final hurdle.
Warning: This article contains spoilers for 'Westworld' Episode 7
'Westworld' Season 4: Who Made It to the Finale?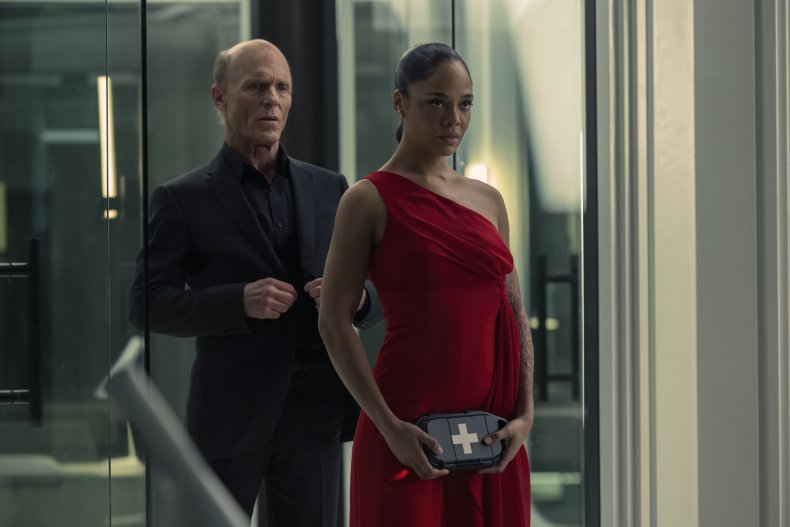 Over the course of the season, Bernard Lowe (Jeffrey Wright) has been trying to trigger events so that they happen in a particular pattern, a plan that would help save humanity, but result in his death.
The show's penultimate episode revealed that Bernard's predictions actually showed he wouldn't be able to save all of humanity and the hosts, and his quest was really just to ensure that some could survive because he was never going to save them all.
Bernard's plan, it turned out, resulted in him going with the reawakened Maeve Millay (Thandiwe Newton) to the tower where Charlotte Hale (Tessa Thompson) has been controlling humanity in New York City.
While they did this, C (Aurora Perrineau), aka Frankie, and Stubbs (Luke Hemsworth) went through Olympiad Entertainment to attack Hale's facility that way, which is where they also found her father, Caleb (Aaron Paul).
Bernard and Maeve managed to storm the tower, with Maeve fighting off Hale in a one-on-one fight that ended, tragically, with Maeve being shot by the host version of William (Ed Harris), who then also killed Hale.
That wasn't the end of William's rampage, though, because he headed to the top of the tower where Bernard was recording a message. It's not yet clear to whom he was leaving the message, or what he said, and William then killed him.
Earlier in the episode, host William had also killed his real-life self, who was being kept by Hale in a cryogenic cell.
After killing Bernard, William made the tower send out a signal to force all the humans in the cities to turn on, and kill, each other in a twisted game of survival of the fittest. He then headed into the city himself in the episode's closing scene.
C/Frankie and Stubbs managed to find Caleb and save him from Hale's prison, and they headed off into the city while chaos descended all around them. Frankie was shot in the leg, but they managed to get away from the killing spree, for now.
Meanwhile Christina (Evan Rachel Wood) tried to stop the humans from fighting with one another, which is when Teddy (James Marsden) told her that they couldn't see her, and she was unable to stop them because she wasn't really there.
What could this mean? Well it could be that Christina, aka Dolores, isn't in the real world because she's part of the virtual one created by Hale, perhaps she's even in The Sublime and that would explain how Teddy came to find her.
The truth behind Christina's whereabouts will no doubt be revealed in the finale for Westworld Season 4, as will the final showdown between William and the last surviving heroes of the story: Frankie, Caleb and Stubbs.
Westworld Season 4 will come to an end on Sunday, August 14, at 9 p.m. ET on HBO and HBO Max.