LeBron James explained he deleted a tweet about the fatal police shooting of Ma'Khia Bryant, a 16-year-old Black girl, as he feared it would only serve to "create more hate" and "more racism."
On Wednesday, the Los Angeles Lakers star posted a picture of officer Nicholas Reardon and captioned it "YOU'RE NEXT #ACCOUNTABILITY", along with an hourglass emoji.
Earlier in the day, Reardon, who is white, was identified as the officer who shot Bryant dead the previous day in Columbus, Ohio. Officers from the Columbus Division of Police responded to a 911 call from someone who reported being physically threatened.
Body camera footage released on Wednesday, shows Reardon walking towards a group of people as Bryant wildly swings a knife towards another girl or woman, who falls back. Bryant then ignores repeated calls to get down and charges towards another woman, before being shot four times.
The shooting came just hours after former police officer Derek Chauvin was convicted of murdering George Floyd.
Floyd died on May 25 last year in Minneapolis after being apprehended on suspicion of passing a counterfeit $20 bill at a store. His arrest was filmed by a bystander, whose video showed Chauvin kneeling on Floyd's neck for more than nine minutes, while two other officers pinned him down.
Charged with second-degree murder, third-degree murder and second-degree manslaughter, Chauvin was found guilty of all three accounts on Tuesday. James responded to the verdict with a single-word tweet on Tuesday, reading: "Accountability".
His post about Reardon was a thinly-veiled suggestion he would be the next white police officer to face consequences for killing a Black person.
The four-time NBA champion, however, eventually deleted the tweet, explaining his decisions in a series of follow-up posts.
"ANGER does [not do] any of us any good and that includes myself! Gathering all the facts and educating does though! My anger still is here for what happened that lil girl. My sympathy for her family and may justice prevail!," he tweeted.
"I'm so damn tired of seeing Black people killed by police. I took the tweet down because its being used to create more hate -This isn't about one officer. it's about the entire system and they always use our words to create more racism. I am so desperate for more ACCOUNTABILITY."
The since-deleted tweet, however, drew fierce criticism of the Lakers star, who has long been a prominent supporter of the Black Lives Matter movement and has campaigned for social justice reforms in the U.S.
"If America was a country that believed in justice, LeBron James would be stripped of all of his sponsorships," conservative political commentator Candace Owens tweeted.
Filmmaker and author Dinesh D'Souza, meanwhile, suggested some Black lives mattered more than others to James.
"Isn't it interesting that LeBron James' sympathies go immediately to the black perpetrator without so much as a moment's thought for her intended black victim? For @KingJames some black lives seem to matter a whole lot more than others."
Speaking on Fox News, Sean Hannity described James' tweet as the "worst comment of the day" about Bryant's death.
"What he did was beyond reckless, beyond irresponsible and put this officer and his family in danger," he said.
"LeBron, you have basically just put a bullseye on a police officer, who saved a young, unarmed African American teenager that was about to be stabbed, possibly to death. [...] LeBron, what you did is wrong and you should apologize."
Senator Tom Cotton, R-Ark., struck a similar tone, accusing James of "inciting violence" against the officer.
"What LeBron James did is jump to conclusions and incite violence against this officer, and he since, I think, recognized what a bad mistake he made by deleting that tweet," he told Greg Kelly Reports on Newsmax TV on Wednesday.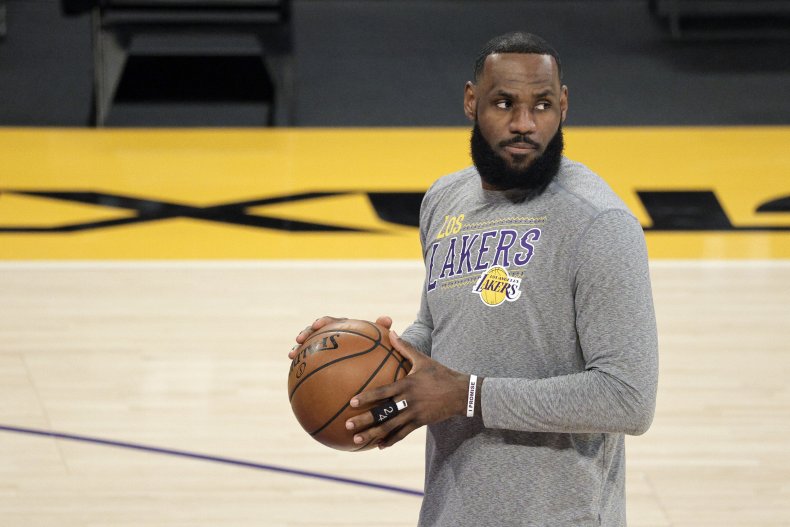 Uncommon Knowledge
Newsweek is committed to challenging conventional wisdom and finding connections in the search for common ground.
Newsweek is committed to challenging conventional wisdom and finding connections in the search for common ground.
About the writer
Dan Cancian is currently a reporter for Newsweek based in London, England. Prior to joining Newsweek in January 2018, he was a news and business reporter at International Business Times UK. Dan has also written for The Guardian and The Observer.