Metal fencing has been installed around the White House complex as protests continue in Washington, part of the widespread Black Lives Matter demonstrations taking place across the U.S.
Video taken by CNN's Betsy Klein showed a pallet truck stacked with fence panels and a team of workers in high-visibility clothing installing the new perimeter.
"More fencing going up around the White House complex early this morning," Klein wrote.
The footage has been shared more than 12,000 times at time of writing.
Shannon Pettypiece, of NBC News Digital, also shared a photo of more fencing being positioned around the White House.
"More fences going up around the White House," she wrote on Twitter.
Newsweek has contacted the White House for comment.
The new fencing comes after other such barricades were reported in recent days, with some protesters moving to gather outside a Trump International Hotel due to the extended perimeter around the White House.
On recent nights, protesters have been seen outside the building, with fires lit amid scenes of unrest.
President Donald Trump previously denied reports he was rushed down to a bunker at the White House on Friday evening due to the protests, stating he had gone down, but for "an inspection."
Images of the additional fencing come after the Pentagon ordered forces and bases in the Washington, D.C. area to "Force Protection Condition Charlie," a threat condition indicating targeting of military forces or terrorist activity is likely.
The presence of the National Guard has also increased, with photos having recently shown troops lining the steps of the Lincoln Memorial.
The protests have been sparked by the killing of George Floyd, who died after a police officer put his knee on his neck while he was being arrested in Minneapolis.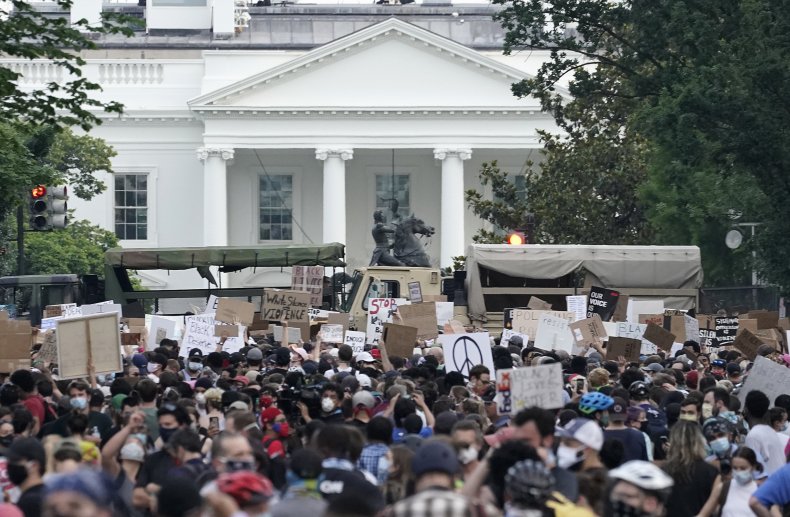 Video of the incident spread online, sparking outrage worldwide, with demonstrations even taking place in Europe.
Trump's reaction to the protests has drawn criticism, with allies even coming out against his response to the situation.
Amid clashes between protesters and authorities, with non-lethal weapons such as tear gas and rubber bullets deployed in a bid to disperse crowds, the president has urged the widespread deployment of the National Guard.
He said he expects an "overwhelming law enforcement presence" to be created, adding: "If a city or a state refuses to take the actions that are necessary to defend the life and property of their residents, then I will deploy the United States military and quickly solve the problem for them."
Trump and his administration have also suggested the protests have been hijacked by groups with ulterior motives, hoping to take advantage of the situation to cause disruption.