Biden Cancels Student Loans: How to Know If You Qualify for Forgiveness
It has taken more than a year and a half, but President Joe Biden is now acting on one of his presidential campaign promises: forgiving student loans. However, some lawmakers and observers have criticized his plan.
Biden is scheduled to announce plan details on Wednesday, but the president tweeted some details prior to the announcement. He said up to $10,000 in debt from the student loans could be forgiven for those who meet certain income restrictions. That number could stretch twice as high for Pell Grant recipients. Borrowers must make less than $125,000 annually to qualify for debt forgiveness, which will only apply to public loans and not private ones.
Economist Arthur Laffer estimates that could be as many as 44 million borrowers. Those qualifying for forgiveness won't get a check for $10,000 in the mail, though. Instead, they will see a deduction of $10,000 from their loans.
"So if you owed $40,000, now it would be $30,000," Laffer told Newsweek.
The debt forgiveness could account for as much as $440 billion in loans.
Nationally, there is roughly $1.7 trillion in federal student loan debt. MoneyWise reports that student loans constitute the largest percentage of American household debt following mortgages. Debt.org, a website providing information about personal finances, estimated that up to 33 percent of borrowers could have their debt completely erased with the forgiveness plan.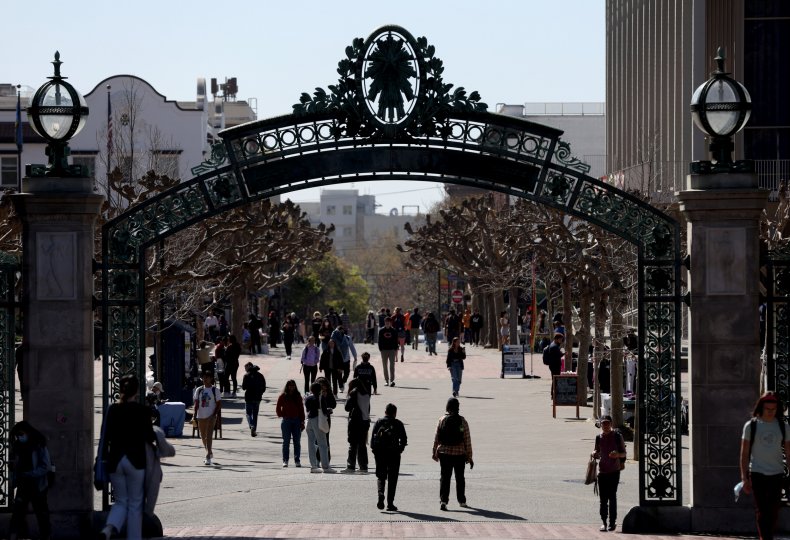 Canceling student debt was a cornerstone of Biden's campaign for presidency. Since his election, politicians and voters have called on him to act on his promise. Senator Elizabeth Warren also shared her plans to cancel student debt in her presidential campaign. Warren has pushed for student debt cancellation in the hopes it will help Democrats maintain their grip on their Senate and House majorities in the midterm elections this November.
"Democrats win when Democrats are in touch with the American people and what's happening to them," Warren told CBS News' Face the Nation in April. "Today, we've got people who are in the checkout line for groceries and having to pick what they're going to send back because they can't afford to pay for it. We've got millions of people across this country who say they're not ready for their student loan payments to resume, that they simply can't manage those loan burdens."
In addition to canceling student debt, Biden also is expected to extend the moratorium on student loan payments through 2022. It would be the seventh, and likely last, extension, Biden tweeted.
It is unclear whether Biden plans to sign an executive order for the forgiveness or encourage Congress to draft a bill. Warren argued that Biden should take authority and cancel the debt with an executive order, although many have said that action could come accompanied by a slew of legal battles.
"Look, we know that the president has the authority to cancel student loan debt and the best way we know that is because President Obama did it, President Trump did it, and President Biden has now done it repeatedly. The power is clearly there," she said.
The loan forgiveness is the largest and most widespread of Biden's actions on the topic so far. In August, Biden cleared $3.9 billion in student loans for more than 200,000 former students who still owed money on loans for ITT Technical Institute. ITT Educational Services closed its campuses six years ago after questioning and scrutiny regarding its accreditation standards.
Congress doesn't seem likely to draft legislation that forgives debt—at least not immediately. While some legislators have voiced support of forgiving $10,000 in student debt or even up to $50,000, CNBC reported that some members of Congress don't support loan forgiveness at all. Lawmakers' stance on debt forgiveness is mostly divided by party lines, with many Republican members opposing forgiveness and Democrats supporting forgiveness. Congress' timeline on sending a student loan forgiveness bill to Biden's desk is uncertain.
Republicans adamantly opposing the plan include Senator Mitt Romney. Romney and four other Republican senators introduced the Student Loan Accountability Act in May. That bill would keep Biden from taking action to forgive student loan debt, although the bill is unlikely to pass into law.
"This decision would not only be unfair to those who already repaid their loans or decided to pursue alternative education paths, but it would be wildly inflationary at a time of already historic inflation," Romney said in a statement published on his webpage. "Democrats and Republicans alike have called on the President to not take this unwise step and pile more onto our $30 trillion national debt."
Laffer strongly opposes Biden relieving such massive student debt as well, because he believes those benefitting from student loan forgiveness are likely to worsen inflation. As debt is relieved, Laffer believes lenders will feel less pressure to work to pay off their loans.
"Now what you're doing is getting people out of the labor force and not producing goods which will push prices up by itself," Laffer said. "You are expanding the quantity of money resources available, so you push prices up. More money and less goods...both of those combine to give higher inflation."
CNN reported that more than 50 percent of Democrats and nearly 70 percent of "self-described liberals" believed the government isn't doing enough for student loan debt. Only 33 percent of Republicans and "self-described conservatives" believed the same.
A CNN poll showed as age increased, support for student loan forgiveness decreased. Seventy percent of adults younger than 35 believed the government isn't doing enough for student debt. That number dropped to 50 percent for ages 35 to 49 and only 35 percent for ages 50 and older.