Who's Who in Trump's Legal Team Led by Top Lawyer on $3M Retainer
As Donald Trump's legal worries continue to occur, some members of the former president's team of lawyers have been reportedly under scrutiny by federal investigators.
A recent article from The New York Times highlighted the issues surrounding a number of Trump's legal counsel representing him in investigations relating to the January 6 Capitol attack, and attempts to overturn the 2020 election, as well as the probe into classified documents seized from his Mar-a-Lago resort.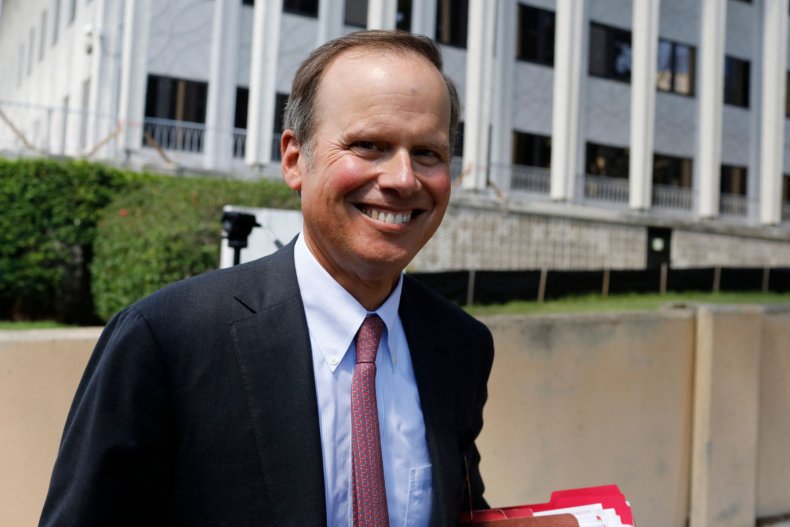 The New York Times reported that Christopher Kise, a former solicitor general of Florida, has now been brought in to lead the team of Trump lawyers.
Kise is reportedly said to have agreed to work for the former president for a $3 million retainer fee.
Below, Newsweek profiles the members of Trump's legal team under the leadership of Kise.
Christopher Kise
The former Florida solicitor general was first reported to have been hired by Trump in August to be a part of his legal defense team.
Kise is working with the former president in the investigation of whether Trump mishandled sensitive and top secret materials seized from his Florida home.
Kise has more than 30 years of experience and has argued four cases before the Supreme Court. He also previously served as counsel to Florida Governor Ron DeSantis' transition team.
Evan Corcoran
Corcoran has emerged in recent weeks as one of the key figures in the federal investigation into the seizure of classified documents from Trump's home.
Corcoran joined Trump's legal team in April without ever having met the former president, according to The Washington Post.
The former assistant U.S. attorney had previously represented Trump adviser Stephen Bannon in his criminal contempt of Congress case.
Corcoran is a partner at the Baltimore law firm Silverman, Thompson, Slutkin & White, and specializes in civil litigation and white-collar criminal defense.
He has come under scrutiny for allegedly drafting a letter telling federal investigators that all the classified materials being kept at Mar-a-Lago were returned in June, despite the FBI seizing more documents from Trump's residence in August.
Christina Bobb
Bobb is another Trump attorney working on the Mar-a-Lago case who is facing scrutiny. Trump's custodian of records, Bobb is alleged to have signed off the letter drafted by Corcoran declaring that all classified materials being kept in Trump's Florida home were handed over to the FBI in June.
Bobb is also alleged to have been part of the team of Trump lawyers who had "explicitly prohibited" FBI agents from looking in a Mar-a-Lago storage room during the June search.
Prior to joining Trump's legal team, Bobb was an anchor on the far-right One America News Network (OAN) channel and a former judge advocate in the U.S. Marines.
James Trusty
James Trusty is an attorney and partner at Ifrah Law. Having previously served in the Justice Department and as a federal prosecutor in Maryland, Trusty is seen as one of the only Trump lawyers with relevant experience who is handling the FBI Mar-a-Lago search.
The New York Times reported that Trump hired Trusty after he saw him on television. Trusty has led most of the legal arguments in front of Judge Aileen Cannon, who appointed the special master to review the documents taken from Mar-a-Lago.
Lindsey Halligan
Halligan is a Florida insurance lawyer who is working on the Mar-a-Lago case. She was also said to have been president at Trump's Florida resort as the FBI was carrying out its search in August.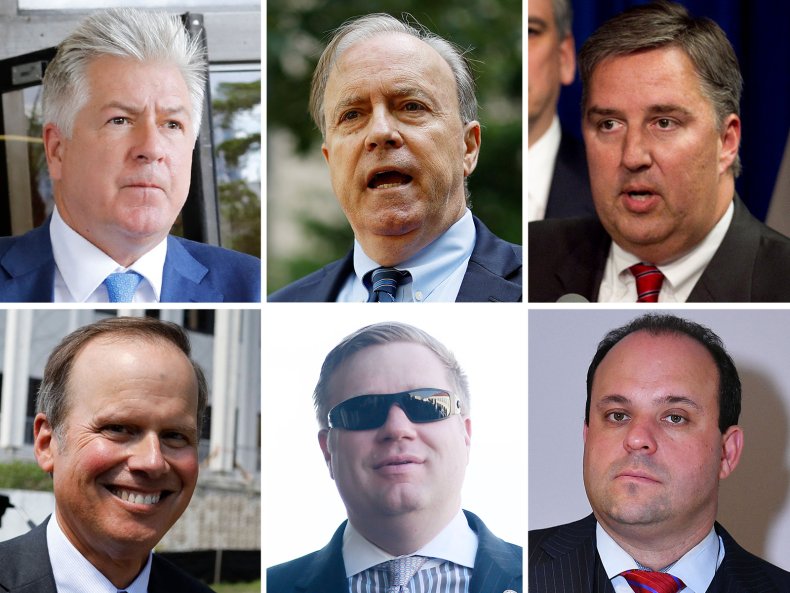 Boris Epshteyn
The lawyer and ex-Trump campaign strategist was subpoenaed to give evidence to the House Committee investigating the January 6 Capitol attack over his alleged attempts to keep Trump in power.
Epshteyn was among the 40 people who were subpoenaed by federal authorities as part of the investigation and had his phone seized by the FBI.
Fulton County District Attorney Fani Willis is seeking Epshteyn to testify regarding her wide-ranging probe into alleged election interference in Georgia.
Epshteyn currently works as in-house counsel to Trump and still speaks with the former president several times a day, according to The New York Times.
John Rowley
Rowley is another former prosecutor who is working with Trump on behalf of the federal investigation into an attempt to overturn the 2020 election.
Rowley has also represented a number of other Trump allies such as former White House trade adviser Peter Navarro in his contempt of Congress case, and former White House aide Stephen Miller in relation to his lawsuit against a January 6 select committee subpoena for phone records.
Timothy Parlatore
A founder and managing partner of Parlatore Law Group, Timothy Parlatore is working with Corcoran and Rowley to represent witnesses who have testified in cases related to Trump's attempt to overturn the 2020 election.
These include former New York City Police Commissioner Bernard Kerik, who is among 40 people issued a subpoena by prosecutors investigating the events leading up to January 6, and Doug Mastriano, a GOP gubernatorial candidate for Pennsylvania, in a lawsuit fighting his January 6 congressional subpoena.
Several members of Trump's legal team have been contacted for comment.