Who Is Chris Kise? Trump Hires Lawyer With Ties to Major 2024 Rival
Former Florida Solicitor General Chris Kise, who was part of Florida Governor Ron DeSantis' transition team, has reportedly accepted a role on former President Donald Trump's legal defense team.
The addition comes as the Department of Justice investigation into the trove of classified documents discovered at Mar-a-Lago continues. On Monday, the DOJ announced in a legal filing that it "identified a limited set of materials that potentially contain attorney-client privileged information," which came after U.S. District Court Judge Aileen Cannon alluded to potentially granting Trump's request to bring in an outside "special master" to oversee the review of FBI evidence.
Kise has won four cases before the U.S. Supreme Court and multiple others before the Florida Supreme Court, according to NBC News. He previously worked for the law firm Foley & Lardner.
His profile page on the firm's website has since been removed. An unnamed source at the firm confirmed to Reuters that Kise, formerly a partner at the Tallahassee office, withdrew from the firm.
Newsweek reached out to the firm for confirmation.
Kise previously made news by releasing information that incriminated DeSantis' 2019 Democratic gubernatorial opponent, Andrew Gillum. Kise released documents and text messages to the media indicating that Gillum accepted tickets to the Broadway show Hamilton from an undercover FBI agent that he did not pay for himself.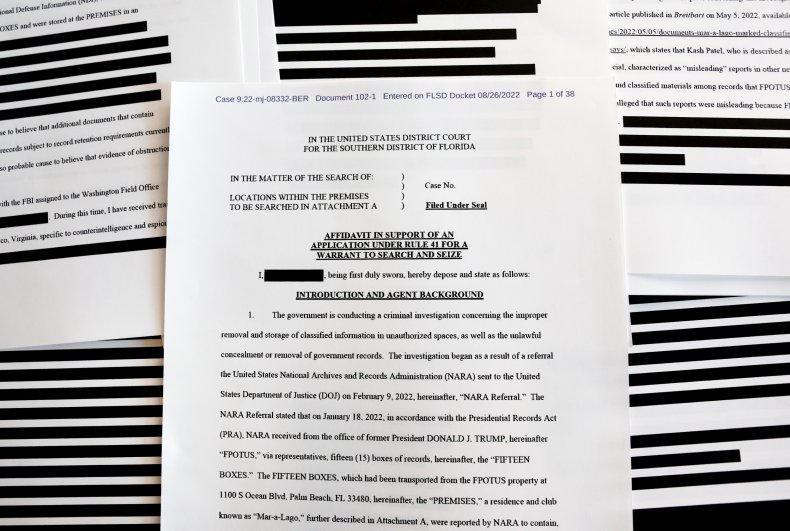 Kise has also represented multiple Republicans in legal roles over the years.
When Kise was appointed as Florida's solicitor general in 2003, he worked under Charlie Crist—who at the time was a Republican and Florida's attorney general. Crist later served as Florida's Democratic governor and is currently the Democratic gubernatorial candidate against DeSantis in the 2022 election.
"Chris is a 360-degree lawyer: appellate, civil, criminal, state and federal—he can do it all," former Senator George LeMieux, who was Crist's chief of staff when he was attorney general, told NBC News.
Trump has used social media to continually attack the DOJ, the FBI and the ongoing investigation. On Truth Social on August 29, he called for a "new election" due to what he alleged was an FBI cover-up of information it acquired regarding the laptop of President Joe Biden's son, Hunter Biden, days before the 2020 election.
Former attorneys who have represented Trump, including Michael Cohen and Alan Dershowitz, have soured on his legal defense in this case. Cohen claimed that Trump may have already "given away" information to hold America "hostage," while Dershowitz told Newsweek that the affidavit provided enough evidence for indictment.
Andy McCarthy, a Fox contributor and contributing editor for the National Review, appeared on Your World with Neil Cavuto and said Trump "could talk himself into being charged."
NBC News and Fox News reported that Kise is expected to begin his new role on Thursday in West Palm Beach federal court.