Why Clarence Thomas Refused to Attend Biden's State of the Union
United States Supreme Court Associate Justice Clarence Thomas did not attend President Joe Biden's second State of the Union address in a move that was widely expected.
Thomas, who is now the longest-serving member of the Supreme Court and its most senior conservative, has rarely attended presidents' addresses to Congress over the past 20 years.
He was present at Barack Obama's speech to a joint session of Congress in February 2009 when the then-president spoke about the state of the U.S. economy and the steps being taken to deal with the financial crisis, including the Troubled Asset Relief Program (TARP).
Justice Thomas had often skipped the State of the Union in the years before Obama became president. A spokesperson for the Supreme Court told Politico in 2010 that he had attended George W. Bush's address in 2006.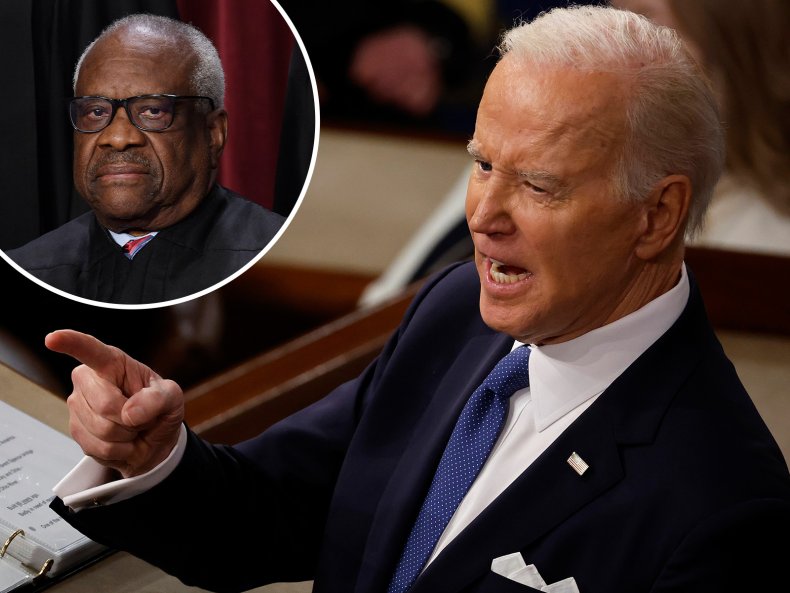 However, he did not attend Bush's speeches in 2007 and 2008. Thomas previously attended the State of the Union addresses from 1992 to 1999 but missed the 1996 speech given by Bill Clinton.
Thomas has not attended any joint address by the president since 2009 and he offered an explanation of his decision in 2010 after he had failed to attend Obama's State of the Union.
"I don't go because it has become so partisan and it's very uncomfortable for a judge to sit there," Thomas told students at Stetson University College of Law in Gulfport, Florida, adding: "there's a lot that you don't hear on TV."
"The catcalls, the whooping and hollering and under-the-breath comments," he said.
Biden's speech on Tuesday was interrupted by some Republicans who expressed anger after the president accused some in the GOP of wanting to cut Social Security and Medicare.
He was referring to a proposal last year from Senator Rick Scott that would have required Congress to reauthorize the programs every five years, threatening potential cuts.
Representative Marjorie Taylor Greene shouted "You lie, you lie!" and "Liar!" and she was joined by other Republicans who shouted "no" as Biden hit back against their complaints.
Thomas wasn't the only member of the current Court who chose not to attend the State of the Union on Tuesday. Associate Justices Samuel Alito, Sonia Sotomayor, and Neil Gorsuch were not present.
The other members of the Supreme Court were in attendance and were joined by retired Justices Stephen Breyer and Anthony Kennedy. It was the first time a State of the Union speech has been attended by retired justices since 1997 when Justice Byron White was present for then-President Clinton's speech.
Newsweek reached out to the Supreme Court for comment.