'Naive' Wife Urged To Ditch Husband After His Female Colleague Sleeps Over
The internet has urged a wife to leave her husband after she shared the details of his relationship with a work colleague online.
Mumsnet user Solihull1990 shared the story on Thursday, and it has since received over 160 replies. In the post, the woman explained: "I've been with my husband for 10 years. We've had tricky moments along the way, but generally a happy and settled relationship, and we have a 12-month-old son."
She explained that he has always had a busy job and worked long hours, staying late after work to attend dinners and drinks. "This has always been the case and I don't mind," said the wife. "He's a really present parent when he's home and the division works for us."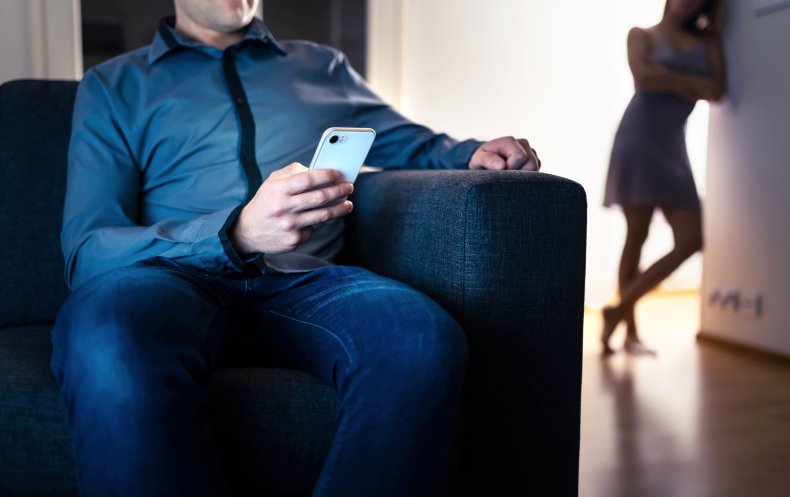 But in the last six months, she said things had changed. "My husband has been on a busy project at work. It's meant regularly really late nights and nights away from home. A few months ago my husband messaged me about midnight saying a female colleague was struggling to get home due to a train strike and asked if she could stay in our spare room. Of course I said yes."
The wife explained that she put out toiletries before going to sleep and the woman stayed the night and left before the wife woke the next morning.
But in the last week, things had changed again. "Last week my husband went out for a business dinner and returned home late after I'd gone to bed," she wrote. "I woke up and heard him on the phone, clearly really drunk. He was clearly speaking to a woman and saying how much he missed her and how much he liked her, and how he couldn't wait to see her. There was some vague discussion about a photo she'd sent him but I couldn't tell the context."
Knowing there was no point discussing it while he was drunk, the wife waited until the next morning and brought up the conversation. "He immediately apologized, and said he was talking to the colleague that stayed at our house. He said they were both really drunk and it was just a stupid conversation. She's also married—he says happily—and he's adamant there was nothing more to it. He loves me and our son and is really sorry."
"I can't see this is a reason to throw away my family for a stupid phone call," wrote the Mumsnet user. "But I'm also worried I'm being stupid."
In 2018, Vault asked 654 people from a number of industries about office romances. Fifty-two percent of respondents said they had participated in an office romance in some manner, with 20 percent saying that they worked in the same department and 22 percent cited starting their romance at a happy hour or holiday party.
Despite reporting an impact on personal relationships and careers, 78 percent of those who had previous office romances indicated that they would do it again.
Replies on the Mumsnet forum overwhelmingly urged the woman to take action. One commenter said: "I'd be done. Drink makes the truth come out, not bull****. The truth is what you heard and under these circumstances, just no."
"I'm really sorry OP, but he's already sleeping with her," said another reply. "You don't tell someone you 'miss them' and 'can't wait to see them' if it hasn't already started."
"Sorry, I think you're being super naive. Ask to see the photo and the messages around it," said another commenter.
Another Mumsnet user suggested a stronger approach: "I think you need to be firmer. Ask to see the photo and the messages between them. I think the marriage is already on very shaky ground now as the trust has been blown."
But another commenter disagreed and said: "I would be inclined to believe him too. If there was anything marriage ending going on would be really be daft enough to have her around your house? And be talking to her in your house no matter how drunk he was?"
If you have a similar family dilemma, let us know via life@newsweek.com. We can ask experts for advice, and your story could be featured on Newsweek.