Will Smith, Chris Rock Could Go Head to Head for Best Actor at 2023 Oscars
Will Smith could face off against Chris Rock once again at next year's Oscars, after overshadowing last month's event by slapping the comedian onstage.
Smith stunned viewers and celebrity attendees alike during March 27's ceremony, when he took to the stage at Hollywood's Dolby Theatre and struck Rock across the face in reaction to a joke the comic made about his wife, Jada Pinkett Smith.
Making the moment all the more unforgettable, Smith returned to the stage several minutes later to accept the Best Actor Oscar for his efforts in King Richard.
And the pair could see themselves as opponents once again—though this time purely as actors vying for the same statuettes, with both stars appearing in projects that have already sparked early awards buzz.
For Smith, Apple TV+ is set to release his next film, Emancipation, later this year. Smith stars in the Antoine Fuqua-directed film, which is based on the true story of a runaway slave who escapes from a Civil War-era plantation to join the Union Army.
Meanwhile, Rock is among the ensemble cast of Rustin, a film about gay, civil rights activist Bayard Rustin, who organized the 1963 March on Washington.
Produced by Barack and Michelle Obama's Higher Ground Productions, the movie, which started production in late 2021, is directed by George C. Wolfe with a screenplay by Oscar-winning Milk writer Dustin Lance Black.
While Colman Domingo will be taking on the titular role in the film, Rock is listed as one of the principal cast members in what has been touted as his breakout dramatic role after decades of a career dominated and defined by comedy.
According to bookmaker Paddy Power, Rock holds the edge, with current betting odds standing at 4/6 that the comedian will be nominated for an Oscar and 5/2 that he will go on to win. Smith's odds are 9/2 for a nomination and 18/1 for a victory on the big night.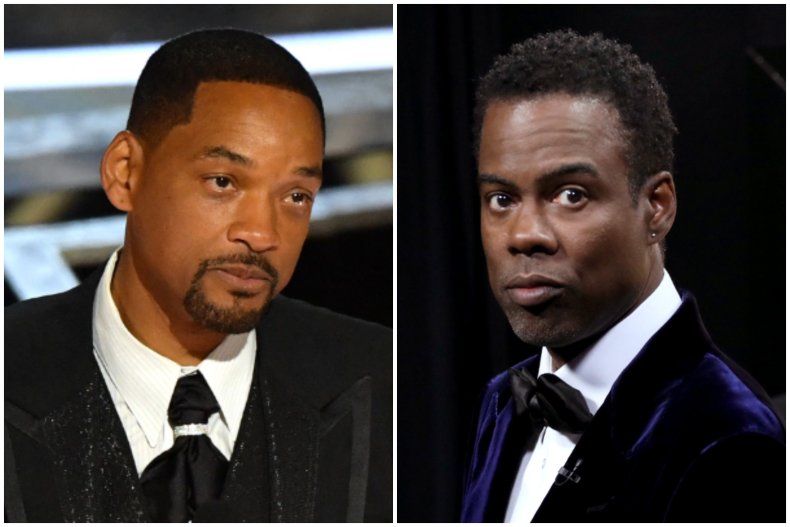 Of course, several other factors could affect Smith and Rock's Oscars chances, including other projects that debut over the course of the calendar year.
There has also been speculation that Smith may have damaged his own chances of landing another nomination, thanks to the incident at this year's Academy Awards.
Smith slapped Rock at the Oscars after the comedian jokingly referred to Pinkett Smith as "G.I Jane," the 1997 movie in which Demi Moore's titular character sported a buzzcut. Pinkett Smith has openly discussed her battle with alopecia.
On returning to his seat, Smith twice yelled that Rock should "keep my wife's name out your f****** mouth." Rock continued on the presenting of an award at the show.
After the Academy of Motion Picture Arts and Sciences announced that it had launched an official review of Smith's actions and would be revealing its course of action in the coming weeks, the actor on Friday resigned from the Academy.
Describing his own behavior as "shocking, painful and inexcusable," Smith said: "The list of those I have hurt is long and includes Chris [Rock], his family, many of my dear friends and loved ones, all those in attendance, and global audiences at home.
"I betrayed the trust of the Academy. I deprived other nominees and winners of their opportunity to celebrate and be celebrated for their extraordinary work. I am heartbroken."
As for how this may affect Smith's future Academy Awards chances, Erik Anderson, an Oscar-tracking expert and editor-in-chief of AwardsWatch, previously told Newsweek that it remains uncertain how the Academy will react to the star.
Addressing the potential fear that Academy members may not want to be seen as "canceling" the actor, Anderson said: "I'm not sure if it will help, but it's probably not going to hurt. Mel Gibson was nominated for Best Director [for 2016's Hacksaw Ridge] after his domestic violence and anti–Semitism controversies.
"That said, Gibson is a white man in Hollywood, and even though Smith is the biggest Black movie star—and now Oscar winner—ever, if history prevails, he could be judged differently."
While it's largely agreed that Smith will continue to see a level of career success, Rock is expected to see his star rise all the more in the near future, with Evan Nierman, CEO of crisis PR agency Red Banyan, praising the star's "poise."
"I expect Chris Rock's standing to surge, and ticket prices and sales for his shows to reach the stratosphere," Nierman, author of Crisis Averted, told Newsweek last week.
"His poise and professionalism in the moments after this unsettling event were nothing short of remarkable, and he deserves a lot of credit.
"Despite the fact that his joke about Smith's wife and her hair was what prompted the whole incident, Rock's picture perfect conduct in the aftermath will ultimately serve him very well."
Update 4/5/22, 7:40 a.m. ET: This article was updated to include betting odds from Paddy Power.