How 'The Thing About Pam' Could Be Renewed For a Season Two
The Thing About Pam came to an end on Tuesday, April 12 after six episodes.
The NBC true crime drama told the story of the 2011 murder of Betsy Faria and its aftermath, which saw her husband Russ (Glenn Fleshler) wrongfully convicted before his sentence was overturned in 2015 after he had spent three years in prison.
It paid particular attention to Pam Hupp (Renée Zellweger), Betsy's friend who was a star witness in Russ' trial and was the last person to see her alive, and yet was not considered a suspect until the case was re-opened in July 2021.
Fans of the show may be wondering if it will be greenlit for a second season, so here is everything you need to know.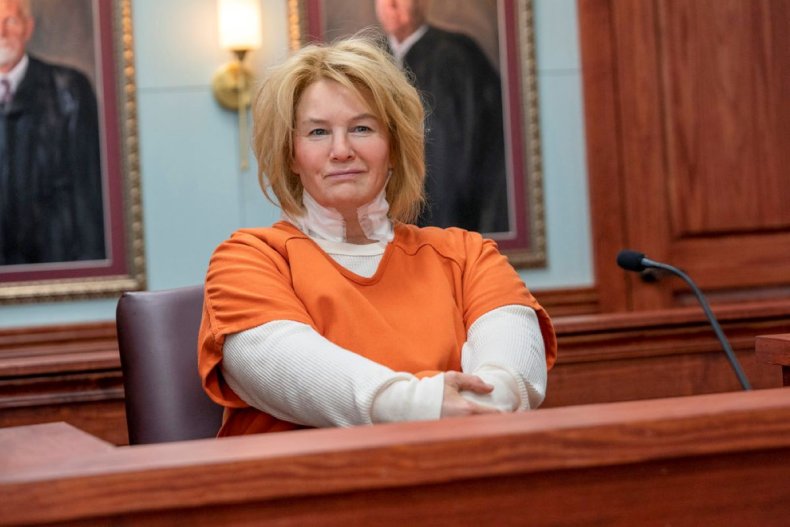 How 'The Thing About Pam' Could Be Renewed For a Season 2
The Thing About Pam ends with the show telling viewers where everyone who appeared in the show is by 2022.
It explained that Pam, who is serving a life sentence for the killing of Louis Gumpenberger in 2016, has been charged with Betsy Faria's murder after Lincoln County Prosecuting Attorney Mike Wood reopened the case in July 2021.
As part of the reopened case, the death of Pam's mother Shirley Neumann in 2013 is also being investigated.
The case is ongoing and Pam has denied all allegations made against her.
Given there will be more to the story in future, it is entirely possible that The Thing About Pam could be renewed for a second season.
Josh Duhamel, who portrayed Russ' attorney Joel Schwartz in the drama, told Newsweek that it was feasible for there to be another series.
"Yeah, I don't see why not, this case is not over yet," Duhamel said. "Hupp hasn't been charged with her mother's [death], I don't believe, the reason she's in jail is because of Louis Gumpenberger's death.
"So, you know, this woman allegedly did some pretty heinous stuff, so we'll see how it all pans out. But, yeah, I think that she thought she was smarter than everybody else. I'm not sure she thinks that anymore."
His co-star Gideon Adlon, who played Betsy's daughter Mariah, told Newsweek that she didn't feel it necessary for the show to get a second season because it did what they set out to do.
"I feel like we did a good job of doing what we needed, what we wanted to do was genuine… what we wanted to do is to shed more light on the situation and show how this innocent family was completely gas-lit and manipulated by this one woman, and Russ' innocence," Adlon said.
"We just wanted to bring justice to the family. So if this show helps in any way that's what we wanted, and I don't think there would be a Season 2."
Will 'The Thing About Pam' Get a Second Season?
The Thing About Pam was commissioned by NBC as a limited series, which means that it was designed to only have one season.
Whether a show could follow up the case against Pam Hupp from 2021 onwards is possible, but it would likely only be made once there has been a result in both the re-opened Betsy Faria case and the investigation into the death of Hupp's mother.
Of course, the results of the case may not be enough of a story to justify being adapted for a full second season of The Thing About Pam.
The Thing About Pam is available to watch in full on NBC's streaming platform Peacock now.