William Barr Admits Justice Department 'Didn't Agree' with Mueller and Applied 'Right Law'
Attorney General William Barr disagreed with former special counsel Robert Mueller's lack of a definitive conclusion on whether President Donald Trump committed obstruction of justice regarding matters related to the Russia probe.
The nation's top law enforcement official and his legal team at the Justice Department determined the president did not violate the law, going a step further in a new interview to say that much of Mueller's legal analysis throughout the 448-page report "did not reflect the views of the department." Furthermore, Barr told CBS News, "we applied what we thought was the right law."
"We analyzed the law and the facts and a group of us spent a lot of time doing that and determined that both as a matter of law, many of the instances would not amount to obstruction. In other words, we didn't agree with the legal analysis—a lot of the legal analysis in the report," Barr said in his CBS interview, the full transcript of which was released Friday morning. "It did not reflect the views of the department. It was the views of a particular lawyer or lawyers, and so, we applied what we thought was the right law."
Those statements seemed to contradict his testimony to the Senate Judiciary Committee May 1 about his rollout of the Mueller report, in which he told lawmakers in his prepared remarks that "we accepted the special counsel's legal framework for purposes of our analysis and evaluated the evidence as presented by the special counsel in reaching our conclusion." He did, however, state April 18 roughly an hour before the Mueller report's release that he and former Deputy Attorney General Rod Rosenstein "disagreed with some of the special counsel's legal theories."
The culmination of Mueller's report, concluded after a 22-month-long investigation into Russia election interference, laid out 12 incidences of potential obstruction. They included Trump's firing of former FBI Director James Comey and more than one instance where the president attempted to halt or thwart the probe by having Mueller removed as special counsel.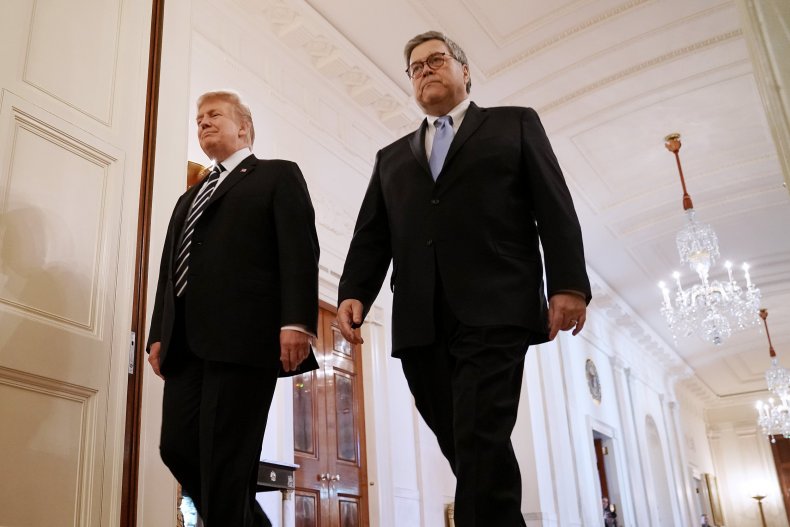 Barr's remarks to CBS, where he detailed his disagreement with Mueller's legal analysis, came the day after the former special counsel took the extraordinary step of making a public, on-camera statement at the Justice Department—the first of its kind since Mueller took lead of the probe in 2017. He reiterated what was laid out in his full report: he could not exonerate Trump, saying that it was against longstanding Justice Department policies to indict a sitting a president and that it would also be unfair to accuse someone who could not stand trial to defend himself.
"As I said forth in the report after that investigation, if we had had confidence that the president clearly did not commit a crime, we would have said so," Mueller said Wednesday.
Barr believed that although Mueller could not have charged Trump, he should have taken a stance one way or the other.
"He could've reached a conclusion," Barr said. "The [Justice Department's Office of Legal Counsel] opinion says you cannot indict a president while he is in office, but he could've reached a decision as to whether it was criminal activity. But he had his reasons for not doing it, which he explained, and I am not going to, you know, argue about those reasons."
Viewed by Democrats as a call to initiate impeachment proceedings, Mueller stated that "the Constitution requires a process other than the criminal justice system to formally accuse a sitting president of wrongdoing."
Barr was unsure of what exactly Mueller may have meant by that, but he explained that the Justice Department does not use its investigatory powers "as an adjunct to Congress."
"Congress is a separate branch of government and they can—they have processes, we have our processes," he elaborated. "Ours are related to the criminal justice process we are not an extension of Congress's investigative powers."
As part of the attorney general's investigation into the origins of the Russia probe, Trump granted Barr the broad power to declassify intelligence information related to the opening of the investigation and surveillance that may have occurred of the 2016 Trump campaign. In April, Barr echoed past claims made by Trump, telling lawmakers he believed "spying did occur" but was unsure "whether it was adequality predicated."
Speaking with CBS, Barr rebuffed the criticism he's received for using such a word that may suggest wrongdoing or a potential conspiracy theory to undermine Trump.
"It's part of the craziness of the modern day that if a president uses a word, then all of a sudden it becomes off bounds," he said. "It's a perfectly good English word. I will continue to use it."
Mueller's recent declination to exonerate the president appeared to strike a nerve with Trump. He issued a barrage of false claims Thursday morning, the day after Mueller spoke publicly, about the former special counsel, Hillary Clinton, the Russian government and Congress' impeachment powers.
Among the falsehoods by Trump were that Mueller declared "there was no crime," Mueller was a "never-Trumper" and a "conflicted person," Russia preferred Clinton to win the 2016 election and the courts could prevent impeachment proceedings brought against him by Congress.