Wisconsin Clinics Stop Abortion Bookings Ahead of Roe v. Wade Ruling
Planned Parenthood of Wisconsin will not schedule appointments for abortion procedures for dates after June 25 out of concern that the U.S. Supreme Court will formally overturn Roe v. Wade in the coming days.
If the landmark 1973 abortion rights decision is overturned, Wisconsin will revert to an 1849 law that outlaws all abortions, except where necessary to save the life of the pregnant woman.
A leaked draft majority opinion that would overturn Roe was published by Politico on May 2. Though the Court's formal opinion has not yet been published many abortion rights advocates believe a ruling striking down Roe is imminent.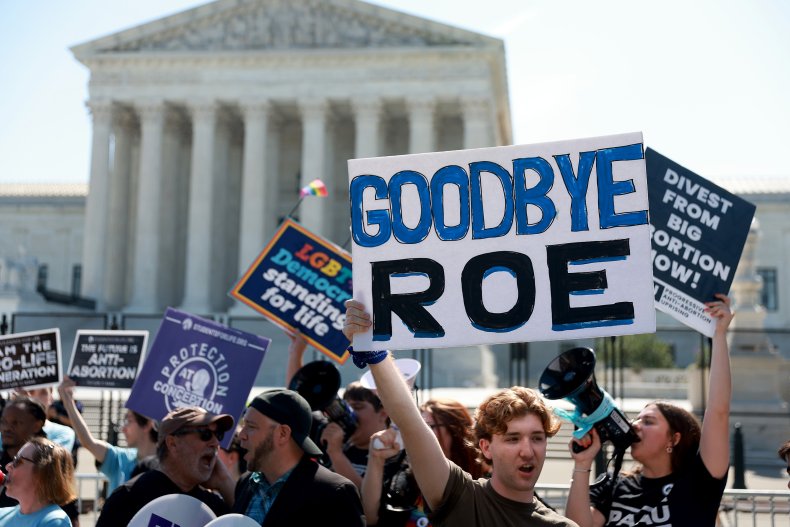 "We are anticipating that the ruling will likely come before the end of June, so we are not scheduling our typical day one/day two procedures after June 25," Allie Linton, associate medical director of Planned Parenthood of Wisconsin told The Milwaukee Journal Sentinel.
Those seeking an abortion in Wisconsin must make two appointments due to a law requiring a 24-hour waiting period—an initial appointment that involves an ultrasound and preparation for the abortion and a second appointment for the procedure.
Planned Parenthood of Wisconsin will continue to schedule the first type of appointment and Linton said if the Supreme Court has not handed down its opinion by June 27, it will change its approach.
"Obviously if we are wrong and the ruling has not come out on the 27th, we will try to open up schedules and do the best that we can to get people in," Linton said.
"Or, if we're wrong and the ruling says something different, then we will open up schedules galore," she said.
It is not clear when the Court will publish its opinion in Dobbs v. Jackson Women's Health Organization, the Mississippi case where the justices have been asked to reconsider Roe, but the Court generally publishes its last opinions of the judicial year in June and July.
"Abortion appointments may be disrupted due to a decision from the U.S. Supreme Court impacting PPWI's ability to provide abortion," Planned Parenthood of Wisconsin's website says. "Appointments are already very limited at this time. We will work with you to find alternative care if needed."
Dr. Kristin Lyerly, an obstetrician and gynecologist in Wisconsin, took to Twitter on Thursday to express her views on the matter.
"Today is probably my last day as an abortion care provider in Wisconsin," Lyerly said. "Roe is going away, and abortion will be a felony here. Words can't express the gratitude I have for my colleagues and the women we have served together with grace and respect. It has been an absolute honor."
If most abortions become illegal in Wisconsin, it may create greater pressure in neighboring Minnesota, where the procedure is likely to remain legal. The situation could be further complicated if abortion becomes illegal in Iowa, which also borders Minnesota.
Jess Braverman, legal director of nonprofit advocacy group Gender Justice, told Fox 9 on Friday: "We are just surrounded by states that are going to ban abortion and it's going to really increase the burden here in Minnesota which is already...having access issues."
"It's going to create chaos. There's one state where it may be like homicide to provide an abortion and another state where abortion is protected," she said.
Newsweek has asked Planned Parenthood of Wisconsin for comment.