Democrat Who Opposed Protecting SCOTUS Wants Security for Abortion Clinics
Representative Veronica Escobar, a Texas Democrat who voted against a bill strengthening security for Supreme Court justices on Tuesday, instead proposed providing protection for abortion clinics and health care providers.
The House of Representatives on Tuesday voted overwhelmingly to pass the measure that will allow around-the-clock security for justices and their families. The legislation comes less than one week after a 26-year-old man was arrested with a weapon near Justice Brett Kavanaugh's house. He has since been charged with attempted murder.
In total, 27 House Democrats—mostly from the party's progressive wing—voted against the bill, which passed the Senate last month. It now heads to President Joe Biden's desk.
Many of the Democrats who voted against the legislation reportedly did so because they wanted it to pass with a bill introduced by Escobar that would provide security to abortion providers, according to a tweet from Politico reporter Sarah Ferris.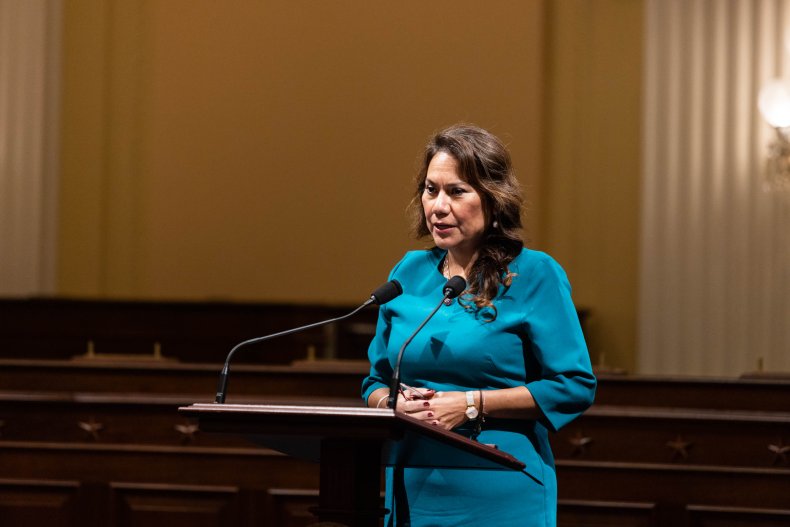 Escobar said she did not support the legislation because it did not extend protections to "health care providers and patients and staff who are vulnerable everyday especially because of the actions of this Supreme Court" in remarks reported by NBC News.
A leaked draft opinion, first reported by Politico in early May, showed the Court poised to overturn Roe v. Wade, the landmark decision ensuring abortion rights across the country. Should the court overturn the decision in the coming months, abortion access for millions would quickly be cut off in conservative states likely to ban the procedure.
After the leak, abortion-rights advocates organized several protests outside of the homes of Supreme Court justices. The protests were mostly peaceful, but they, along with threats made against the justices, sparked calls for heightened security for the justices.
Representative Alexandria Ocasio-Cortez, a New York Democrat, also criticized the timing of the bill in an Instagram Stories video over the weekend. She criticized efforts to pass the bill while Congress has yet to pass gun control legislation.
"Oh, so we can pass protections for us and here easily, right? But we can't pass protections for everyday people? I think not," she said.
Meanwhile, some New Jersey Democrats also voted against the bill because it only applied to the Supreme Court and did not include lower court judges, they wrote in a statement on Tuesday.
"We stood alongside our friend Judge Esther Salas and voted no today because we could not support passing legislation that continues to ignore the pleas of all federal judges for greater security," Representatives Mikie Sherrill, Josh Gottheimer, Bonnie Watson Coleman, Albio Sires, Bill Pascrell and Tom Malinowski wrote.
They continued: "Federal judges regularly face threats to their safety as well as their families due to their work to protect our communities and our democracy."
Newsweek reached out to Representative Escobar's campaign for comment.