Ladies, You Did It: Congratulations on Surviving a Total Week From Hell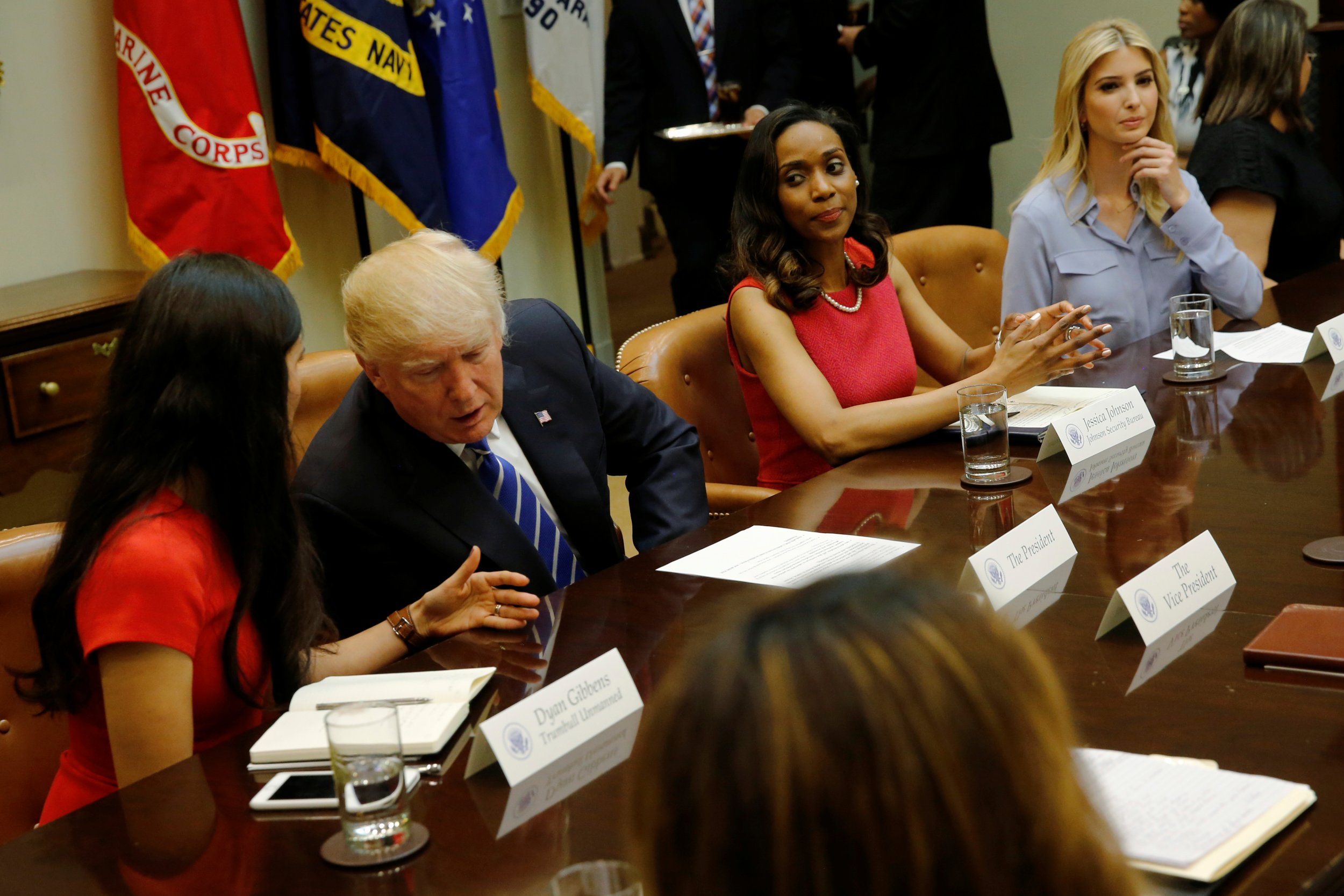 Happy Friday and big pat on the back, ladies. You survived what felt like the worst week for women in America in recent memory, aptly timed for Women's History Month. From sweeping cuts to family planning services to another controversy over what young girls wear, it was hard to keep up with the barrage of trash flung at women in the U.S. this week. So let's break it down.
We'll start with Leggingsgate. Monday's news cycle seemed dominated by two stories: ongoing questions about President Donald Trump and Russian involvement in the 2016 election and...leggings. On Sunday, two teenage girls were told by United Airlines they couldn't fly from Denver International Airport because they were wearing leggings. United Airlines said the girls, who were flying on United employee friend and relative passes, weren't following the employee dress code required for travelers using those passes. It seems rather unproductive to harp on banning stretchy pants and inhibiting women's comfort on flights, especially when it was on the heels of a Trump directive last week that instructed nine airlines to ban most types of electronic devices for U.S.-bound flights because of security reasons.
The week was also characterized by an onslaught of bills and actions aimed at limiting reproductive freedom in America. Incidentally, Trump hosted a "women's empowerment panel" this week (during which he wondered aloud, "Have you heard of Susan B. Anthony?" Hosting a panel of this sort is rich when 1) at least 13 women have accused Trump of sexual assault; 2) when Trump's lawyers said this week that he is too busy to deal with a defamation lawsuit brought by one of the women; and 3) on one of his first days in office, Trump, surrounded by men, signed an executive order reinstating the Global Gag Rule, which prevents U.S. money from going to international organizations that offer or advise abortion as a family-planning service.
Related: Iowa politician wants even dead fetuses carried to term
Then there's the case of "Smiling VP" Mike Pence, who, one day after that limp push for women's empowerment, cast a tie-breaking vote that lets states prohibit Title X federal family-planning dollars from going to Planned Parenthood. This despite the fact that federal money cannot pay for abortions, either domestically or abroad. Kaylie Hanson Long, national communications director for NARAL Pro-Choice, said of the vote, "This unhealthy obsession is grounded in a need to control women and keep us in 'our place,' and no number of 'women's empowerment' events can change that."
While Pence's tie-breaking vote happened at the national level, the statehouses are the battlegrounds for much of the current action against women's health. A slew of bills that can only be described as "welcome to Gilead" received national attention this week. Among the worst offenders are an Arkansas bill, signed into law this week, that bans sex-selective abortion and also requires doctors to spend a "reasonable time and effort" to get the woman's medical records. Opponents of the bill say this essentially amounts to an investigation of abortion patients. Dr. George Sealy Massingill, chief medical officer at Planned Parenthood of Greater Texas, says the law is "just another effort by people who don't understand health care to interfere between the doctor-patient relationship."
"The most important thing ought to be that patients should be able to make informed decisions based on the information they have, and asking us to obtain information about patients [where] we don't need to make that decision is completely wrong," says Massingill.
Pence also made headlines after it emerged that he doesn't dine alone with women who aren't Karen Pence, his wife, and won't attend events where alcohol is served without her by his side. In response to the strange logic of the vice president's marriage practices, The Onion offers this excellent article about a possibly predatory bottle of Mrs. Butterworth syrup.
Meanwhile, Kentucky's last open abortion clinic was about to close, but a temporary restraining order was issued Friday afternoon. If the clinic does eventually shut down, Kentucky would become the first state where abortion will essentially be unobtainable.
Fox News, of course, joined the women-bashing when host Bill O'Reilly decided to pick a fight with U.S. Representative Maxine Waters of California this week. On Tuesday, O'Reilly said he didn't listen to a speech by Waters because he "was looking at the James Brown wig." Outrage ensued and O'Reilly apologized, only to then criticize Waters again, saying she wouldn't come on his show because "she does not want to be challenged."
Waters's response to O'Reilly—"I am a strong black woman. I cannot be intimidated, and I'm not going anywhere. #BlackWomenAtWork"—has been retweeted more than 68,000 times. The hashtag #BlackWomenAtWork also prompted an outpouring of personal experiences from black women about the slights and discriminations they've received in the workplace.
To end the week, let's take a quick look at another hashtag, #ThanksForTyping. Started by Bruce Holsinger, an author and English professor at the University of Virginia, it rightfully highlights the unacknowledged and underappreciated work of women who typed up the work of their husbands and other male relatives, usually receiving just a cursory credit. It's a frustrating read, but perhaps even more enraging is that a woman, historian Alexis Coe, picked up on this trend back in 2013.
Exhausted? Same. Make sure you get some shut-eye this weekend for as long as you damn well please, especially since it's now been scientifically proven that women need more sleep than men because of the mental energy spent dealing with the patriarchy.