Zelensky Says He 'Never Thought' Defending Right to Live Was 'So Costly'
Ukrainian President Volodymyr Zelensky said he wants people to know that Ukrainians are trying to defend "the ability of a person to live in the modern world," during an interview with CBS News' 60 Minutes on Friday,
During the interview, which will air in full on Sunday, Zelensky rejected the claim that he is fighting for Western values, saying that whether it's wanting their children to go to college or wanting their grandfather to live 100 years, "we have the same values."
"We are defending the right to live," he said. "I never thought this right was so costly. These are human values. So that Russia doesn't choose what we should do and how I'm using my rights. That right was given to me by God and my parents."
Since Russia invaded Ukraine on February 24, Zelensky has been speaking on every possible public platform to raise awareness to what is happening in his country, from the United Nations Security Council to the Grammy Awards.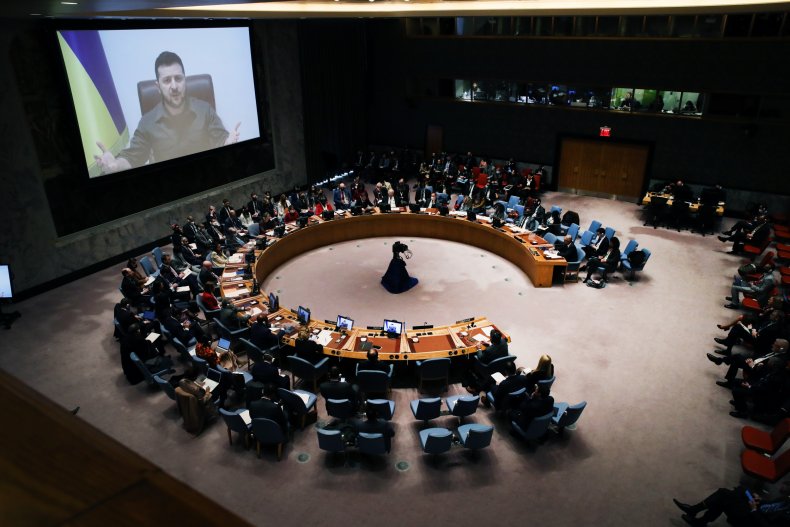 Interviews are significant not just because of his position, but because he has refused to leave his country despite safety concerns.
Zelensky spoke about his visit to Bucha, where Ukrainian officials reported that more than 300 people were "brutally tortured" and killed. When asked what Zelensky saw in Bucha, he said: "Death. Just death."
Images from the city, which is about an hour northwest of the capital of Kyiv, show dead bodies in the streets and in mass graves. Bucha Mayor Anatoliy Fedoruk told Voices of America that every day "we find more and more bodies of the dead, in different parts of our city—in vegetable gardens, in park areas, in playgrounds."
In response to the reports of mass killings, the European Union and the United States issued more sanctions against Russia, with the U.S. sanctioning Russian President Vladimir Putin's daughters, as well as other current and former Russian officials.
In addition to Zelensky's interviews with Western media, he has spoken with Russian journalists. Last week, he gave an interview with four prominent Russian reporters that was almost immediately censored by Roskomnadzor, Russia's media regulator.
During the interview, Zelensky outlined accusations of Russian atrocities in Ukraine, claiming Russians were "stealing" Ukrainian children, and speaking on the "humanitarian catastrophe" in Mariupol. A statement from the Russian government said the country's media outlets must "refrain from publishing this interview."
Newsweek reached out to Russia's Ministry of Foreign Affairs for comment.
Update 4/8/22, 1:10 p.m. ET: This story was updated with additional information and background.