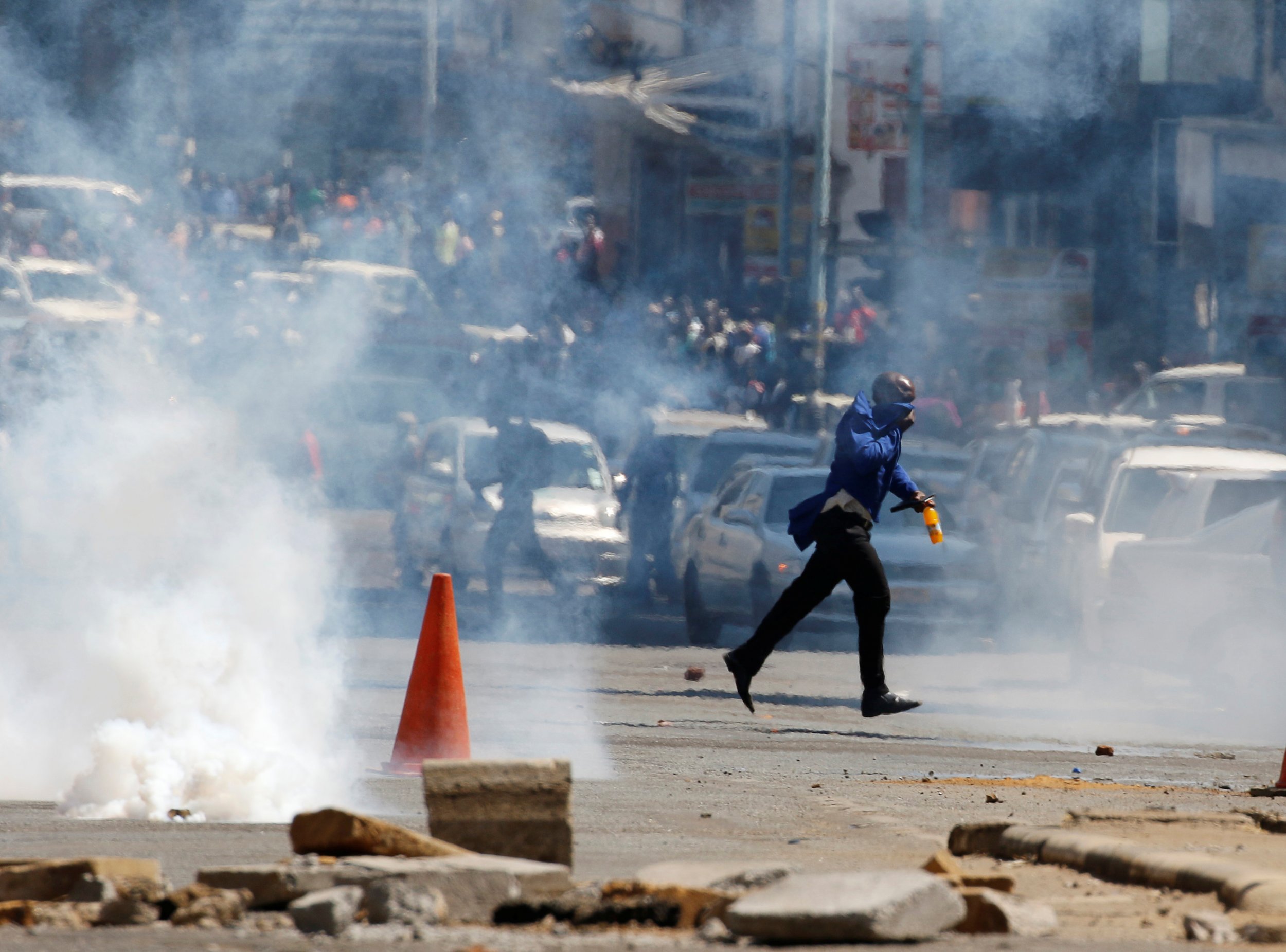 Eighteen political parties in Zimbabwe are uniting in a massive anti-government demonstration in the capital Harare on Friday, as tensions with government officials and security forces grow.
Some 150,000 protesters were expected to attend the march, Reuters reported, which is planned to finish outside the offices of the Zimbabwe Electoral Commission. Zimbabwe's High Court was due to rule early on Friday as to whether the march could go ahead, but Zimbabwean police and government politicians warned protesters to stay away.
The southern African country has seen a wave of recent protests against the government of President Robert Mugabe, who has been in post since 1980. In July, a stay-at-home protest organized by a Harare-based pastor called Evan Mawarire, using #ThisFlag on social media, saw the streets of Harare deserted.
There were also violent clashes in July between striking taxi drivers and police, while a group of war veterans—who hold significant influence in Zimbabwe and have been a key source of support for Mugabe—recently turned on the president, slamming his "dictatorial tendencies" and demanding that he resign.
The protest is taking place under the banner of the National Electoral Reform Agenda—a group of opposition politicians demanding electoral reforms in Zimbabwe ahead of the elections in 2018—and will be led by figures including Morgan Tsvangirai, leader of the main opposition Movement for Democratic Change (MDC), and Joice Mujuru, a former Mugabe ally who founded the Zimbabwe People First party in March.
As protesters gathered in Freedom Square in Harare on Friday morning, riot police were deployed and teargas was reportedly fired to disperse crowds.
The head of Harare's police force, Superintendent Newbert Saunyama, told protesters in a letter on Thursday that they should deliver a petition to the electoral commission but not march, since such numbers could not be accommodated in the city center.
The government's Home Affairs Minister Ignatius Chombo also accused opposition leaders of trying to provoke an international intervention in Zimbabwe. "Those regime change agents bent on trying to remove a democratically elected government will face the full wrath of the law," said Chombo on Thursday.
Mugabe, 92, has been the head of state in Zimbabwe since its independence in 1980. The Zanu-PF government has been accused multiple times of rigging elections to keep the war veteran in power, including in 2013, when Mugabe beat Tsvangirai with 61 percent of the vote.
The country is experiencing an economic crisis and the government is considering the introduction of bond notes—a cash substitute—as reserves of U.S. dollars dwindle, raising fears of another round of hyperinflation. The native currency, the Zimbabwean dollar, was rendered worthless following massive inflation in 2007-08 that left the price of bread at 10 million Zimbabwean dollars.
A protest was also held in Harare on Wednesday against alleged police brutality, with security forces using teargas, water cannon and batons to break up the demonstration.