U.S. Presidential Election Coverage and Results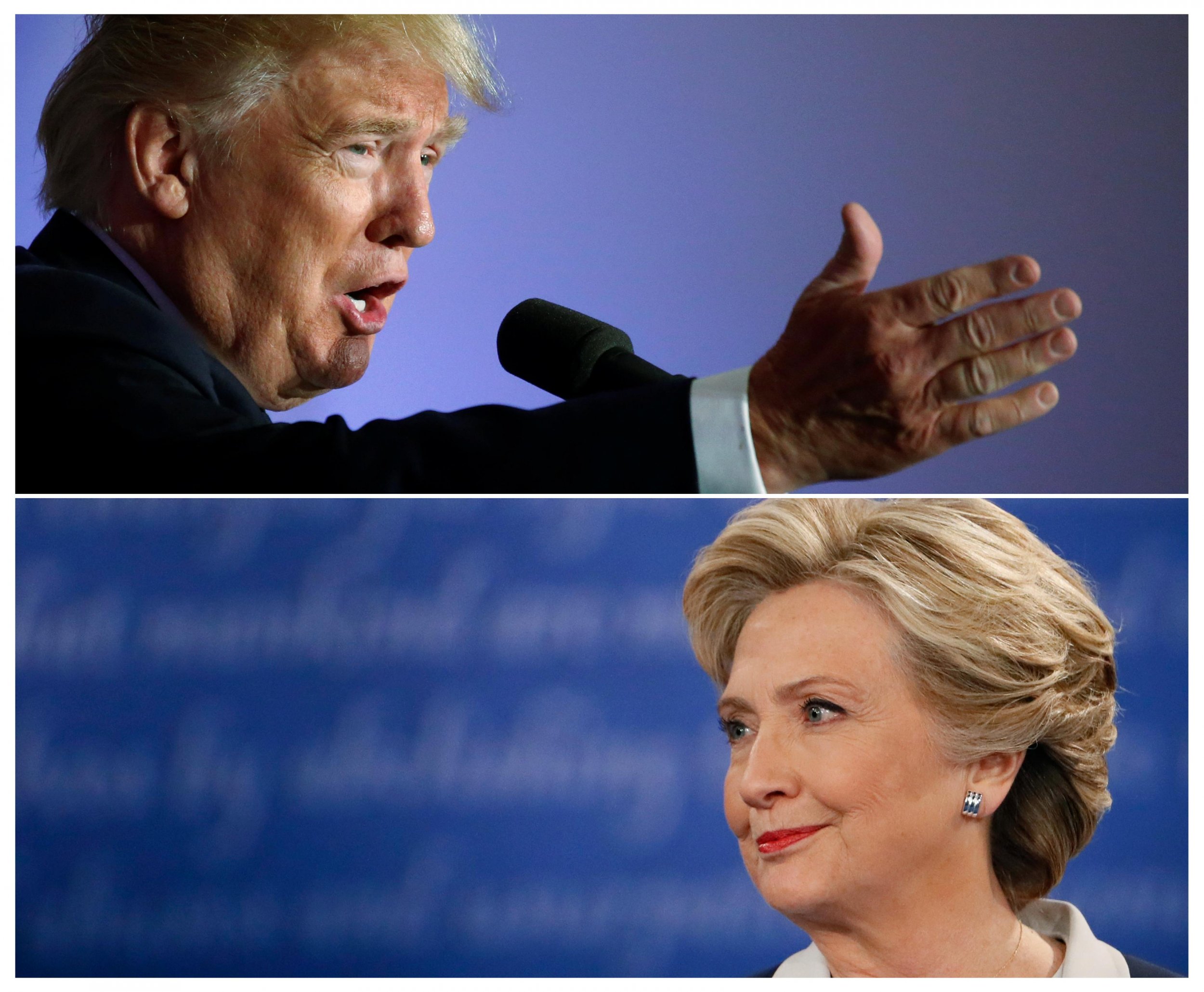 Newsweek has reported on U.S. presidential elections since the aftermath of the 1932 race, and when our first issue printed in February 1933, news wasn't as easy to find. It was shouted into living rooms through muffled radios and headlines echoed through streets as paperboys flagged down the curious. We don't live in that world anymore; no one shouts headlines at you on the street, though you probably get your fill of shouting on your Facebook feed. Tonight, the results of the latest race for the White House are far too important to shout them. Tonight, we will mark their worth by crossing them out on our election day bingo card. Welcome to our 2016 election live blog. Think of this as our running diary. In it, you'll find voter commentary, fact-checking, as well as iconic photography, must-see videos and, of course, the results.
Our live updates ended shortly after the announcement of Donald Trump's victory. For full coverage, visit our election page, follow Newsweek on Twitter and Facebook, and if you like what you see, support our ongoing work by subscribing to our digital and print offerings.
_______________
Republican presidential nominee Donald J. Trump won the race to the White House, a victory that will shake the Washington establishment to its very core, writes Newsweek's Matt Cooper.
Matt writes: "Underscoring his outsider credentials, Trump, 70, is the first person to be elected president without any political or military experience. Instead, Trump touted himself as a successful businessman who understood both how to create jobs and how campaign contributors such as himself manipulate politics to get what they want. When he is inaugurated in January, Trump will be the oldest American to enter office, the first since John Quincy Adams to be married to a foreign-born spouse, the first to have had three marriages and arguably the wealthiest president." Continue reading.
_______________
As people across the United States and beyond await the victory and concession speeches, an expert on political speechwriting weighs in on what to expect.
"'They said it couldn't be done,'" Robert Lehrman, a former speechwriter for Vice President Al Gore and the author of The Political Speechwriter's Companion, predicts Trump might say in a victory speech if he wins. (He is currently six electoral votes short of the 270 needed to win, according to projections by the Associated Press.) The line paraphrases some from President Barack Obama's victory speech after winning the Iowa caucus in 2008. Then Trump might also point out how out how the media doubted him, and then thank his supporters and family members and go into the issues about which he campaigned, says Lehrman, who also teaches public speaking at American University.
No matter who must give the concession speech, Lehrman says, "what you want to do in a concession speech is thank the people who stood by you, acknowledge your disappointment—there's no sense in denying that—and [that] there's life after defeat and try to be inspirational to your followers." If Clinton must give that speech, Lehrman says, it will likely be of a different tone than her 2008 concession speech to Obama because in that case, "they agreed on most issues and she didn't have the contempt for him at all that she [seems to have] for Trump." Still, he adds, if she must concede, "she should congratulate Trump." — Max Kutner, Wednesday, 2:20AM ET
_______________
John Podesta wants all of us to go to bed now.
John Podesta had some strange advice for weary Clinton supporters early on Tuesday morning. After CNN originally reported that the Democratic nominee would not appear in person at the Javitz Center, Podesta told the dwindling crowds "You should get some sleep, we'll have more to say tomorrow." He continued briefly in a supportive tone, adding that "we are so proud of you and we are so proud of her." Sorry, John, we're not going to to bed just yet. And where is the candidate, anyway? — Margarita Noriega, Wednesday, 2:00AM ET
_______________
Clinton campaign's playlist features songs about withstanding adversity.
For at least the past two hours, or since Newsweek started paying attention to the music here at the Javits Center, Hillary Clinton's campaign has been playing songs related to standing your ground and not giving up. The campaign plays music in between TV news coverage and speeches.
We've heard lyrics from Kris Allen's "Fighters": "So raise your fears and don't forget, We were born to be fighters, We are strong, We're survivors." Earlier, Gym Class Heroes's "The Fighter" told attendees, "Here comes the fighter, That's what they'll say to me, say to me, say to me. This one's a fighter." And, as Clinton's supporters began trickling out of the building around midnight , Kelly Clarkson's "What Doesn't Kill You (Stronger)" lyrics reminded them that "What doesn't kill you makes you a fighter, Footsteps even lighter, Doesn't mean I'm over cause you're gone."
And of course, earlier in the night we heard and saw the music video for "Our Fight Song," produced for the Democratic National Convention that features actors, musicians and supporters singing their support for Clinton. They sing a cappella to Rachel Platten's "Fight Song," which became the unofficial tune of the campaign.
Oh, and here comes Marvin Gaye's "Ain't No Mountain High Enough." — Michele Gorman, Wednesday 1:30am ET
_______________
A reminder to look after your mental health during stressful events.
The mood has darkened in the last few hours for American voters as the state results crawl in. Here's a reminder to take care of yourself (and others), no matter who you support. First, remember to breathe. It sounds simple but stress and anxiety can affect your breathing. It's important to bring awareness to this most basic function, and it can help you regain your footing in the most turbulent of times. Check out this informative post by Dr. Mark Banschick at Psychology Today about how to manage anxiety. It includes insightful tips on breathing exercises, meditation, yoga and, of course, psychotherapy, and medication.
Second, getting off of social media may also help. The atmosphere on Twitter, for example, is nigh apocalyptic among many in the media. Don't give in to the panic. Keep calm and carry on. — Doug Main, Wednesday, 1AM ET
_______________
Sheriff Joe, the Arizona lawman infamous for targeting Latinos and putting pink underwear on prison inmates, was voted out of office after 23 years as Maricopa County Sheriff.
Joe Arpaio, an 84-year-old Republican with the nickname of "America's Toughest Sheriff," lost to Democratic challenger Paul Penzone, the Associated Press said Tuesday night. Arpaio had campaigned under a legal cloud after the U.S. Department of Justice charged him with criminal contempt of court in October for violating a federal judge's order to stop enforcing civil immigration laws, according to the Arizona Republic.
The momentum against Arpaio built on Tuesday when students at two Phoenix high schools walked out to protest his reelection run, the Los Angeles Times reported. His retirement could be rocky, as he still faces the possibility of jail time if found guilty of the federal contempt charge. — Josh Saul, Wednesday, 12:45AM ET
_______________
It was the victory party that at the start of the evening, even some of Donald Trump's most devout supporters doubted would live up to its billing.
The mood at the Hilton Hotel in midtown Manhattan was, two hours ago, "cautious optimism," as Kelly Schmidt, a 63 year old from Brooklyn put it. Now, the place is about to explode, as Donald J. Trump nears the greatest political upset in American political history.
"I knew this was going to happen," says Isaac Stone, a small businessman who sells medical supplies online. Obamacare, over regulation, a lousy business environment. "I live in New York but I voted for Donald anyway. People are fed up—and people like you (journalists) never got it. He's going to win and win easily."
Another Trump supporter, Roger Keith, said the establishment—Republican and Democrat alike—never got Donald. There is a connected class in America, and then there's everyone else, said the restored airline executive. "This is is the repudiation," he said, as Trump drew ever nearer to electoral gold, "that they so richly deserved." — Bill Powell, Wednesday, 12:30AM ET
_______________
Clinton supporters are in a zombie-like state of shock at the Javitz Center in New York.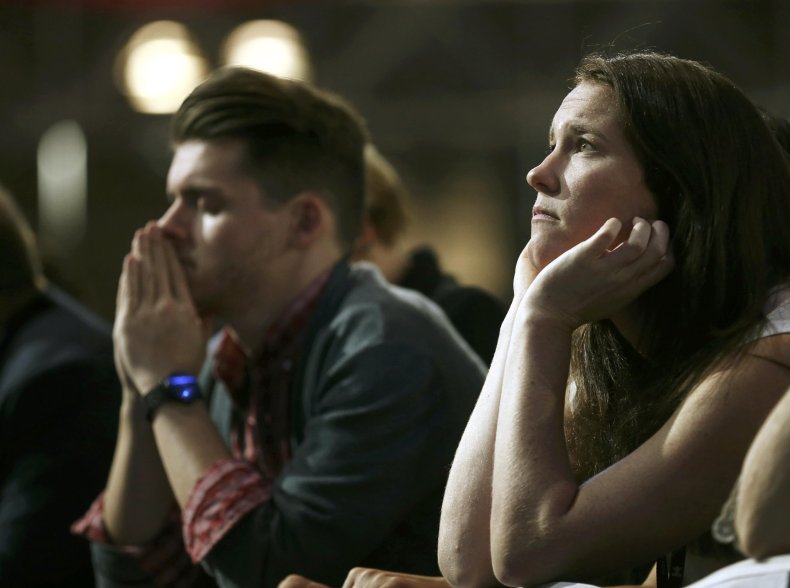 Newsweek's Nina Burleigh is at the Javits Center in New York, where Clinton's official celebration has been carefully planned to take place with thousands of hopeful attendees. Burleigh recently shared that, as the long night has continued, the mood in the Center has grown "zombie"-like. "Wow we really live in a fucked up country," one sad voter told Newsweek. — Margarita Noriega, Tuesday, 11:45pm ET
_______________
Clinton supporters are beginning to leave the Clinton campaign's Javits Center event in New York.
At least a few dozen Clinton supporters wearing "guest" credentials around their necks are trickling out of the Javits Center. In a glass building, the campaign had been hoping to smash the metaphorical glass ceiling and celebrate a historic White House victory by early Wednesday morning.
But the mood is anything but celebratory. The attendees who were headed for the street and approached by Newsweek declined to provide their reasons for leaving. One couple said that they would return soon. Meanwhile, Kelly Clarkson's "Stronger" lyrics played in the background at the Javits Center in between news updates and Clinton campaign videos. "What doesn't kill you makes you stronger. Stand a little taller." Perhaps the irony wasn't lost on her supporters. — Michele Gorman, Tuesday 11:45pm ET
_______________
Donald Trump has won Florida, reports the Associated Press.
A reportedly strong turnout by Latino voters was not enough to keep Florida from going red, according to projections by the Associated Press (AP). Trump's projected win there comes as a surprise to analysts who had thought that the state's Latino voters would help Clinton win there. Prior to the AP's calling it for Trump, David Lublin, a professor at American University and the author of several books on race and voting, told Newsweek that given the Latino turnout, a Republican win there "would show an ability of Trump to really mobilize white voters."
Michael Sawyer, a political science professor at the University of California, Los Angeles, who specializes in how race affects politics, told Newsweek prior to the projection that such an outcome would mean that even the strong Latino support for Clinton would not "make up for Trump's strength among working class white voters."
Florida's Latino voters favored the Democratic nominee, according to the Pew Research Center. In August, 68 percent of Hispanic registered voters said they planned to vote for Clinton, compared to 19 percent of those voters who said they planned to support Trump, according to Pew. Of overall registered voters in Florida, those numbers were 41 percent and 37 percent, respectively. The lack of support for Trump among Latino voters is no doubt partly due to his comments about Mexican immigrants, says
Floridians of Puerto Rican and Dominican descent have historically voted Democrat (and the Puerto Rican population there recently grew to more than one million). But analysts predicted that Cuban Americans could be a swing vote.
With one of the highest amounts of electoral votes, Florida is a perennial election battleground state, especially since 2000, when the entire presidency is said to have come down to some 500 votes there. Analysts had said that mathematically, Trump needed either Florida's 29 electoral votes or Pennsylvania's 20 electoral votes in order to have a path towards the 270 electoral votes needed to win office. — Max Kutner, Tuesday, 10:50pm ET
_______________
All of the Associated Press projections for president match the way states voted in 2012.
While no results for the group of so-called battleground states have been yet called, the northeastern United States is largely looking blue and the midwest and south are looking red. The states which remain up for grabs, and have piqued continual interest by those watching the polls, include Florida, Virginia, Ohio, Colorado and Nevada. Projections of this year's race are the same as in 2008, too, with the exception of Indiana, which went to Barack Obama that year. Indiana is now projected for Donald Trump. — Max Kutner, Tuesday, 10pm ET
_______________
The needle is dramatically oscillating on The New York Times' popular election forecast.
As of 9:30 p.m. ET, Upshot's forecast had both Donald Trump and Hillary Clinton with an equal 269 votes with a 50/50 shot for each candidate. Within a matter of minutes, it leaned positivitely at 57 percent in favor of Trump. The needle is currently resting steadily at 59 percent for the Republican nominee.
Over at FiveThirtyEight, polling experts are reporting that Clinton has a 73 percent chance of winning, with 298.9 expected electoral votes for Clinton and 238.3 for Trump. It's still too early to tell what will happen in key battleground states Florida and Ohio. — Joanna Brenner, Tuesday, 9:45pm ET
_______________
Mothers of the Movement: Hillary Clinton was the only candidate who reached out to us
Throughout the 2016 campaign, Hillary Clinton was the only presidential candidate to contact mothers who have lost children to gun violence or while in police custody, Sybrina Fulton, whose son Trayvon Martin was fatally shot in 2012, told the crowd gathered at the Jacob K. Javits Convention Center on Tuesday night. "She represents strength. She represents hope," Fulton said. "We say there's hope in Hillary."
Gwen Carr, whose son Eric Garner died in 2014 after being placed in an apparent chokehold by a New York police officer, said Clinton "felt our pain and she understood." Carr added: "She is the only president who is capable of this job, and we all have to stand behind her."
Fulton and Carr are part of Mothers of the Movement, a group of women whose children died from gun violence or while in police custody. About a dozen of the mothers took the stage on Tuesday after New York City Mayor Bill de Blasio promised to "shatter that stubborn glass ceiling" with a Clinton victory and New York City Council Speaker Melissa Mark-Viverito praised the Democratic nominee for vowing to curb gun violence and to strengthen relations between communities and law enforcement officials.
Just moments later, Clinton was projected as the winner of the Empire State. The Javits erupted in cheers. — Michele Gorman, Tuesday, 9:30pm ET ​
_______________
Sand-filled New York City Sanitation trucks were only the first line of defense at the Midtown Hilton.
Beyond the riot gates, a moving wall of blue NYPD at the gleaming entrance eye the incoming, who then had drop wallets phones and purses at not one but two metal detecting arcs, and pass another gauntlet of NYPD, some holding large dogs at heel. Among those who got through, Bikers for Trump founder Chris Cox. Cox left his Harley back in Mount Pleasant , S.C., and wended his way up to Manhattan on Amtrak. He didn't want to deal with city traffic.
In his patch-vest and jeans, he stood out among the crowd of city slickers in business attire. Cox says he sank his life savings into Bikers for Trump, which claims 158,000 members. "I'm in so deep, there's no turning back," he said, not that he has any regrets. He paid his own way to Gotham and wasn't planning to stay long. He planned to bunk for free with an old high school friend who had moved north to New Jersey.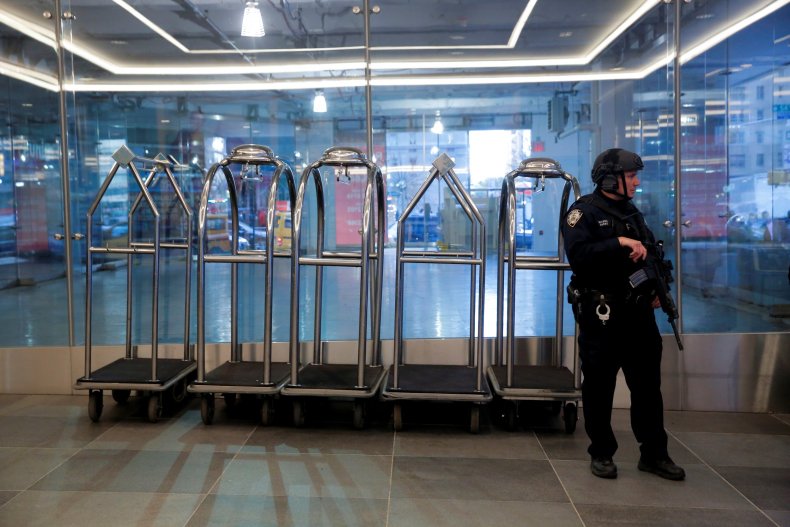 When we ran into him, polls were starting to close and Cox was aware that prognostications today haven't exactly looked promising for his man, He was being philosophical. "If he loses, we are still great country and we will prevail," he said. "We came out of nowhere. I was laughed at at first for being politically incorrect and 'disgruntled military' but I'm proud of what we accomplished in Cleveland. We had a strict code of conduct and we didn't condone violence. If he loses, I will be sad, but life goes on."
Inside the ballroom, a red Make America Great Again hat waited inside a glass box on stage, like a magician's trick waiting to happen. Two women in pearls who hailed from Westchester County, where both Clinton and Trump have houses, considered a stack of the hats piled forlornly on a table, and decided against donning one. They eyed the big screen above, tuned to Fox News, as the words "Florida Too Early to Call" scrolled beneath talking heads. One noted that the Clinton's house is less than three miles from Trump National Golf Course. Trump let Bill Clinton play there, when other clubs rejected he disgraced president. "That's how he is," one of them said ruefully. "He lets everybody in." — Nina Burleigh, Tuesday, 9:15pm ET
_______________
A ballad to the mystery and wonder of touch screens
Regardless of election night's outcome, many millions of people will be sorely disappointed. But I think we can all agree that there is one clear winner: touch screens.
(If you're reading this on a monitor, don't you dare TOUCH THIS PHRASE. Nothing will happens. Okay, now you've done it. You've created a smudge. I told you not to.)
On CNN, FOX and MSNBC, touch screens are being wielded with technocratic wizardry left and right. (On CNN, John King fondly referred to his gizmo as a "living abacus." Good ol' Wolf Blitzer called it a "magic wall.")
Love 2 watch grown men & women use technology? Tonight's the night.
Twitter has taken note of the touch screen phenom. Some are impressed. Others, not.
Many questions remain about these magical machines. Where can I get one? What ARE they, even? Is this real life?
And of course, many have found humor in the situation. (Not me, of course! I'm deadly serious about screens, the epidermis, & their interaction(s)... dissertation forthcoming.) — Doug Main, Tuesday, 9:15pm ET
_______________
NBC News has projected that Republicans will retain control of the House of Representatives.
Though many believe that Democrats have a chance to wrest control of the Senate tonight, the Republicans have been expected to maintain their hold on the House of Representatives, and NBC is now projecting that they will do just that.
The Democrats would have needed to flip 30 seats to win back the House majority they relinquished in 2010, and though some believed they would at least be able to convert a majority of the 30 seats needed from red to blue, hope dwindled in the wake of FBI Directory James Comey's late-October announcement that the FBI were looking at new emails related to their investigation of Hillary Clinton. On Sunday, Comey told Congress the FBI found no new information that would lead him to change his opinion that the Democratic nominee should not face charges.
Though we know Republicans will retain control of the House, specific race results are still being determined. — Ryan Bort, Tuesday, 9pm ET
_______________
A senior Trump campaign adviser said that "It will take a miracle for us to win."
That is a direct quote from an adviser inside Trump's inner circle, CNN's Jim Acosta shared. The comment is in sharp contrast to the usual puffy-chested expletives of confidence characterized by Team Trump. The adviser attributed Trump's downfall to the release of the 2005 video clip of Trump boasting about sexually assaulting women on Access Hollywood. The adviser told Acosta that Trump "was in such a deep hole after the release of that Access Hollywood tape it was viewed inside the campaign that he was going to lose this race by a wide margin."
In addition to the loss in confidence from a senior campaign adviser, a 3-year-old goat in southern Scotland with alleged powers of prophesy has predicted that Hillary Clinton will win the election. Things are looking up for Trump in Florida, though, so only time will tell. — Joanna Brenner, Tuesday, 8:45pm ET
_______________
A Texas sheriff's office arrested a man at the polls earlier on Tuesday after he tried to vote twice.
The Fort Bend County Sheriff's Office tweeted a confirmation that one man was arrested for "attempting to vote a second time." The man claimed that he worked for the campaign of Republican presidential nominee Donald Trump and was "testing the system." The man's arrest comes more than a week after Trump supporter Terri Lynn Rote was arrested in Iowa, suspected of attempting to vote twice in the presidential election. Rote claimed the polls are "rigged," echoing claims made by Trump throughout his campaign. — Lucy Westcott, Tuesday, 8:45pm ET
_______________
Marco Rubio has been re-elected to the Senate, CNN and the Associated Press report.
The former Republican candidate for president dropped out of that race in March after he lost the primary in his own state of Florida to Donald Trump. Rubio originally said he would not seek a second term in the Senate and would leave politics, but in June announced that he would run after all. "No matter who is elected president, there is reason for worry," he said at the time. "No matter who wins the White House, we need a strong group of principled, persuasive leaders in Congress who will not only advance limited government, free enterprise and a strong national defense, but also explain to Americans how it makes life better for them and their families." — Stav Ziv, Tuesday, 8:30pm ET
_______________
The New York Hilton Midtown is a mid-century modern icon. It's charmless, in a monolithic kind of way, but it has some cachet.
After it opened in 1963 it hosted the Beatles before their 1964 appearance on the Ed Sullivan Show. It's hosted every president since then. Tonight's would be president is holding his party here, a few blocks from his eponymous tower. At least in the early part of the evening, things were pretty subdued. The ballroom looked more like an osteopath convention than a raucous political rally. Cheers went up when Mr. Trump, as everyone here respectfully calls him, when the networks announced his victories in Tennessee, Missouri and Oklahoma. No surprise there. When Hillary Clinton was declared the winner by Fox News Channel, some half-hearted boos went up.
There's more energy being shown by the security teams here, Secret Service, New York City Police among them. The city put sanitation trucks filled with sand in front of the hotel's entrance on 6th Avenue, as everyone calls it. (The official, never-used name is Avenue of the Americas.) One German shepherd had a Hannibal Lecter-style face mask. No one's freaking out, but there's no super energy, either. That'll probably change in a couple of hours.
I ran into an old friend who works for a pro-Trump SuperPAC who spent the last few months buying ads, doing research, in an effort to elect Trump. These outsider groups were particularly important for a campaign that had little structure let alone organization. "We'll see," sighed my friend, before she went off to look for a colleague. — Matt Cooper, Tuesday, 8:30pm ET
_______________
Donald Trump has written both an acceptance speech and a concession speech, according to former apprentice star Omorosa Manigault.
During the final presidential debate, Donald Trump refused to say whether he would concede the election should Hillary Clinton be declared the winner on November 8. As of Tuesday morning, he hadn't changed his stance, telling multiple local radio stations that he was going to wait and see what happened. It's hard for many to imagine Trump showing the humility it would take to deliver a concession speech, but his former "apprentice" Omorosa Manigault has told reporters that Trump has written both an acceptance speech and a concession speech, according to the Wall Street Journal.
This implies that the Republican nominee is at least entertaining the possibility of formally conceding the presidency tonight. Whether Trump would be able to exhibit the class demonstrated by previous election losers is another issue. So is if he would actually follow through with a concession in the wake of defeat, which we can't imagine would sit very well with Trump. — Ryan Bort, Tuesday, 8pm ET
_______________
A shooting killed one person and injured at least three others near a voting site in Southern California, shutting down two polling locations, reports said.
[UPDATE, 9:50pm ET]: Officials said they didn't believe the shooting was connected to the nearby polling place.
A Los Angeles County Sheriff's captain said police were dealing with at least one suspect who was heavily armed, according to the Los Angeles Times. "This is a very volatile and critical situation," Azusa Police Department officer Jerry Willison told the newspaper, adding that the shooting happened about 2 p.m. in the town about an hour from downtown Los Angeles. The Azusa PD twitter account asked people to stay out of the area and "shelter in place." A woman who went to a nearby middle school to vote, Elizabeth Hopkinson, told NBC she and her young son were locked down inside the gym with about 25 other people after she heard the shooting, which she said was, "Pow, pows, then a rain of fire."
LA County Registrar tweeted in Spanish that, "Voters should avoid the area and, if necessary, cast a ballot at an alternate polling location," according to CNN. — Josh Saul, Tuesday, 7:30pm ET
_______________
A New York pin seller says business is suffering because Americans "aren't so happy" with their presidential choices.
Serrano Smith started selling President Barack Obama buttons in the weeks leading up to the 2012 presidential campaign, near the Barclays Center in the Brooklyn borough of New York City and on trains in the metro area. But now he isn't as hopeful, as he sells dozens of $3 Hillary Clinton and Tim Kaine—along with Pope Francis—buttons a block from the entrance of the Jacob K. Javits Convention Center, where the Democratic nominee and her running mate are set to hold their Election Night event.
"Last election, I saw more enthusiasm," Smith told Newsweek outside of the Javits Center.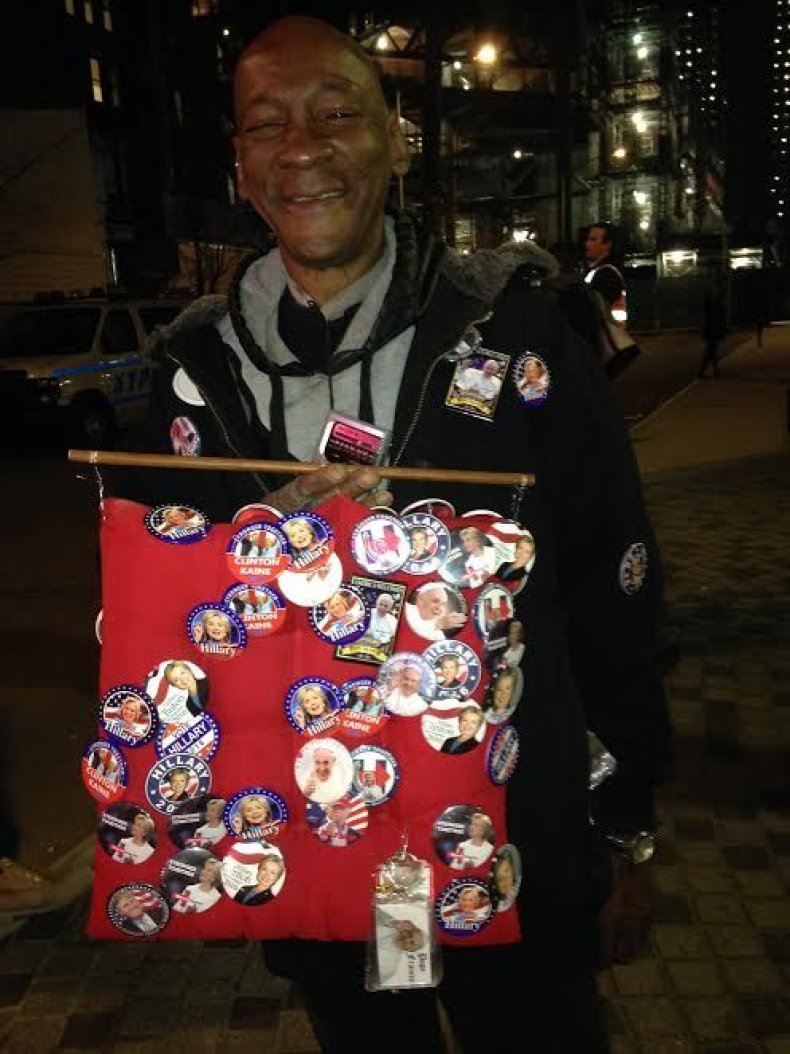 Smith flipped around the red seat cushion holding his merchandise to reveal a plethora of Donald Trump buttons that he plans to sell later Tuesday night outside of the New York Hilton Midtown, where the Republican nominee will host his own party. When asked about which candidate he supports, Smith says, "I think I'm loyal to the money." — Michele Gorman, Tuesday, 7pm ET
_______________
The Trump campaign faced off with a Nevada district court judge over early voting ballots.
In a lawsuit filed Monday night, the campaign alleged that people were permitted to vote at a handful of locations in the state after polls were supposed to close on Friday. "The Registrar's violations were not random and neutral in their effect, but very much appear to have been intentionally coordinated with Democratic activists in order to skew the vote unlawfully in favor of Democratic candidates," the lawsuit said.
A campaign lawyer also asked the judge to preserve the names of poll workers as evidence, which would make them public record. The lawyer told the judge that those people would not face harassment. The judge responded: " Do you watch Twitter? Have you watched any cable news show? There are Internet trolls who get this information and harass people who just want to help their fellow citizens vote."
On Tuesday, the judge denied the petition. The Las Vegas Sun quoted a local official as saying, "As has been our practice for many, many years, those early voting locations continued processing voters until the lines were gone."
Analysts are labeling Nevada a battleground state in this election. David Damore, a political science professor at the University of Nevada, Las Vegas, tells Newsweek he has not seen a candidate attempt this sort of challenge in the state in at least four previous presidential elections.
Trump and his surrogates are alleging voter issues in a number of states, including Utah. The candidate has said he thinks the election "is absolutely being rigged" and that he will accept the results— if he wins. Officials in Colorado and North Carolina have reported technical issues for voters. — Max Kutner, Tuesday, 7pm ET
_______________
The polls are still open in some states, but a former president and several men who unsuccessfully ran for U.S. president have let the public know what they decided.
George W. Bush and Laura Bush, his wife, didn't vote for either Donald Trump or Hillary Clinton, a spokesman for the family said. The confirmation from Freddy Ford came after radio host Rush Limbaugh suggested that Bush voted for Trump earlier on Tuesday.
Meanwhile, South Carolina Sen. Lindsey Graham, who dropped out of the 2016 presidential race in December, tweeted that he voted for Independent candidate Evan McMullin on Tuesday: "I appreciate his views on a strong America and the need to rebuild our military," Graham said. McMullin has seen particularly strong support in Utah, where he has a 24 percent chance of winning, according to The Upshot . Mike Huckabee, who dropped out in February, tweeted that he voted Trump "without hesitation," adding: "If you have a job, or ever want want, go vote Trump."
While Wisconsin Gov. Scott Walker didn't specify who he voted for, did tweet a photo of his daily ham and cheese sandwich. — Lucy Westcott, Tuesday, 6:30pm ET
_______________
This video of snakes chasing an iguana expresses Donald Trump voter's hopes for tonight.
To hear Donald Trump and many of his supporters tell it, he's besieged by various special interests: Hillary Clinton and her powerful allies, the FBI, pollsters, elements of the Republican party, Congress, certain election officials (possibly), the media (not including Sean Hannity!), etc. These "snakes," if you will, control the beach—er, system. And he is the only savior. Can the regal Donald escape the snakes and make it to the top?
Well, check out this video. The snakes of a sinister system besiege a humble iguana (inexperienced but glorious—look at those scales!). It looks like the snakes have it. Look how many there are, those slithery serpents. But only one iguana. Sad! I'll let you peep the clip, but suffice to say: something miraculous—and unlikely—happens. — Doug Main, Tuesday, 6:30pm ET
_______________
Pennsylvania has reportedly seen a range of election problems.
From votes for Donald Trump appearing on voting machines as having been cast for Hillary Clinton, Philadelphia voters wrongly asked for identification and a call for police when an ex-county councilman wore a t-shirt with Bill Clinton's face over the word "Rape." Republicans in four Pennsylvania counties reported Trump votes being flipped to Clinton and the GOP chairman for the heavily Republican county of Westmoreland said a dozen voting machines there were shut down because they were recording Trump votes for Clinton, Politico reported.
"I was ready to explode in front of everybody, but I just kept my calm," Roy Gingrich, who tried to vote for Trump only to see on the review screen that he had selected Clinton, told the York Daily News. (After a poll worker stepped in the machine displayed his vote for Trump.) The state has also seen many reports of poll workers wrongly telling voters they need identification to vote, NBC reported. And in Erie County, police responded to a call of a trespasser to find former councilman Ebert Beeman wearing the controversial shirt and a straw hat, the Erie Times News reported. — Josh Saul, Tuesday, 6pm ET
_______________
The Weather Channel has forecast the inclement weather brewing in the hearts and minds of people all over the country as they wait for a new president to be named.
Accordingly, it is broadcasting a nine-hour "Escape the Election" marathon, from 3 p.m. to midnight ET, for anxious onlookers who need a short or indefinite break from the constant coverage on news channels. "The one network you can count on for absolutely zero election night coverage is The Weather Channel," promises a video posted on Monday to YouTube. Instead, it's providing "a marathon of the most relaxing nature you might ever see." The stunning views will be accompanied by the sounds of smooth jazz. Other than local forecasts on the 8s and commercials, none of it will be interrupted unless there's a severe weather threat.
Other channels offering respite from election-day coverage include Animal Planet, with its Too Cute marathon; the Hallmark Channel, with as many Christmas movies as you can stomach in one sitting; IFC, with a marathon of That 70s Show episodes starting at 6 p.m. ET; and several more. — Stav Ziv, Tuesday, 6pm ET
_______________
More Americans than ever before are expected to have voted in this election, according to a leading analyst.
Michael McDonald of the United States Elections Project, which tracks electoral data, estimated that more than 135 million people will vote. He wrote on his website on Monday that he based the estimate on previous voter turnouts and this year's early voting numbers. If accurate, that amount would be the most since at least 1932, according to U.S. Census Bureau data, and given the country's growing population, it's highly unlikely that an earlier year would have topped 135 million. Census data show that the number of people voting has increased every election year since at least 1932. In 2012, 133,000 of eligible voters reported that they voted. The percentage of eligible voters who cast ballots has increased since the 1960s; in 2012, 61.8 percent did.
According to The Washington Post, more than 41 million Americans voted as of Sunday. Some type of early voting was available in 37 states and the District of Columbia. — Max Kutner, Tuesday, 5:30pm ET
_______________
City of New York Department of Sanitation trucks filled with what appears to be sand are forming a barrier around Trump Tower Tuesday evening, according to passersby and images from the scene.
The midtown Manhattan 68-story skyscraper, which a person scaled using suction cups in August, has served as Donald Trump's campaign headquarters. His election night event is taking place at a different location in Manhattan.
"Vehicles being used to create stand-off is not an uncommon practice," says David Wachs, president of Concentric Security, a perimeter security company based in Maryland and Alabama. "For instance, at a military base, if a barrier is non-functioning for some reason, they'll take a pick up truck, dump truck, some heavy vehicle, and park it in the roadway.… They're creating a stand-off to keep someone from ramming." He adds that the sand in the trucks is likely to weigh them down and keep them from moving if rammed.
There appear to be bollards (the short poles that stick out of sidewalks near some buildings) surrounding Trump Tower, but Wachs says bollards outside of non-landmark or non-government buildings are usually intended to protect pedestrians, not buildings. Spokespeople for the Department of Sanitation and the New York City Police Department (NYPD) were unavailable for comment. The website Gothamist reported that the NYPD confirmed it was using the sanitation trucks as a security measure. — Max Kutner, Tuesday, 5:30pm ET
_______________
Voters were turned away and told to "come back later" in Democratic-leaning Durham County, North Carolina after computers failed and precincts ran out of paper forms, according to a local nonprofit.
The computer failure created a long wait for Durham voters, with problems at five different precincts including voters not even allowed to enter the polling place at Bethesda Ruritan Club, the Southern Coalition for Social Justice said in a press release. The nonprofit said voting should be extended for an hour – to 8:30 p.m. – and that the Durham County Board of Elections office be opened as a "super precinct" where every Durham County voter can cast their ballot. Durham County has about 130,000 registered Democrats, 30,000 Republicans and 70,000 unaffiliated voters, and about 43 percent of the county's 200,000 voters are black, according to the State Board of Elections.
On Tuesday evening, the Durham County Board of Elections voted to ask the State Board of Elections to extend voting hours at the Bethesda Ruritan Club because of the problems there, the local ABC affiliate reported. — Josh Saul, Tuesday, 4pm ET
_______________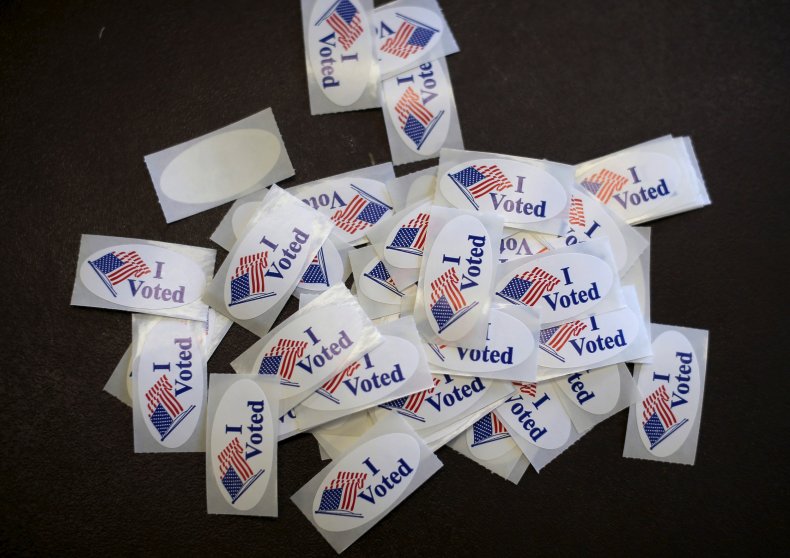 Where does the "I Voted" sticker come from? No one's really sure.
If you do have the misfortune of living in a place that doesn't distribute the stickers on Election Day (like Chicago, which quit handing out the stickers because they were annoyed by the stickiness and has opted for wristbands instead), you can always print your own, or enjoy one of the many 2016-worthy memes the stickers have inspired. — Joanna Brenner, Tuesday, 2PM ET
_______________