Two decades ago, American unity appeared to reach record highs in the wake of the devastating September 11, 2001 terrorist attacks. Today, 9/11 is a source of substantial political tensions.
In a Saturday video message commemorating the 20th anniversary of the national tragedy, President Joe Biden said, "We saw unity is one thing that must never break."
"Unity is what makes us who we are, America at its best," he added. "To me, that is the central lesson of September 11. It's that at our most vulnerable, in the push and pull of all that makes us human, in the battle for the soul of America, unity is our greatest strength. Unity doesn't mean we have to believe the same thing—we must have a fundamental faith in each other."
Any casual political observer would notice a stark divide between Biden's message and the reality of America today. Gallup measured the highest-ever approval rating for a president in late September 2001, when former President George W. Bush was seen favorably by some 90 percent of Americans in the wake of the terrorist attacks. Conversely, such universal alignment behind a political figure seems all but impossible in the current era of political polarization.
"I wouldn't necessarily trace the beginning of this shift to the 9/11 period—it was evident, for example, with the so-called Contract withAmerica in 1994, and it became worse during the administrations of Bush (except for the short-term 'rally round the flag' effect seen following the terrorist attacks), Obama and Trump," Professor Stephen Craig from the Department of Political Science at the University of Florida told Newsweek.
"One thing that distinguishes the current era is that whereas Clinton, Bush and Obama all stressed—at least rhetorically—the importance of unity and compromise, Trump has actively sought to exploit the divisions that exist among different groups of Americans," Craig added.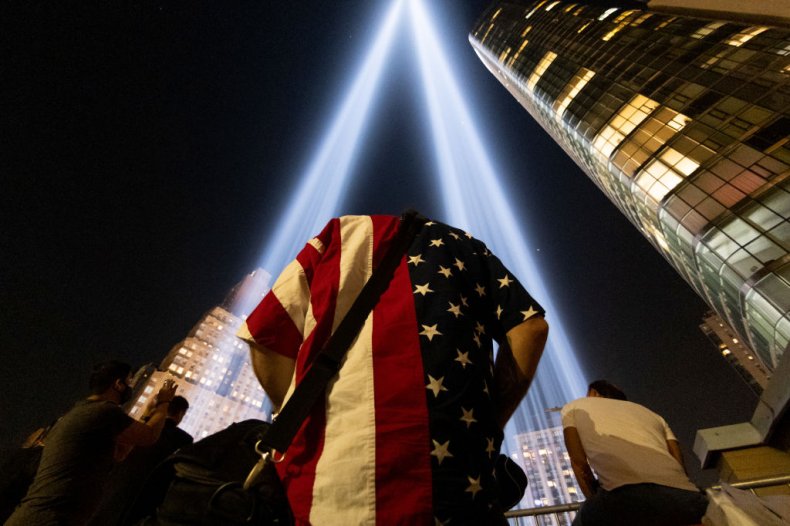 Although Bush may have helped unify Americans in the wake of the 9/11 attacks, the former president is now viewed by many as a polarizing figure. Bush even noted the disunity apparent in America today during his speech Saturday at the Flight 93 National Memorial in Pennsylvania. "When it comes to the unity of America, those days seem distant from our own," the former Republican president said.
Bush then appeared to make a veiled reference to the January 6 pro-Trump attack on the U.S. Capitol by mentioning rising concerns about domestic terrorism.
"We have seen growing evidence that the dangers to our country can come, not only across borders, but from violence that gathers within," the former president said.
"There is little cultural overlap between violent extremists abroad and violent extremists at home," he continued. "But in their disdain for pluralism, in their disregard for human life, in their determination to defile national symbols, they are children of the same foul spirit." These remarks drew swift backlash from right-wing Trump supporters, even as various Republicans (including Arkansas Governor Asa Hutchinson) and Democrats (including Biden) praised them.
"I have personally overlooked many things from former President George W. Bush but his comparison between Trump voters and the Jihadists from 9/11 is an absolute disgrace," former Senate candidate and longtime Republican Rob Maness tweeted
"Bush is publicly comparing 9/11 to Jan 6. They want Trump supporters treated like jihadists. Are you paying attention yet?" Jack Posobiec, an alt-right political activist and presenter, wrote on Twitter.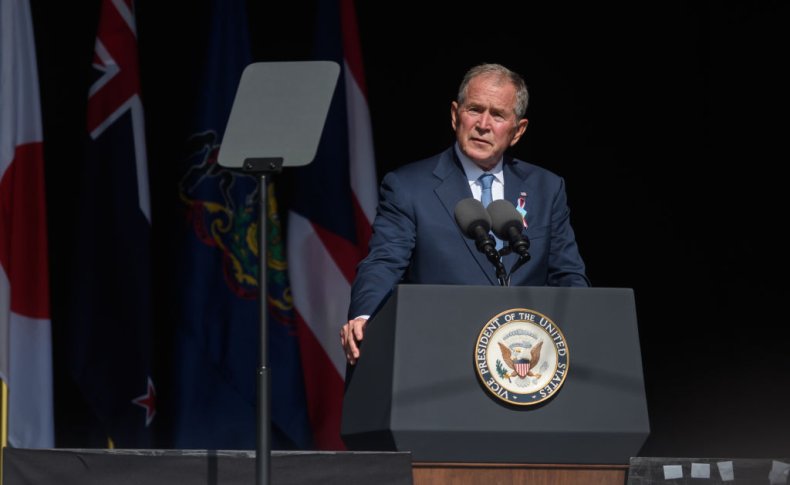 Meanwhile, Trump was criticized for being absent from the official memorial services attended by Biden, Bush, Obama and Clinton to commemorate the 20th anniversary of 9/11. Liz Harrington, Trump's spokesperson, said that he chose "to honor the day with different stops."
These stops included the New York Police Department's 17th Precinct and a neighboring firehouse. In the evening he provided commentary for a pay-per-view boxing match in Florida. Instead of referencing unity as Biden, Bush and others did, Trump attacked the current Democratic president in a 9/11 video message as well as in remarks to the NYPD.
As Bush appeared to do on Saturday, Democrats have repeatedly compared the pro-Trump Capitol riot on January 6 to 9/11. "Our democracy is under unprecedented assault, unlike anything we've seen in modern times," Biden said on the day of the attack. Some have taken issue with his assessment, pointing to 9/11 as a far more serious tragedy.
The reaction to January 6 has been far from unified. Trump and many Republican lawmakers have defended those who assaulted the Capitol, while their supporters promote a range of conspiracy theories downplaying the severity or even the reality that the insurrection occurred. GOP lawmakers in Washington have attempted to block an investigation into the attack, as Democrats and some anti-Trump Republicans have insisted that the probe is necessary for the historical record and to prevent similar future assaults.
Comparatively, Americans rallied around national symbols and the president in the wake of the 2001 terrorist attacks. Sales of American flags skyrocketed after the tragedy. Walmart nearly ran out of flags just days after 9/11. The retail giant sold 116,000 flags on the day of the attack, followed by 250,000 the next day. The previous year, Walmart had sold just 16,400 flags during the same two days combined.
Politicians from across the political spectrum wore flags on their lapels, and patriotism across the nation soared in late 2001. Twenty years later, Trump flags as well as other right-wing symbols emblematize one faction of Americans, while Black Lives Matter posters, Biden-Harris signs and other left-wing symbols represent another.
Ten years ago, the country saw a smaller wave of unity following the killing of alleged 9/11 mastermind Osama bin Laden. The former Al-Qaeda leader's killing came at the order of former President Barack Obama in May 2011. Obama called Bush at the time to tell him that bin Laden had been killed. Both attended and spoke at the 10-year memorial for the 9/11 attacks in New York later that year. Bush read a poem while Obama looked on.
The national conversation surrounding Muslim Americans has transformed in the two decades since 9/11 as well. After the attacks, many Americans, politicians and media figures viewed members of the religious community with suspicion and blame for the attacks. Muslim Americans responded by organizing politically, socially and culturally.
"Federal and local agencies launched raids into our [Muslim] communities, rounding up brothers, fathers, and grandfathers, interrogating them as though they were criminals just because of their religion. Like so many activists of my generation, this campaign of terror put me on the path to advocating for our collective civil and human rights," Murad Awawdeh, executive director of the New York Immigration Coalition, said in an email to Newsweek.
Today, Muslim Americans are much more visible in politics, the news media, films, music and television. The conversation has shifted to the point that prominent Republicans criticized Trump in 2015 when he called for a ban on Muslims entering the country. At the same time, Muslim-American politicians continue to face substantial right-wing backlash.
Representative Ilhan Omar, a Minnesota Democrat, became the first hijab-wearing Muslim woman elected to Congress in 2018. Some on the right have fear-mongered by equating the visibly Muslim congresswoman with the 9/11 attacks. At the same time, the progressive Democrat sparked controversy in 2019 when many believed she was downplaying the severity of the 2001 terrorist attacks.
During a March 2019 speech to the Council on American-Islamic Relations, Omar said, "CAIR was founded after 9/11 because they recognized that some people did something and that all of us were starting to lose access to our civil liberties." Critics blasted her description of the 9/11 hijackers as "some people," claiming she did not view them as terrorists.
Omar later clarified her remarks during an interview with CBS News' Face the Nation. The congresswoman described 9/11 as an "attack on all Americans." She said that "as a Muslim, not only was I suffering as an American who was attacked on that day, but the next day I woke up as my fellow Americans were now treating me as suspect."
How the partisan rifts and tensions within American society play out remains to be seen in the coming years. While the unifying nature of 9/11 may have been short-lived, many politicians—Democrats and Republicans—often speak nostalgically in favor of greater bipartisanship and unity in the nation.
"What might be done to change all of this? If we can survive the current challenge to democratic institutions and values, the key ultimately lies with voters themselves: They need to pick one side or the other and give that party time—more than just two or four years—to either succeed or fail with its policies," Craig told Newsweek.
The political scientist warned that he doesn't believe the country is there yet. "Given the intense and growing dislike that each side has for the other, I don't expect us to get there for a while," he said. "Hopefully, partisan conflict will not do irreparable damage to our political system in the meantime."