Rep. Alexandria Ocasio-Cortez (D-NY) is far more popular with Democrats than Senator Joe Manchin (D-WV), according to polling conducted while the pair stand at odds on several issues.
Ocasio-Cortez and Manchin have previously criticized each other on several points and have taken contradicting stances on a number of issues of late.
Manchin has pushed targeting stimulus check payments further, with the White House having agreed with Senate Democrats to a move to tighten eligibility requirements. This is a point Ocasio-Cortez and other progressives have been against.
He has also questioned raising the federal minimum wage to $15 an hour, suggesting $11 an hour instead. Ocasio-Cortez has strongly supported the $15 figure.
The $15 minimum wage push has been hurdled by the Senate parliamentarian's ruling that it should not be passed through budget reconciliation. Ocasio-Cortez has suggested this be overruled, a potential move Manchin has opposed and a course of action the White House has indicated will not be taken.
The White House has indicated President Joe Biden wants the minimum wage to increase to this point and will pursue it through other means.
With Ocasio-Cortez and Manchin's stances having clashed of late, polling has indicated that, of the two, Democrats have a more favorable opinion of Ocasio-Cortez.
In The Economist/YouGov polling carried out February 27 to March 2, 1,500 respondents were asked if they had a favorable or unfavorable opinion of each.
For Ocasio-Cortez, 23 percent were very favorable and 17 percent somewhat favorable. Among Democrats asked, 47 percent said very favorable and 28 percent somewhat.
For Manchin, overall 3 percent said very favorable and 18 percent somewhat. Among the Democrats asked, 4 percent said very favorable and 18 percent somewhat favorable.
More Democrats had an unfavorable view of Manchin also, with 12 percent very unfavorable and 25 percent somewhat. For Ocasio-Cortez, this was 3 percent very unfavorable and 8 percent somewhat.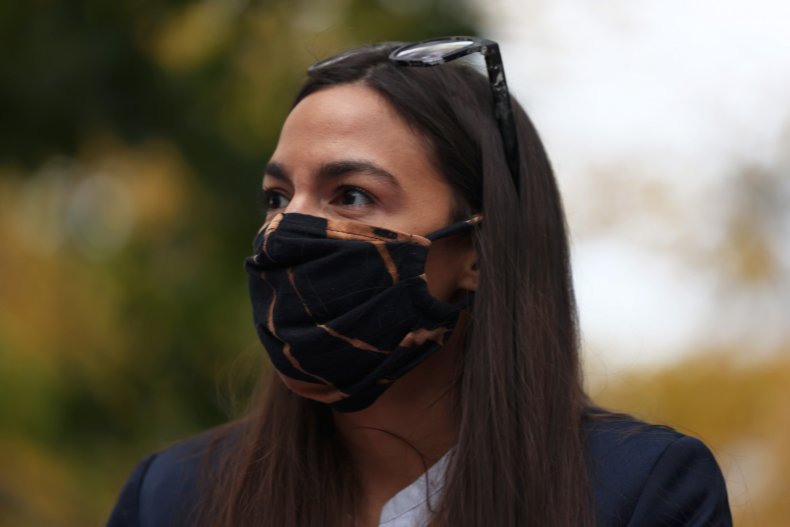 The polling has a margin of error of plus or minus 2.6 percentage points.
In a tweet on Wednesday, Ocasio-Cortez criticized "conservative Dems" over the eligibility for stimulus checks being tightened.
"Conservative Dems have fought so the Biden admin sends fewer & less generous relief checks than the Trump admin did," she said.
"It's a move that makes little-to-no political or economic sense, and targets an element of relief that is most tangibly felt by everyday people. An own-goal."
In further comments, she added: "We have a responsibility to show people in this country what a Democratic majority can do for working people.
"That means more generous relief checks, $15 min wage, ending the filibuster to protect our democracy. It's a once-in-generation shot, and we need to legislate like it."
Newsweek has contacted Ocasio-Cortez's and Manchin's offices for comment.
With the federal minimum wage continuing to be debated, the below graphic from Statista shows state minimum wages across the nation as of January 2021.